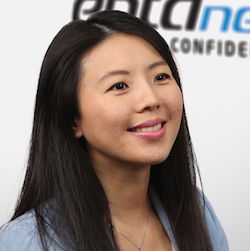 There is now no doubt as to what Entanet CEO Elsa Chen stands for following the wholesale service provider's acquisition by CityFibre, as she deftly forges a challenger brand while remaining true to long held core values, services and partnerships.
As CityFibre's August 2017 acquisition of Entanet shows, the advance of full fibre is inexorable and exposes monolithic incumbents to the full force of alternative infrastructure providers. According to Chen, the acquisition is a turning point for the channel as well as Entanet, enabling partners to join its campaign quest to overturn the copper-based status quo and help to deliver Digital Britain. "Not only are we challenging the status quo in telecoms infrastructure that's been holding the UK back for decades, we aim to set a new industry benchmark in showing how agile, dynamic and revolutionary a wholesale provider can be when empowering the channel," she stated.
Entanet, which is nowadays synonymous with the full fibre revolution, has wasted no time in leveraging its post-acquisition ownership of infrastructure as part of CityFibre Group. Once the potential of reselling full fibre is grasped by the channel, large sections of it will join Entanet's campaign post haste, believes Chen. "Entanet and CityFibre offer a differentiated choice for the channel," she added. "Most importantly, we are committed to creating a wave of change that the channel has been asking for."
Not for nothing is full fibre a growth area in the comms sector. One example of full fibre's gathering momentum and progressive trajectory is the Government's Local Full Fibre Network trial which originally kicked off in four UK regions and has now been extended to the whole of the country, underpinned by £67 million in vouchers to subsidise gigabit capable installation costs up to £3,000.
"Partners were able to capitalise on this funding through Entanet from the moment the scheme was announced," explained Chen. "We had created an enabling platform and process that removes any headaches associated with the registration and application required by the Government. This channel-readiness extends to offering opportunities to our partners to help them claim as much of the £67 million pot as possible."
'Not only are we challenging the status quo in telecoms infrastructure that's been holding the UK back for decades, we aim to set a new industry benchmark in showing how agile, dynamic and revolutionary a wholesale provider can be when empowering the channel.' 
While nothing will halt the advance of full fibre, Chen emphasised that Entanet is a provider of choice and therefore maintains its original supplier relationships and capabilities to allow partners to continue serving customers where a full fibre product isn't yet available. She also stressed that integration has been about growth rather than consolidation, and that as a challenger Entanet is focused on setting a new benchmark.
"CityFibre's intention to roll out FTTP broadband will further broaden the UK's spreading full fibre footprint," she added. "While CityFibre works with Vodafone to bring gigabit broadband speeds to residential customers (Vodafone will have exclusivity in this market during the build and for several months after) the business market is up for grabs for Entanet partners. With Milton Keynes, Aberdeen and Peterborough already announced as FTTP cities so far this year, affordable full fibre business connectivity is now a reality that the channel should not ignore."
Entanet's default ideology is tending towards full fibre-ism based on a strategy that builds on its and CityFibre's core strengths. Overlaying this foundation is a portfolio of propositions that include ISDN Replacement offerings and an anti 'me too' in-house developed white label hosted voice service created using the FreeSWITCH and OpenSIPS platforms.
While Entanet marries the channel to a pragmatic and modern infrastructure roll out based on pure fibre, championed by partners, the company has grown its headcount by 14 per cent since the transaction and is projecting a 22 per cent increase by the end of this year. "Entanet is a new breed of wholesaler, and our growth and channel strategy is far more strongly supported," said Chen. "But our ability to move fast has not been compromised."
The coherence and rationale of Chen's strategy is a sign of her strong leadership. She embodies and displays an attitude of mind that reflects Entanet's set of values - a strong determination and infectious enthusiasm to help deliver Digital Britain in partnership with the channel, on which the company is 100 per cent invested. Such an opportunity was near inconceivable barely a handful of years ago. What else might we expect?
"Post acquisition there is no change other than more growth and empowerment to accelerate and shape a new market landscape," said Chen. "For too long the industry has been held to ransom in terms of accepting 'it is what it is' when facing under-invested infrastructure and sub-standard services. Entanet, together with CityFibre, are revolutionising both. We're investing in the UK's full fibre build out and taking this infrastructure to market with a channel-ready commercial and service wrap and solid strategy."