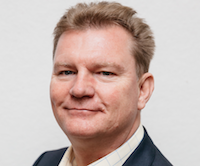 Cracking into the enterprise space is a core component of Veeam's ambitious plan to hit $1.5 billion in bookings revenue by 2020, and the appointment of Mark Adams as Managing Director (UK&I) in October was clearly intended to accelerate the task in hand.
Drafting in Adams was always going to be about firing up Veeam's long running stellar growth levels into a new orbit, and if anyone can provide a rocket boost to greater growth it is most certainly Adams who began his career as an aeronautical engineer for British Aerospace. Before anything else he is an engineer, and remains one at heart, but his mettle is strengthened by a remarkable capacity to design and build business strategies that underpin the sales ambitions of global organisations. It is a skill not to be underestimated.
Because of his engineering background Adams's initial sales roles were technical in nature. "I love how technology creates new industries and new ways to approach how things are done," he explained. "I've always veered towards disruptive technologies throughout my career, and that fits perfectly with my current role at Veeam. I've previously worked for major Fortune 500 companies and start-ups in sales leadership roles, running UK, EMEA and global corporations."
Veeam is an 'availability' company that aims to back-up any app, any data on any cloud, and Adams's broad experience puts him firmly in touch with Veeam's ambitious new strategy to ramp up operations in the enterprise sector alongside the thriving SMB and channel business. The enterprise landscape is familiar territory for Adams, a stomping ground upon which the magnitude of deal sizes he has secured would register a 10 on the Richter Scale. "I've got 25 years experience in doing enterprise-level deals, so the direction and guidance needed for Veeam EMEA and UK was a good fit," he stated. "I can assist Veeam in achieving the massive growth that we're aiming for."
Adams worked at Sun Microsystems for 11 years and secured some of the company's biggest deals. He saw the business grow into a $1 billion global organisation in circa 2000, and was also with Sun when its EMEA division hit the $1 billion milestone. "Sun Microsystems very much took on the establishment," added Adams. "It was good fun and became more of a hobby than a job. Nothing beats a business, or even just a sales team, firing on all cylinders."
Adams displays a readiness to repeat and even surpass his past successes and help put Veeam in the driving seat as a long-term market disrupter. "What's exciting is the room we have to grow," he stated. "We've got a fantastic track record but an increased focus on the enterprise gives us a huge runway. That absolutely fits with my experience."
Veeam was founded in 2006 by Ratmir Timashev and his college roommate Andrei Baronov, the team previously behind Aelita Software which was well known for its Windows Server management solutions. Aelita was acquired by Quest Software in 2004 and after ensuring the successful continuation of Aelita's products and strategy at Quest, the team founded Veeam Software to provide similar systems management solutions for virtualised server infrastructures.
The company has grown rapidly over the last 11 years and now has around 267,500 customers with offices in more than 30 countries, adding on average 4,000 new customers per month. In Q3 2017 Veeam registered its 37th straight quarter of double-digit growth, alongside 34 per cent year-over-year total bookings growth, and also sealed its largest enterprise deal in its history. "This year we have closed more $500k-plus deals than in the previous four years combined," commented Adams. "And we're seeing a surge in enterprise partnerships, recently adding integrations with Pure Storage, Nutanix, Starwind and N2WS, as well as being added to the global price list for both Cisco and NetApp."
Veeam's goal is to become the de facto availability provider to enterprise-sized organisations, and the UK and Ireland are specific markets. Right now Adams is not treating the enterprise as a collection of individual vertical industries. Availability is a horizontal play, not an option but a necessity. "For many enterprises in the UK 'availability' is not seen as important, but they don't realise the importance of back-up and replication until something goes wrong," explained Adams.
"The simple fact is that enterprises need to be always-on, so we just need to make our story relevant and push it up the priority list. It's a traditional model and as we get bigger and more successful and referenceable then we'll probably start to look at vertical markets. If we execute well on the enterprise then that is the pot of gold for us. We want to spread right across their physical, virtual, VM-based and cloud world, and that's very much what we're going to deliver by ensuring the message and product is a priority for CIOs."
How well Adams rises to a challenge has lain at the root of his success to date, and in taking a more holistic solution to the enterprise sector he has never been more primed to execute. "We had a goal of $1 billion by 2019," he said. "We're on course for that and are now determined to grow to $1.5 billion in the next few years. The UK needs to contribute a stronger part of the EMEA number, and it's not rocket science. No-one is asking me to do something that I haven't done before. But it was especially attractive to come to Veeam and do so again. I've got staunch support from very senior people within the company to do exactly that."•