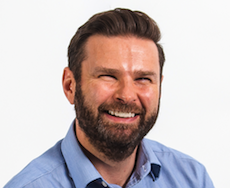 Technology is revolutionising the National Health Service, creating propitious conditions to achieve cost reductions, greater efficiency, and an improved and more personalised patient experience, explains Mark Elwood, Director of Marketing at TeleWare.
One tech innovation especially, Artificial Intelligence (AI), will go a long way in helping NHS Trusts to tackle the difficult and pressing issues that put them under intense pressure, believes Elwood. "AI is currently a hot focus area," he stated. "Healthcare companies are increasingly exploring ways to use AI to triage patients. This has obvious efficiency benefits, but it is important that patient safety is not compromised. AI symptom verifiers are leading the way as they have been shown to be both accurate and efficient. The tool can be a great way to point a patient in the correct direction in terms of how to treat their symptoms and seek further medical help."
Technologies such as AI hold the key to unlocking the NHS's potential to operate more efficiently. While technology is frequently used in treatment and care, there is a constant need to improve how it can be used in supporting services, particularly communications. "All technology must be able to deliver best practice in terms of clinical outcomes," added Elwood. "But at the same time not increase the risk to either the patient or the clinician. The focus needs to be on increasing the speed between access and outcome."
Patient self-care and AI/automated system developments can speed up key processes and help the NHS to save significantly on the costly maintenance of ineffective and archaic systems that duplicate, replicate and require human involvement. "Computers could do a far more effective and quicker job," stated Elwood. "By providing the platform with high quality and reliable communications, the NHS and private sector can help improve patient experience and outcomes while also reducing costs through greater efficiencies."
Another key trend is the rise of online doctor consultations. The use of video calling services, such as Skype, are becoming ever more popular due to the increasing list of patients. "A new provider company is launching every three or four months in this space," added Elwood. "However, there are a lot of questions about the efficacy of these start-ups. The Care Quality Commission and General Medical Council are keeping a close eye on this online prescribing explosion. The key challenge for companies here is balancing clinical risk with patient expectation. It is estimated that approximately just 50-60 per cent of patient healthcare issues can be resolved in this way. The rest require a face-to-face consultation."
With more NHS workers becoming mobile, mobile voice, SMS, Skype for Business and recordings are playing a bigger role. Trusts are increasingly using communication recording for playback and auditing purposes. Analytics will also come into play in this area. "With more data being generated, the ability to analyse this data and turn it into meaningful insight could be game changing in both the NHS and private sectors," stated Elwood.
ICT buying is increasingly cloud-based as NHS technology buyers warm to the open model with less upfront capital outlay. "They can trial solutions quickly and relatively inexpensively," said Elwood.
"For resellers, these new technologies bring fresh opportunities. But it also comes with a certain amount of risk. It is important that resellers are able to work with NHS trusts and the private sector on ways to guarantee clinical safety, while simultaneously providing efficiencies and improved patient outcomes. It is important to understand a reseller's challenges and work together on solutions. This can range from product innovation through to joint sales and marketing campaigns to generate pipeline opportunities. We purposefully work with a small number of selected resellers."
In a partnership with concierge medical service Akea Life, TeleWare has delivered a software solution that routes, records and analyses calls and patient consultations which are available on demand, exceeding Care Quality Commission best practice guidelines. Akea Life launched a subscription wellness service in February 2016 and counts Premier League football clubs, north west based corporates and local families among its patients who are assigned their own personal doctor. "The crux of our offer is home visits within two hours of a call," said Akea Life MD Ben Paglia.
This premium operation meant that the team needed the ability to record patient calls and Skype sessions. Not for compliance purposes, but for the safety and security of both doctors and patients. "Most initial patient contact is by phone so we need to be able to capture the session," added Paglia. "We already had the phones and computers in place, but needed a partner with a simple, cost-efficient and scalable software solution to record and analyse calls, texts, emails, Skype sessions and IM."
Each doctor has a SIM in their phone that records calls and sends them to the cloud. In this case, Microsoft Azure. This way Akea can track performance and capture any evidence for potential complaints or queries (as well as for training and quality purposes). Elwood noted: "With a lot of our customers in regulated industries many of the solutions we put in place are for compliance purposes. It is great to see how call recording and analysis can be used as a basis for customer and patient service."