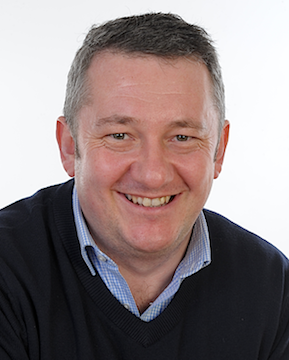 For Lascom Managing Director Karl Cheshire the early advocates of unproven SIP orchestrated one of the comms industry's most irresponsible technology initiatives to date. It left many resellers facing a crisis of credibility, even collapse. But it also made them far more attuned to the value of true and trusted channel partnerships.
Lascom initially came about by a mix of hard work and an irrepressible spirit of independence - qualities that were evident in Cheshire's early career when he majestically rose to the top of the pack during a highly populated team building and assessment weekend held by a recruitment firm. He then joined an e-commerce company in 2000 but the enterprise lacked Cheshire's inherent fizz and collapsed with the dotcom boom ringing in his ears. An interview with Touchbase soon followed and a trainee role in Holborn was secured. "Mike Danson and Riordan Maynard were awesome and Touchbase was a great place to start out," stated Cheshire. "After a few years as a jobbing sales guy I decided that I could no longer work for somebody and needed more than just a salary. So I closed as many deals as possible, saved the commission and set up on my own."
Cash in hand Cheshire bought a laptop, an integrated fax and printer and ordered one additional phone line into his London flat. "I spent the first few years cold calling, having meetings, winning business, invoicing, project managing, installing phones, ordering lines, dealing with faults, supporting customers and chasing cheques," he said. "In between times I built a database and went out networking. I did every role in the business and dedicated myself to all clients. I didn't take a salary for six months. I just worked, worked and worked. So much so, after more than 300 cold calls a day I sometimes ran out of steam and could not speak to my wife at home."
Meanwhile, Lascom continued to gather a head of steam and within two years the company was operating out of offices in central London with a headcount of eight before moving to Woking. "We won some great customers," added Cheshire. "But we experienced the usual growing pains and issues around cashflow, staffing and product headaches."
It's happy customers, not clients fleeing to the mountains, that bring growth. Just as essential to growth is higher demand, increasing sales and rising profits - all promised by the advent of early SIP. But the following crisis took Lascom by surprise. "The biggest turning point for us was taking SIP trunks in 2007 when they were not ready," stated Cheshire. "The result was the deepest low in the history of our company. Clients were leaving in droves and heading back to larger competitors. The sales team had taken orders we couldn't fulfil because the product just wasn't there. I had to release the fantastic sales team I diligently put together. We made a huge error in taking on that product."
Cheshire's self-belief was an antidote to the worst case scenario. With his ship so evidently off course he needed an urgent boost to demand so took a new direction - albeit a reversion to form. "All the amazing work we had done to build the business was at risk," added Cheshire. "Personally, it was a tough time but we got through it. We focused on looking after our clients and added a few more with good old trusted PSTN services and Avaya, Toshiba or Panasonic systems. We delivered an exceptional service and focused hard on customers."
The lessons that Cheshire drew from the trials and tribulations of Lascom's early SIP implementations was that there is no get-out-of-jail card for resellers left high and dry by their supplier partners, and that there is no immunity from the effects of not giving customers what they want. Technologists can talk about their innovations until the cows come home - but if they don't deliver their wonder widgets the scenario will at best prove to be the ultimate barrier to growth. In essence, resellers such as Lascom were a sacrifice to the fanaticism of SIP providers that pushed untested services into the market. And this grim reality sent shockwaves through a substantial section of the reseller establishment which was forced to rethink how it assessed and worked with supplier partners.
If the SIP crisis meant anything, it was that unless resellers choose their partners wisely there will be no growth. Against this backdrop Cheshire underscored the viability of Lascom's relationship with 9 which includes the appeal of entering the IT services market with proven technology and support. "Our main focus now is working with 9 to bring IT services and Office 365 to our customers," said Cheshire. "We feel we have done a great job in taking these products to market and supporting clients. We want the best for their business and aim to remove potential competitors. By choosing the right partners we ensure a solid customer strategy and capability that we know will be trusted."
Seeking a long-term boost to demand Cheshire aims to provide multiple services and operate as a sole supplier. This he says is key to Lascom's future success. "For years IT businesses have invaded our space with cheap VoIP phones," noted Cheshire. "But the emergence of cloud and SaaS means that IT services can be delivered with a fresh approach. The lifeblood of Lascom is telephony and Internet and that remains our core focus, but with the help of 9 and the addition of new products such as SaaS we see huge growth for us and the channel."
Cheshire's growth ambitions also include acquisitions, for which the company has secured funding. He hopes to grow the business five-fold over as many years, with IT services being an important engine for growth driving the adoption of monthly spend over capital outlay. "Organisations want more for less, they want to appear bigger and sell more for less," commented Cheshire. "Businesses also need more education on products and the latest technology. In some cases they just want to follow what the market is doing.
"We have spent the last decade selling the big manufacturers and associated services. But any VoIP supplier can now compete with these global organisations. Big names and long established brands are melting into the cloud and the badges we sell against now must be pinned to the quality of our business relationships, products and services. Resellers must truly become trusted advisors and work towards being an extension of their customers' business, rather than be known as big brand ambassadors."
Just a minute with Karl Cheshire
Role model
I look up to successful happy and nice people whatever their skills
What talent do you wish you had?
To speak other languages
What do you fear the most?
The loss of a loved one
Tell us something about yourself we don't know
I help with my local scout group
Name three ideal dinner guests
Steve Jobs to ask him why he stole my idea for the iPhone; Vince Vaughn for laughs; and Richard Branson to try and get an invite to his private island 
Your key strengths and what could you work on?
I'm driven, focused and a 'people person'. But I could be more patient
How would you like to be remembered?
As a fun, happy person who was easy to work and get on with
One example of something you've overcome
Fear of heights
Lessons learnt:
Don't be the first to market with an untested product. Always make sure it works
If you weren't in IT what would you be doing?
Cooking
Biggest achievement?
Setting up a business with under £10k 
What's the biggest risk you have taken?
Setting up Lascom  
How do you relax when not working?
Watching rugby, exercise classes, great food, and time with my kids, wife, friends and new dog
Describe the Lascom culture
Fun, focused and reliable
Top tip for resellers
Know your purpose, what you want to achieve, and go for it