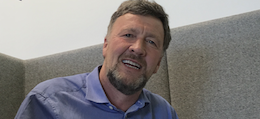 As Wavenet CEO Bill Dawson considers bigger acquisitions his growth ambitions become clearer than ever.
The comms sector creates opportunities on an industrial scale, which Dawson has vowed not to ignore. "I've worked in telecoms for nearly 30 years and seen this exciting dynamic market evolve many times," he stated. "Today the opportunities are greater than ever and it is my role to ensure Wavenet continues to seize them. What a great time to be in the industry."
From Cisco's acquisition of BroadSoft to Wavenet's own purchases, the stars appear to be lining up for the Solihull-based comms provider. "Cisco and BroadSoft are both strategic partners of Wavenet, and life just got so much better with opportunities multiplying since their tie-up," added Dawson. "We have completed multiple smaller acquisitions ourselves over the last few years and are now looking at larger acquisitions to boost our growth."
Given that Dawson has confessed to having only short-term projections, we can expect to see more acquisition activity sooner rather than later. "I cannot look more than 12 months ahead, and in the coming year see at least 50 per cent growth," he said.
In April this year Wavenet strengthened its presence in the East Anglia region by snapping up Norfolk comms provider APR Telecoms. The deal built on Wavenet's acquisitions last year of Manchester provider of network and cloud services Talk Internet and Norfolk-based Swains. Both deals followed a £30 million investment in Wavenet by Beech Tree Private Equity.
Wavenet currently employs over 100 staff and turnover for the latest financial year was more than £23 million, representing 60 per cent growth. "Similar growth is expected this year," reaffirmed Dawson. "We have invested in people, new offices and new portals. The priority now is to continue to drive growth and strong partnerships are key to maintaining our momentum. We deal with our suppliers strategically so we can both achieve our goals. They provide better support and commercial advantages that give us a competitive edge. This is the approach we also take with our partners."
The upside of fruitful supplier relationships is proving to be a gift for resellers engaged in Wavenet's channel proposition, claims Dawson. "Our wholesale business is designed to provide partners with sales and support, giving them a strong go-to-market foundation," he explained. "We are targeting high growth partners who prioritise service and quality and who share our values. Our partners are not me-too suppliers. They understand the value of selling the brand rather than on price. The industry is currently absorbed in a race to the bottom and quality of service is therefore suffering, so reliability and support will always be the number one priority for us."
Wavenet began its commercial life in 2000 as a lines and calls business. Mobile services were introduced following the acquisition of Centralcom in 2009 and a VoIP service was launched in 2010 soon after the Titan Technology buy. Wavenet's Connectivity options were then boosted with the addition of IZR Solutions in 2011, a deal that strengthened its core network.
Three years later Wavenet bagged UK Data IT to add TPS screening compliance and dialler solutions, while the acquisition of Next IS introduced inbound number and PCI compliant services. In 2015 the company launched BroadCloud and partnered with Level 3 for DDoS attack protection the following year. Today Wavenet boasts a proprietary carrier grade network with a broadening product set, especially in UC and IT services. Dawson joined the company in 2008 when it evolved into a multi-solution business.
"We have target customers rather than operate in a strategically defined area of the market," noted Dawson. "We engage with customers that want to move services to the cloud completely or require help to transition. This is where we will have the greatest market influence. There is too much talk about 'technology'. It's about how to deploy, ease of use, cost and reliability. These critical factors always appear large on my radar screen."