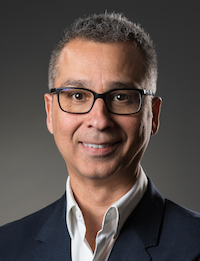 What really matters in today's market is an ingrained culture of customer service and education, according to Loop Voice & Data Managing Director Shahram Bagherzadeh, whose ethos helped to secure the Best SME Cloud Solution accolade at last month's Comms National Awards.
Bagherzadeh has triggered a ten year plan to become the primary telecoms company in Essex. The big guns in his armoury are customer service and a focus on educating clients about new technologies such as VoIP - both dependent on fostering strong relationships with end users, which comes naturally to him having spent 11 years in the hospitality sector prior to being alerted to the growth potential of the comms market during a conversation with a friend.
Bagherzadeh took a risk and set up Wireless Telecommunications as a sole trader in 2000. "Nine years later we decided to trade as Loop Voice & Data and I started to narrow our product offering," said Bagherzadeh. "We began to specialise in hosted telephony and VoIP, which was crucial. The products we focused on reflected where businesses and the industry were heading."
The company grew 38 per cent during the last year and has a headcount of 14 servicing over 600 clients including big brands and international businesses. Its target customers range from five to 600 users. "We've always positioned ourselves as communications experts above all else," stated Bagherzadeh. "Part of that is untangling technology and understanding client needs before finding the best solution for their goals and budgets. Our evolving strategy will see us adopt new ways of capturing client feedback and using it to transform our customer service."
Moving from traditional telephony to the world of VoIP was pivotal. Digital telephone systems and ISDN lines still have some market share, but it was key for Bagherzadeh to grasp new technology and keep customers in the loop about VoIP. "The impending switch from traditional telephone systems to VoIP has made our ability to demystify telecoms more important than ever," he added. "Part of our strategy for growth is to educate businesses and guide them through the process of change.
"We don't want local firms to panic and rush to install technology at the last minute, so we're doing more to encourage people to look at VoIP now and explaining technology so they can talk the language. In addition, we are continually training our staff. This is critical to ensure we have knowledge and experience in a market that is constantly evolving."
While Loop Voice & Data's business growth is shooting skywards, customer churn is heading in the opposite direction, reducing to less than 1.1 per cent per annum. "I'm a great believer in 'people buy from people', and if your clients believe in you and trust you it is much easier to introduce them to new technology," said Bagherzadeh. "We want to highlight the need for change and understand resistance to new technologies. But ISDN isn't going to be an option for much longer. It's also important to emphasise the benefits of VoIP, not just the challenge of making the transition.
"Therefore we explain the competitive advantages that businesses can gain from adopting VoIP now, rather than leaving it until the last minute. At the same time, we'll continue to keep our existing clients happy and increase turnover. The challenge, as always, is maintaining high margins while delivering an uncompromising standard of service. But bringing new products and services into our portfolio will help to increase turnover."
Bagherzadeh identified video, security and IT as potential future growth areas against a backdrop of escalating SIP and cloud telephony adoption as data connectivity prices come down and availability extends to more regions. "As the lifespan of traditional business phone lines and ISDN comes to an end more of our clients are asking about VoIP, SIP and hosted," he added. "In terms of how we steer Loop Voice & Data in the future, we review our products every three years, so we'll continue to refine and evolve our offerings based on market demand and research."
According to Bagherzadeh, end users are getting more clever, playing resellers against each other to get the best deals. "But our biggest opportunity is customer service, something that's lacking in the market generally," he said. "We're in a people business, so we look after our team and keep them motivated to deliver the best service they can. After all, we typically spend more time at work together than we do in our own homes. So we need people who share our enthusiasm and passion for service. That means regularly looking at how we select candidates. We can train in product knowledge, but not attitude."•