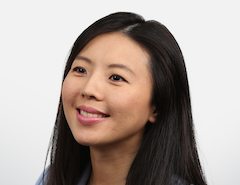 Comms Vision Platinum sponsor CityFibre and its wholesale business Entanet say their magic ingredient in the Digital Britain mix – full fibre – resides at the core of digitalisation and holds the appeal of an ever greater opportunity for the channel's smart thinking City Champions. Elsa Chen, Entanet CEO and Chief Customer Officer across CityFibre Group, explains...
Smart technology lies at the heart of almost everything we do, powering every corner of our economy and society, which is why the Government is so invested in moving the UK to a full fibre future by 2025 and why CityFibre is equally at the heart of this ambitious programme by investing £2.5 billion to build the UK's most intelligent software-defined full fibre access network to over five million homes and businesses in the same timescale.
The potential rewards of this investment are huge. The impact of full fibre infrastructure in 100 towns and cities over 15 years is an estimated £120 billion in gross value added to the economy, as highlighted in the Regeneris report 'The economic Impact of full fibre infrastructure in 100 towns and cities' commissioned by CityFibre.
As the applications, devices and services we use become smarter, the role this technology plays in all of our lives becomes more essential, from consumers seeking to enrich and digitise their lives to businesses pursuing absolute competitiveness; and from mobile communications operators engineering a 5G reality to public sector organisations striving to serve society effectively. Smart technology is there when we're learning, meeting new people and sharing new experiences – it is driving better housing, health care and business innovation.
5G will underpin decades of innovation to come, supporting new mobile-dependent technologies and applications
In this time of exciting digital development, the need to share more data at faster speeds grows ever higher and network performance and reliability becomes ever more critical. That's why CityFibre is investing so heavily in building an intelligent software-defined full fibre access network. We're also addressing key industry issues head on. For example, in the face of a full fibre construction skills shortage we're committed to working closely with local authorities and recruitment partners to attract, develop and retain the most talented people available as we grow and push forward with our full fibre vision for Britain.
Whole city enablement
CityFibre's strategy is about much more than just laying fibre, it's about delivering a network designed and built not only to serve gigabit speeds to over five million homes and businesses but one that's capable of 100 gigabits per second and beyond, powering 5G, connecting everything from hospitals, schools and stadiums to the myriad of IoT services that will realise smart city visions.
5G in particular is a powerful use case for full fibre coverage across whole cities, and supporting it is very much an evolution of what we already do. 5G will underpin decades of innovation to come, supporting new mobile-dependent technologies and applications across all sectors of the economy. We see it as complementary though – significantly enhancing the mobile experience when people are on the move, while a fantastic FTTP experience awaits them in their homes and offices when they return – each backing up the other to keep our nation connected.
Our focus is also about creating a network that's always on, that can be upgraded at the click of a mouse and where problems can be fixed before they are noticed. A network that allows those using it to define and control their own services and deliver a superior customer experience at the lowest cost per bit, per mile, per service.
Be a City Champion!
The role our channel partners play in this rollout and the opportunities that come with it are enormous. Through our wholesale business teams at Entanet we're actively supporting our reseller, aggregator and wholesale customers to be City Champions. Being a City Champion means putting our CityFibre full fibre products at the heart of your proposition, focusing on sales and marketing in towns and cities where our infrastructure is ready to be utilised and reaching out to targeted businesses. We're supporting these champions through dedicated account management, a focused city strategy, ready-made marketing materials and campaign funding to help get the full fibre message out there to customers.
By adopting a business strategy that actively promotes the adoption of full fibre, City Champions are also crucially driving further investment in and growth of a future-proof network. As our build accelerates across multiple cities and our services catch the attention of more and more consumers and communities, awareness is echoing through the business world – enabling fresh conversations with thousands of businesses and opening up an even greater scale of opportunity – success driving success!
Full fibre ahead!
Much has advanced since last year's Comms Vision. 2018 was very much about mobilising our construction machine, but it was a significant year for us in other ways too. Having been taken private by two of the most prestigious infrastructure funds in the world, we committed to a £2.5 billion investment plan to reach at least 20 per cent of the UK. We're already investing £1 billion in the first 26 whole city full fibre network builds, which represents just two million of our target to connect at least five million premises – a clear indication of how many more towns and cities are still to be named.
As we accelerate our builds and add more cities, we continue to enable channel partners to serve the business market with game-changing products and systems that boast simplicity and ease of adoption. At a time when business leaders expect connectivity to work for them as a utility, we've introduced new products that directly support customers with minimum speed guarantees and the extra bandwidth they need, when they need it, in a cost-effective and easily managed package. We are investing, we are building, and we are connecting customers to the networks of the future. At this year's Comms Vision boardroom sessions we're keen to share the strategy that is already putting our City Champion partners at the heart of the digital revolution.
It takes Vision to be a leader
Comms Vision is the leading annual leadership forum for CEO, MD and CTO delegates making up the major league of the UK reseller community. Places are limited and by invitation: If you would like to join us this year, please register your interest to attend at www.commsvision.com