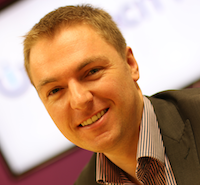 Birmingham-headquartered IT firm Intercity Technology is working with Ahead Partnership, a social enterprise, to improve the pipeline and diversity of talent in the local tech sector.
Intercity hopes to enhance the employability skills of local young people through initiatives such as a volunteering programme and work experience scheme.
Up to six students aged between 16 and 18 will take part in a pilot of the work experience scheme, which will involve training, shadowing employees in the Intercity Technology Birmingham office and gaining hands-on experience of roles across the business.
Following the pilot Intercity plans to roll out a fully structured programme.
Intercity Technology CEO Andrew Jackson (pictured) commented: "Giving young people first-hand experience of the tech sector is a great way to get them excited about the opportunities the industry has to offer."
Ahead Partnership CEO Stephanie Burras CBE added: "Given the region's aspiration to become a global digital hub it is crucial that we act now to develop a pipeline of talent."
Andy Street, Mayor of the West Midlands, stated: "Bridging the skills gap is an ongoing challenge for the region, but through collaboration between businesses, social enterprises and educational institutions we can make significant progress."