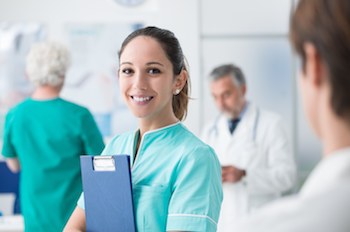 No section of the public sector has undergone failed reforms more than healthcare, consuming huge resources but still suffering from massive squeeze points as demand for its services soars. But NHS news is not all bad. Why? Because it's time to trumpet technology innovation as perhaps the greatest driver of true reformation in the sector's history.
Digital disruption is occurring in every industry and the healthcare sector is no exception, in many ways blazing a trail with IoT test beds and the like (more on this later in the article). "The rise in automation across both private and public healthcare has helped nursing staff spend more time focused on patient care rather than the day-to-day administration," commented Tony Rich, Head of Global Propositions and Vertical Solutions, Unify. "However, despite innovations such as text message appointment reminders, online consultation services and electronic prescriptions, we can expect even greater transformational developments which can facilitate smarter ways of working, increased productivity and better patient care in the future."
For partners, conveying the business benefit of effective digital transformation is key. Technology not only makes staff and teams more efficient but it can also strengthen the hospital or health centre's brand and workplace environment, helping to make it an organisation where the best talent wants to work. "It's a crowded market but to succeed in this vertical partners need to think of technology as integral to a holistic approach to healthcare," added Rich. "It's no longer just about medicine and patient care, it's about nurturing the patient experience.
"Doctors and nurses are not interested in gadgets, widgets and tools for their own sake but will readily become involved when they hear about the positive impact technology can have on patients and their own workload. Partners don't need to be specialists in a specific sector, but they need to understand that success will require a different approach compared with other industries and business environments." 
There is no question that healthcare professionals benefit from smarter working processes but according to Rich the answer lies in finding the balance between human and computer interaction. "For the NHS, which is under constant pressure to streamline and increase productivity, collaboration technologies that promote team working and improve communication have the potential to improve processes, allowing doctors and nurses to concentrate on providing the best possible care," he added. 
"But healthcare is full of specialist areas and there is an inherent danger that focusing on one particular part can have a significant impact on the surrounding support functions or business areas. Therefore, understanding the wider industry is essential for a successful implementation."
The healthcare vertical is seeking innovation, but understanding how healthcare, especially the NHS, handles procurement is essential. Phil Reynolds, CTO at Oak Innovation, commented: "The healthcare market is made up of a wide range of sub-sectors, each with their own funding structures and buying behaviours. To be successful, resellers must focus on and fully understand their chosen sectors. As with any industry, it takes time to accumulate knowledge, establish sector awareness and build a reputation. But having cracked one healthcare sub-sector resellers are usually well positioned to address the requirements of another."
Over the past decade the Government has made significant changes to its healthcare strategy with far reaching implications on priorities, structure and funding. Over the long-term, believes Reynolds, cloud services promise better value through shared infrastructure, increased flexibility and in-built technology refreshes. "This should allow healthcare providers to focus more resource on the all important frontline services such as patient record systems which are at the heart of healthcare operations," he added. 
"Maintaining accurate information and improving access to data is key to increasing efficiency, securing better clinical outcomes and managing metrics. Healthcare providers must maintain a complete audit trail of patient care if they are to demonstrate professional competence and resolve disputes efficiently."
Existing systems are being reviewed and renewed to realise efficiency gains, offer better value and meet future healthcare needs. And communication technology has a significant role to play in breaking down location barriers, making better use of limited resources and improving the patient experience. "This extends from telecare and video triage through to improving access to clinical records and leveraging scarce clinical resources," said Reynolds. "But with so much change in progress it can be difficult for healthcare providers to align resources, make technology decisions and realise best value." 
Research indicates that the healthcare IoT market is set to hit $117 billion by 2020. Intel claims that by 2025 the healthcare vertical will be the biggest contributor to IoT spend with a maximum value of $2.5 trillion – a third of this figure devoted to portable health monitoring, electronic record keeping and pharmaceutical safeguards. "If a reseller is serious about this segment of the market then knowledge is key," stated Anton le Saux, Zest4's Head of IoT. "Stay up to date, get involved with industry events and find a partner that's ready to work with you."
As IoT becomes more mainstream it's influence in the healthcare sector has grown significantly over the past two of years, observed le Saux. "To date the IoT has been mainly used for the improvement of care with remote monitoring and telemonitoring as key applications," he said. "A second area where many initiatives exist is tracking, monitoring and the maintenance of patients and assets. For example, hospital building assets using IoT and RFID."
These use cases are just the beginning, noted le Saux, as they precede more advanced and integrated approaches that are starting to be used. "IoT plays an increasing role in specific applications such as smart pills, smart home care, personal healthcare, robotics and Real-Time Health Systems (RTHS)," added le Saux. "If resellers can keep pace with this emerging technology there is a great opportunity to not only deliver IoT into this field, but also other supplementary services."
 
It is possible now to record the movements of a patient – when they press the call button, when they go to the bathroom, press the bed alarm etc. This information is recorded by a device that evaluates the number of instances a patient needs assistance. "The machine learning data will be processed automatically, and intelligently, to know whether the patient is progressing towards wellness or deteriorating," explained le Saux. "This streamlined communication process ensures that the patient can avoid risks, or at least benefit from timely detection, and go home sooner."
For a reseller to win in this space they will be required to understand the 'art of the possible' in relation to remote patient monitoring, believes le Saux. "They will need access to asset and people monitoring devices, and access to a platform that can make sense of the data," he added. "It could be seen as a niche marketplace if you just focus on hospital care. However, where resellers can gain traction from day one is in the private sector. Care for the elderly and less abled individuals is also a target market for IoT solutions. Resellers who keep up with the core healthcare market should get some key wins and building blocks in place by working on the fringe markets."
 
It is reported that the NHS could announce a deficit of between £700 million to £750 million this year, so maximising efficiencies is critical. Notably, the NHS has in the past been accused of being slow to adopt change, but it now has numerous IoT pilots running through NHS test beds. "The cost of cloud computing and storage, as well as the physical connected devices, has fallen to levels that often see IoT devices competing with the traditional infrastructures," said le Saux. "It is easy to construct value propositions showing the increased efficiencies and reduced lifetime costs of IoT devices. We are seeing the health sector view IoT investment as a cost saving, as well as a more efficient way to manage patient healthcare.
 
"Resellers need to start understanding IoT and the art of the possible, and adopt simple solutions that enable them to cut their teeth before progressing to bespoke builds. The private sector for healthcare is a great place to get some wins and demonstrate an ability to service this sector. Building management and simple areas like air quality, water quality, energy consumption and patient and asset monitoring are all solutions that can be used to break ground in this sector."
 
But le Saux cautions not to try too much too soon. For example, without any background, wins or history, resellers are not going to win a contract from the NHS to monitor MRI machines for maintenance and serviceability. "Start where you can add value and get some quick wins," he reaffirmed. "Develop and grow at a strategic pace that enables you to keep up with market developments while not over committing."
Phil Reynolds on how to be fit for purpose 
• Chose technology partners that understand and have an established brand in the healthcare sector. 
• Demonstrate commitment to your chosen sector with thought leadership. Develop sales enablement content and customer references.
• Build sector awareness by working with industry associations and sector specific media partners.
• Focus on solutions that enable healthcare providers to deliver improved value or secure more funding through the better management of metrics.
• Tune your messaging. A wide variety of personas from clinical staff to ICT professionals and general managers may be part of the buying decision.
Benefits of IoT:
• New efficiencies in delivery and diagnosis through remote doctor patient management
• To reduce healthcare costs so it becomes affordable for a wider demographic
• Improve asset management and enable a better patient experience