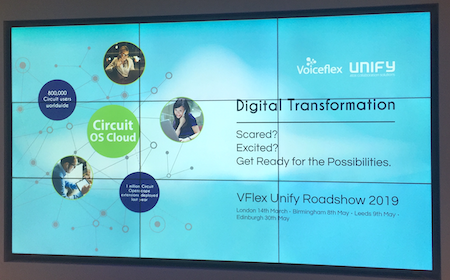 As long as workgroups run as separate entities they will continue to limit an organisation's horizons, according to Voiceflex and Unify (an Atos company).
They claim to offer channel partners a blend of cloud-based UC and social networking technology that promises a panacea for the many challenges faced by today's businesses.
Fragmented organisations will never work – not now nor in the future. What's needed is an imaginative and innovative blend of unified communications and social media-style collaboration technology, according to speakers at last month's Voiceflex-Unify roadshow in London (the first in a series of four such educational partner events). They say the essence of future business growth is to gain a deep understanding of a customer's ideal workspace and fashion their 'workUtopia', a catchy term coined by Unify to denote the revolution it seeks to advance in how organisations work, communicate and test ideas using various media. Collaboration technology features prominently in this, particularly social networking, which Unify says is the answer to many of today's business communication challenges.
Circuit was launched in 2014 as Unify's flagship platform for social team and collaboration. Its design was greatly influenced by the rise of social media at the time. "In 2010 we saw that social networking was very important," said Andrew Cheel, UCC Digital Mindset & Customer Success Director for Atos. "Organisations have diverse working groups – baby boomers and Generation X for example. This workforce demographic, which will evolve as Millennials come to proliferate, influences business processes and culture, so we need social technology and mechanisms to bring all of these elements together."
The pace of change has indeed glaringly outstripped traditional communications and behaviours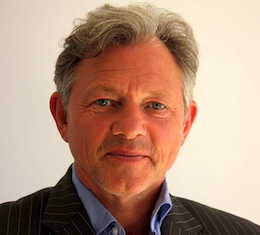 Unless resellers are divorced from reality, they must know that the strategic path being carved by Unify and like-minded counterparts now makes most sense. Consider the following – real-time communication and collaboration, social networking, diversifying work groups, the rise of hosted, Millennials, Industry 4.0, the Gig Economy, digital transformation, WebRTC, AI, chatbots, analytics, multi-platform integration, new business models, dispersing workforces, superfast connectivity, smart mobile devices, ubiquitous connected things and ever accelerating change. These are just a small pick from the multifarious market drivers, trends and determining factors that are shaping the modern day business environment where, argues Paul Taylor (pictured), Sales and Marketing Director at Voiceflex, the offer of an on-premise PBX is likely to fall overwhelmingly short of the mark. "It's time to reach out to the cloud," he said.
The pace of change has indeed glaringly outstripped traditional communications and behaviours. Gartner reckons that by next year chatbots will power 85 per cent of all customer service interactions; 30 per cent of web browsing sessions will be conducted screen-free as voice-first browsing takes hold; 100 million users will shop in augmented reality; and the average bod will interact more with a bot than their spouse. Against this backdrop, remote and home working is on the up and up. The use of handy social tools such as WhatsApp are also on the rise among co-workers. This short, sharp and convenient contact method accelerates communications and is already making email seem clunky and old hat.
The essence of future business growth is to gain a deep understanding of a customer's ideal workspace and fashion their 'workUtopia'
"Communications is more than voice, email and web meetings," stated Nathan Ronchetti, Head of Operations at Voiceflex. "Organisations must adopt enhanced conversational technologies as trends such as Instant Messaging come to prominence with apps like WhatsApp. We all know about BYOD, but with Circuit there won't be a Bring Your Own Platform era. The integration capabilities consolidate thousands of apps and a myriad of platforms. This is effective communications, but a consultative sell is crucial. Partners need to dig deeper into the customer's business processes to match their long-term growth strategies with digital technology and enlightened user mindsets."
With the on-premise PBX likely to be put on hold in light of all this, there's only one option, noted Taylor, but with circa 100-plus hosted telephony suppliers to choose from exercising that option is not straightforward. "Not all providers will survive," he stated. "So 'mainstream' became a priority for us when identifying a partner, along with channel centricity and solid foundations, which do not come much deeper than Atos, an £18 billion turnover business, £1 billion of which is attributable to Unify which deploys circa 20,000 seats per week."
The appointment of Voiceflex as Unify's first UK Cloud Service Provider in November last year coincided with the launch of Unify's workUtopia project. The link-up enables Voiceflex to deploy Circuit and the OpenScape Cloud application to channel partners. Taylor noted that Voiceflex will soon have the capacity to deploy Circuit on any telephony platform in the world using its SIP trunks. "The hosted space is crowded," he said. "By launching UC and collaboration applications our partners will continue to avoid the me-too environment."
Unify's technology will be hosted on Google infrastructure and Voiceflex partners will be backed up by Unify's weighty support mechanisms and collateral including certain compliance requirements like GDPR. Atos's capacious and impressive London offices at Midcity Place in High Holborn can also be leveraged by Voiceflex partners wanting to demonstrate the communication and collaboration capabilities of the Circuit platform to prospects.
It would be foolish to deny the veracity of Unify's world vision and only committing to a process of social collaboration will pass muster, according to Cheel. If resellers are not already considering such action they must change tack, he believes, adding that technology now is all about the user mindset. For example, take the role of knowledge workers as one user case… strip out their unnecessary workload and we clearly see the benefits of socialising the digital conversation.
These go-to people are hounded time and again every day with the same questions. Staff who ask similar questions, in Circuit's world, become an inner circle of like-minded people. "Using social media techniques Circuit creates conversation groups where answers can be found, quite often embellished with useful adjunct information based on the experiences of others in the group," explained Cheel. "Wisdom is propagated across the network and the knowledge worker is far more productive. Beneficial outcomes like this drive adoption, people feel empowered and knowledge workers are released. It is calculated that they will be 11 days more productive a year. Add to this an index linked search engine and the organisation begins to hunt for information independently. All driven by simple inter-company social networking."
How we work should not be constrained by mindsets and technology
There's more. Collaboration with non-like-minded people can open up new possibilities not thought of before, as fresh perspectives often cast a new light on existing and unresolved issues. In the Circuit pipeline, and building on these benefits, is an analytics capability which Cheel says will be 'gold dust' for resellers as they will be able to show, with analytical insight, how users are deploying Circuit and how business processes are operating. "With capabilities to chart change and produce reports the reseller will become the client's best friend," added Cheel.
The assertion that resellers need to adapt or die is now a cliche but their need to become enmeshed in the hosted and social-defined collaboration world is a fresh responsibility they cannot ignore, according to Taylor. That more organisations are revolving on a hosted axis is reflected by the latest barometer of on-premises SIP trunk sales which shows a slight slow down, but Taylor reports a significant upturn in demand for SIP connections in data centres. "Carrier hosted services have grown since 2015 which is a sign of where the market is going," he stated.
Voiceflex began its commercial life in April 2005 as a forward looking SIP trunk provider. In 2011 the company added a fraud protection product and launched a low end hosted offering called Nebula which now has 6,500 sold licences. Four years later Voiceflex introduced ABBA, an Advanced Behaviour Based Analysis application, and in 2017 debuted SIP trunk bundles with WebRTC. The link up with Unify marks the next step in Voiceflex's somewhat pioneering endeavour to be at the vanguard of change where emerging technology becomes market reality.
Which is not too dissimilar to Unify's modus operandi. When Circuit launched five years ago its inherent connectors were prescient of today's far greater demand for integrated platforms. Office apps and suites can be connected in, such as Outlook and OneDrive from the Microsoft ecosystem. This ability to create an office environment and then hook into it will also be available for Google, noted Cheel. "We have the means to combine ecosystems and migrate people away from handsets," he stated.
If businesses don't adapt they will become dinosaurs, slow moving and easy targets. Nobody wants to sell to customers like that
Ever closer union between channel partners and their customers falls squarely into Unify's definition of a supportive loyalty model. A big question for resellers will be: Can they thrive with a customer base that cannot fully collaborate nor find a route to long-term growth? According to Unify's VP for Channel Sales UK&I Rob Wiles, the channel has reached a critical juncture where the future of reseller businesses cannot be separated from the long-term prospects of their customers. This, he says, is the starting gun for a deeper conversation with the customer that must forge a self-sustaining loyalty model.
"A better customer experience translates into profitability, and partners can help their customers drive loyalty in their customer base," stated Wiles. "If businesses don't adapt they will become dinosaurs, slow moving and easy targets. Nobody wants to sell to customers like that. They won't have budget and will seek the cheapest products, in doing so becoming less valuable to partners. So resellers would be wise to have the workUtopia conversation. Ultimately, our businesses depend on clients being successful over the long-term."
How we work should no longer be constrained by mindsets and technology, making leadership, strategy and culture fundamental to the success of future proofed digital transformation projects. The clear indication being that comms is evolving away from traditional methods, as set out by Wiles, who said the vendor's role now is to educate partners on the best approaches, with a particular focus on Millennials who will be the next greatest rising influence and disrupter. They are forecast to make up approximately 75 per cent of the workforce by 2025, said Wiles, with 20 per cent of them gunning for managerial positions.
"They communicate differently and some would sacrifice a portion of their salary to be better connected," stated Wiles. "Businesses need to adapt to this new demographic of employee if they want to recruit talent and survive. But the subject of enhanced communications and social collaboration may be out of a partners' area of expertise. WorkUtopia's are all different, there is no one size fits all option, and social networking solutions need to be flexible and fit for any scenario today and tomorrow. Even so, partners must reimagine the role of communications and collaboration and have the conversation."
Did you know?
• The ISDN replacement market is worth £540 million per year. Since 2005, 5.5 million ISDN channels have been sold, and there's still 2.6 million to replace.
• The UK hosted market is only 20 per cent penetrated.
• It is estimated that office space occupancy in the UK stands at an average of 41 per cent a year, which is a clear indication of changing workplace demographics as work environments disperse.
• Only 35 per cent of workers prefer email to communicate, and 53 per cent already use IM with co-workers.
The VFlex-Unify roadshows continue in Birmingham 8th May, Leeds 9th May and Edinburgh 30th May.