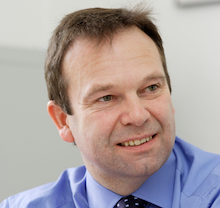 Matching technology to health sector challenges is now a top priority for ICT buyers and it's changing everything, according to Oak Innovation Marketing Manager Ian Bevington.
"In the past there was a disconnect between technology buyers and the operational requirements of front-line staff," he said. "Now we're more likely to be working with transformation managers looking to automate routine tasks and improve adherence to policy, make better use of resources and improve the patient experience. They're also aware of the need to meet compliance and manage dispute resolution more effectively."
There's also a trend towards shared services, collaboration and mergers to provide a better service to patients and meet important metrics. "In primary healthcare we are seeing practices collaborating to manage extended hours, centralise call handling and merging to create larger, purpose built surgeries able to offer a wider range of services," commented Bevington
He says most technology providers succeed by focusing on one or two healthcare sub-sectors, then building a detailed understanding of requirements, and working with specialist technology partners. "Healthcare is at the beginning of a telemedicine revolution that promises to improve patient experiences and access to specialist resources through a combination of video consultation and IoT," he added.
IoT and smart tech counteracts issues such as low resources, lack of funding and pressure on bed space, noted Pangea Sales Director Bernie McPhillips. "Through data gathering capabilities enabled by wearables and remote monitoring healthcare can take a patient-centric approach and ease some of the strain placed on large hospitals," he said. "Assisted living applications are helping older patients to keep their independence. Research shows the link between mental health and wellness benefits and the proper use of smart tech in the home.
"Looking to the future, 5G is set to transform healthcare and pave the way for incredible new solutions. Transmission efficiency is going to be crucial in reducing desperately high healthcare costs and improving operations within the industry. Though nationwide next generation rollouts are still in the works, isolated 5G deployments are already enabling groundbreaking experiments across industries, and healthcare is no exception."
5G holds the power to reshape how healthcare is delivered on-site and vastly improves how patients undergo treatment. "We saw a clear example of this at Mobile World Congress Barcelona 2019, where a Barcelona-based Chief of Gastrointestinal Surgery supervised, on stage, surgery live streamed from the hospital site, made possible through the ultra-low latency and high reliability that 5G connectivity is famous for," added McPhillips.
New possibilities
"The implications of this level of technology are staggering. 5G-powered telehealth solutions could see patients in rural locations receiving treatment that they previously had no access to, or even allow for remote operations to be conducted on patients whose conditions prevent them from being transported to hospital. Beyond surgical applications, 5G is going to play a major role in bringing much needed change to the UK's triaging system."
One of the main challenges faced by ICT providers is the health sector's reluctance to embrace the cloud, believes TeleWare Sales Manager Nigel Simpson. "Medical providers access and store a wealth of sensitive personal information, from addresses and social security numbers to payment information and patients' health records," he commented. "But few healthcare providers choose to entrust all their legacy applications to a public or private cloud. Instead, many are now opting for a hybrid model."
"It will be incredibly hard for the health sector to create a single view of the patient journey if data can't be shared. This presents an opportunity for IT providers to put compliant data access at the heart of their approach. By combining data, healthcare professionals will be able to start analysing patterns and discovering insights that doctors couldn't possibly have discovered on their own. This will allow them to make better decisions to deliver the best possible care."