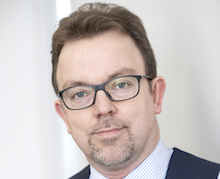 In driving an ever deeper divide between off-the-shelf products and future proofed bespoke solutions, Aura Technology Managing Director Tim Walker continues to play his strategic hand with a trump card.
Fascinated by technology since 'the year dot' Walker has always had a penchant for recognising the usefulness of technologies and how they can be applied to improve human environments. He brought forward the business development aspect of his mission when he co-founded London-based MSP Iconnyx early in his career. Walker went on to lead one of the largest IT support providers in Hampshire before setting up Aura Technology in late 2017 with co-founder and Technical Director Peter Hughes.
"I make it my business to keep informed not just about the latest technology but about how that technology is being used to the best effect," said Walker. "With Aura Technology I wanted to put all those lessons to good use, to really work strategically in partnership with businesses, to understand what they need and come up with solutions that help achieve their goals."
Walker gained an early converged IT and telecoms experience which put him on the road to services. His first sales role was in the comms sector during the mid 1990s, and with foresight he predicted the ever closing gap between voice and data which led him down the path towards managed services provision. "I also learned a lot from my first company, Iconnyx, about the way I wanted to do things, and later in different roles I saw how it shouldn't be done," stated Walker. 
Most IT companies engage in offering any SME business their standard IT support offering, but we start with the end in mind
At the time of Aura Technology's inception its founders were not deterred by the high number of MSPs in the market. In fact, Walker and Hughes were encouraged by their near universal habit to roll out the same model to customers willy nilly. "There was a better way, and that was to work with businesses at senior level to identify their priorities, and then develop bespoke services that play to those goals," stated Walker.
Aura Technology's rapid growth is testament to the effectiveness of its approach. The company has boosted staff numbers by 16 in 12 months, prompting a move to larger premises at the Ocean Village business hub in Southampton. Walker plans to extend Aura Technology's geographic reach by opening more regional offices to serve clients beyond London and the south. The company currently services a customer base of several thousand users and expects that number to grow significantly over the next three years, continuing a trend that has come to define the company. "Growth has been the main driver of change at Aura," added Walker. "Word is getting around about how we are different."
So much so that fresh prospects follow hard on the heels of customer deployments, as word of mouth continues to not only generate more business but also consolidate thinking and strategy on particular markets not before considered specific targets. "There are business areas that especially seem to value our approach – legal and professional services, for example, where we have established a reputation for delivering IT systems that work within the compliance and confidentiality constraints they are subject to," explained Walker. "A focus on those verticals where we have strength and depth will contribute to our ongoing expansion. But opportunities can come from anywhere, and happy clients are our best marketing tool. We are ready and able to serve any sector, anytime. Our approach is to remain agile." 
Another aspect of Aura Technology's approach that holds great appeal, says Walker, is that the company is largely platform agnostic. "Although we have good partnerships with vendors and valuable relationships with partners such as Datto, we don't adopt a one-size-fits-all approach," he commented. "We genuinely work with businesses to identify the hardware, software and platforms that will work best for them. I anticipate that we will grow relationships with key partners as we continue to establish Aura Technology, but I never want to lose that flexibility which is so valuable to our clients."
We have a policy of not working with the wrong colleagues and we don't believe in taking on the wrong customers
Customers will not get the future proofed solutions that's right for them until ICT providers have meaningful conversations with clients and work backwards from an organisation's desired outcomes, according to Walker. Nobody can argue with his logic yet he claims Aura research has identified the opposite approach as endemic in the industry today. "Most IT companies engage in offering any SME business their standard IT support offering, but we start with the end in mind," he said. "Not the end goal for our services, but the end goal for the client over the next three to five years. Only once that is fully understood can you even start to think about the right solution fit. Based on our market research during 2017, we don't see any other IT services business delivering anything like this in a comprehensive way."
Walker's line is that he tries to be ahead of the curve in all matters, and his other clear intention is to closely follow the trajectory of growth markets such as platform integration. "One example is Microsoft Teams which is proving to be a popular platform with many clients, and is developing almost by the week in terms of functionality and integration with other software," added Walker. "We also expect to see more growth in agile working in the coming years. It makes sense to a lot of businesses to work this way, with lower overheads and more flexibility for employees. The advent of 5G technology will drive this trend. Not in a big way initially, but it will come to offer huge gains in terms of connectivity and data speed."
Another sure thing is the rapid growth in multiple device usage and the rise of agile and remote working. "These trends have been here for some time but now most businesses are dispersing their workforce," noted Walker. "However, all this is dwarfed by the requirement to secure businesses' IT environments. Poor security set-ups by another IT company or by an in-house IT team are one of the main reasons why businesses come and talk to Aura."
An iron law of Aura says that its biggest opportunity is to have 'great fun' on the journey it has embarked on, enthused Walker. "We have a policy of not working with the wrong colleagues and we don't believe in taking on the wrong customers," he stated. "Due to having a great fit with our team and also our customers, I believe we're all working hard but achieving some great results on the way. I wanted to create a business where there was no 'Sunday night dread' about coming in on Monday morning. I think the team would agree that we have achieved that. It's important to love what you do." 
Just a minute with Tim Walker...
Role model: 
My father: An exceptional relationship builder and manager of people
What talent do you wish you had? 
To ski and play golf better
If you weren't in comms what would you be doing? 
I'd be an actor
Best piece of advice you have been given? 
If you want to get to the moon, aim for the stars
What do you fear the most? 
Letting our customers down, and running out of time to do it all 
Your main strength and what could you work on? 
I consider authenticity a strength. I am 'myself' whether at work or at home; but I could work on doing more meditation 
Name three ideal dinner guests: 
Napoleon Hill, he learnt from the masters of success and would add enormous value to anyone; James Kerr, I want to know more about what he took out of the All Blacks set-up on the will to win; and Oprah Winfrey to hear her story
Industry bugbear: 
Working with the distribution sector. Someone in that market needs to take the bull by the horns and transform the offering to make it much simpler and easier to procure
Top tip: 
Have a good business plan, manage cash well, don't sell your services too cheaply, be different and build more value into your proposition
What's the biggest risk you have taken? 
Jumping off buildings and out of aeroplanes for the thrill, but anything could go wrong