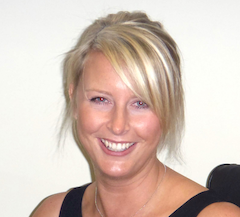 With one acquisition under her belt Chalvington Group Managing Director Claire Baker has ramped up her strategic growth plans with a major focus on controlled buy-and-build expansion.
Baker joined the family business after gaining a BA Hons in Business Studies at university. "Who knew back then that it would become my life," she stated. "My only experience was working in the mobiles department at Racal Telecom in Reading for one year during a university placement."
Chalvington Group began life 35 years ago when Baker's father set up MB Computer Services. He established a telecoms arm 15 years later, called Chalvington Communications, and Baker joined the business two months after the two independent companies were merged in 2012, operating under the Chalvington Group banner. "Joining the companies together was a major milestone," stated Baker. "It allowed us to promote a fully converged experience and took us to the next level of solution provision."
Former Abtec Managing Director Anthony Beard joined the business in 2017 and within two years became a Director in recognition of his significant sales, technical and processing expertise. "I had kissed plenty of frogs in my quest for suitable Directors to help me grow the business following my father's semi-retirement," stated Baker. "Anthony understands categorically what it means to run a small business and the intricacies that go with it. His career started as an engineer moving on to a support desk manager role and then owning his business, which he successfully ran and sold as a going concern. When he re-entered the industry three years ago to join us and help take the company forward, I had finally found my prince, not my frog!"
We will look for our next acquisition imminently now that we have cut our teeth on the Tendit base
Hailsham-based Chalvington Group employs 32 staff, with the majority having a ten-plus year tenure. The company generated £3.8 million turnover in its last financial year (its most profitable year to date) and has 1,500 customers across the south east ranging from two to 150 users. Chalvington's key technology partners include Wildix, Ericsson-LG, Sophos, HikVision, and the company is a Microsoft Silver Partner.
"We are seeing massive growth in private cloud solutions and struggling to keep up with the installations," said Baker. "All of the prospects we were contacting about the ISDN turn-off and working from home remotely, and who wanted to hold off making the jump to cloud technology, are now contacting us. They are desperate for the flexibility our solutions can provide."
Chalvington's strategy to bring in new business received a boost with its acquisition of Chipping Onga located comms provider Tendit Services in November last year. The deal strengthened Chalvington's regional influence in Essex and north London and expands its customer base. The new office location also enables a more seamless service delivery across the south. "The possibilities for our increased customer base and our financial projections for the coming year look promising, with further company developments planned for the not-too distant future," commented Baker.
"We always stayed clear of acquisitions as we didn't want to get so big we lost the personal touch. But the acquisition of Tendit changed this attitude – we decided to grow this way but in small controlled steps. We will look for our next acquisition imminently now that we have cut our teeth on the Tendit base.
"Another priority is bringing our in-house systems inline to make us more efficient. We are working with an outsourced development team to help us with this project. Lockdown gave us time to spend on this and it was a great opportunity to get our ducks in line for future growth."