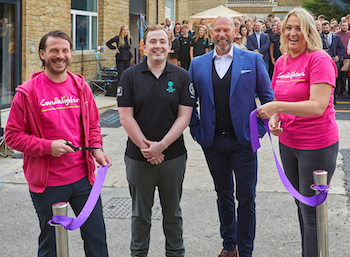 Leeds ICT reseller and managed services provider Pure Technology Group is flying the flag for sustainability and a positive culture following its move to a new consolidated £1.1m headquarters in Holly Park Mills on the edge of the city. 
Existing furniture in the complex has been re-purposed and refinished alongside new furniture manufactured using recycled materials from plastic litter retrieved from waterways. Facilities at the new premises include a gym, auditorium, social spaces, technical workshops, collaboration zones, work cafes and bar.
"Today's talent is looking for much more than wages. Providing employees with a flexible approach to work-life balance helps them to work effectively, giving us better results for our organisation," said Stephen O'Brien, CEO.
To celebrate the move, PTG hosted a launch event in conjunction with childhood cancer charity Candlelighters. PTG has raised over £120,000 for the charity in recent years. 
Pictured (left to right) at the launch are: Candlelighters Partnership manager Chris Salt; PTG Head of Innovation Simeon Banks, PTG CEO Stephen O'Brien; and Candlelighters CEO Emily Wragg.