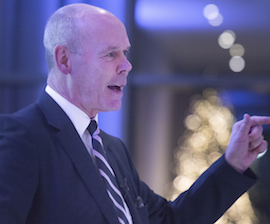 Aura Technology hosted a dinner for 150 business leaders at the Harbour Hotel in Southampton, where its Non Exec Sir Clive Woodward, the former rugby coach, delivered a keynote.
Woodward is especially known for leading the England rugby team to victory in the 2003 World Cup, on which he partly attributes the success to being the first rugby coach to use tracking technology to monitor the performance of players.
Tim Walker, MD of Aura Technology Group, said: "This was an opportunity to welcome some new and familiar faces, to celebrate everything we have achieved over the last two years, and to thank our staff, partners and customers for their roles in that success.
"Sir Clive delivered an entertaining and candid presentation."
Aura Technology launched in 2017, its market sweetspot being the 50 to 500 IT user segment.
Early last month Aura acquired Amicus ITS to create a £10m-plus group serving the private and public sectors.