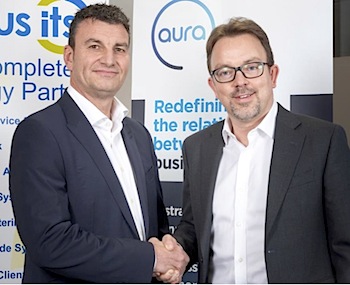 IT providers Aura Technology and Amicus ITS have joined forces as sister companies to create a £10m-plus turnover organisation. The two businesses, both with headquarters in Southampton, will operate under the Aura Technology Group but retain their own identities.
The Group will be led by Aura Technology MD Tim Walker becomes Group MD, while Steve Jackson, MD at Amicus ITS, continues in a Non-Executive board role.
The senior team of directors at both businesses remain unchanged.
The deal reflects additional opportunities based on shared capabilities and mutual access to complementary portfolios. The move also precedes a broader and accelerated push into private and public sector markets.  
Walker said Aura Technology will continue to work with private sector organisations mainly in the mid-market of over 50 IT users; while Amicus ITS retains its focus on public sector customers, with in particular emphasis on healthcare.
The deal follows two years of growth for Aura Technology since the company was launched in 2017 by co-founders Tim Walker and Pete Hughes. 
Earlier this year the company appointed Sir Clive Woodward to the board in a Non-Executive role.
Walker said: "Amicus ITS is established in the public sector and shares Aura Technology's values. It is unusual to find such a mid-market and enterprise-focused business in the sector."
Sir Clive Woodward added: "The integration with Amicus ITS creates a group of two companies with synergy and shared values."
Amicus ITS was established in 1988 as an in IT solutions provider for the healthcare sector and regulated markets and is an accredited Crown Commercial Supplier.
Pictured above: Steve Jackson (left) and Tim Walker