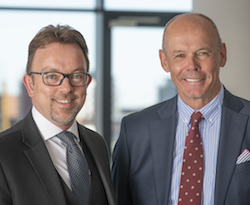 Aura Technology has appointed World Cup scooping rugby coach Sir Clive Woodward as a Non Executive Director. He won the World Cup with England's rugby team in 2003 and led Team GB to Olympic success as Director of Sport from 2006 to 2012.
Woodward has experience in the technology sector and banked an 18 year business career before becoming England coach, including the founding of a computer leasing business.
He is also the founder of Hive Learning, an online community where business leaders share technical and commercial knowledge.
Aura Technology MD Tim Walker said: "Clive will play an active role in shaping our business as we grow in London, the south and beyond.
"Aside from a shared love of rugby, Sir Clive and I share a passion for leadership, teamwork, and performance excellence. 
"He has a strong background in technology and an understanding of how a winning mindset leads teams to succeed."
"He has identified these winning qualities in Aura's team and I am thrilled that he has chosen to join us to help make the most of our business's enormous potential as we take it to the next level."
Woodward added: "After my initial meetings with Tim, I quickly realised that Aura Technology stands out in a competitive market because of its focus on a highly strategic approach to IT. 
"Tim, the board at Aura and I see this as a long-term relationship."
Pictured: Tim Walker with Sir Clive Woodward.