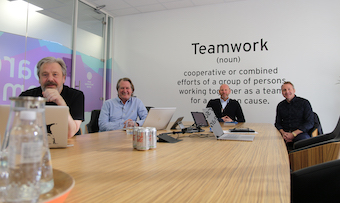 Netherlands-based Fulcrum Technology has acquired Pure Technology Group (PTG) in a move that PTG CEO Stephen O'Brien claims will propel the business to the premier league of UK IT services providers.
 
O'Brien was attracted to Fulcrum's focus on a pan-European strategy and capacity to give PTG access to a broader customer base and broaden its product and service portfolio.
PTG's senior management team and all 140 personnel will remain in place across bases in Leeds, Wakefield and Wigan.
PTG was established in 2007 by O'Brien and generated £39.7m revenues in its last financial year.   
"We had many approaches over the last couple of years but Fulcrum's pitch was different," explained O'Brien. "It has a strategy that will propel us towards being among the top echelon of UK IT service providers."
Fulcrum CEO Shane Maine stated: "We see clearly the expanding capabilities we can develop together in the areas of secure remote work and enterprise service management."
Pictured left to right: Cliff Fox, Chief Operating Officer (PTG), Geoff Botting, Chief Financial Officer (PTG), Stephen O'Brien, Chief Executive Officer (PTG) and Shane Maine, Chief Executive Officer (Fulcrum).