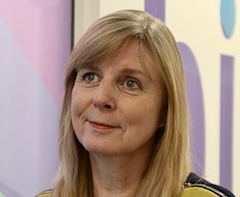 Leeds-based IT solutions and services firm Pure Technology Group (PTG) has 'virtually' launched its 'Summer 100' campaign, comprising a series of fundraising events which aim to take the company past the £100k donations mark, for children's cancer charity, Candlelighters.
 
PTG's total proceeds currently stand at almost £84k, with the aim to raise a further £16k by the end of summer.
 
In addition to the 'Summer 100' pledge, the tech organisation is the first to join the newly launched 'Club Candlelighters', making a three year commitment to raise a minimum of £25k per annum to enable the charity to help even more families in the future.
 
Anne Davison (pictured), Group HR Director at PTG, said: "We've worked alongside Candlelighters for half a decade, so they're a charity very close to our hearts.
"COVID-19 is presenting challenges and hardship for charities and individuals across the country, and we want to help plug their financial gap where we can."
 
Candlelighters has recently launched its national 'Together Tin' campaign, aiming to raise £525k to help deliver their adapted family support services and financial grants.
 
"This year, rather than gifting Easter eggs to our staff and customers, we intended to send hundreds to the children's cancer ward at Leeds General Infirmary. Unfortunately, COVID-19 prevented us from being able to do this, so instead we've donated the £500 cost to the 'Together Tin'," added Davison. 
 
Amy Harrison, senior corporate partnerships executive at Candlelighters, added: "Covid-19 has made life even more difficult for families affected by childhood cancer and Candlelighters needs to support them now, more than ever. 
"With so many fundraising events cancelled or postponed, it's supporters like PTG who are enabling us to keep our candle burning and bringing light to our families in these darkest of times."
 
PTG's confirmed activities include 'Pink-it-up week' in June, a sponsored skydive, a socially-distant 10k run, plus corporate donations at the business's annual event – 'ptXX the circus'.
 
As part of the support for Candlelighters, PTG also donates IT services and digital skills to the charit, most recently supporting their national 'Together Tin' campaign, by helping produce the lead campaign video alongside Seven Video.