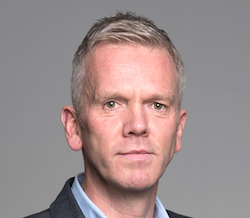 The merger of five complementary tech firms to create North brings a more centralised growth strategy and sharper focus to an already thriving operation spurred by ambitious PE firm Aliter Capital.
Scott McEwan, the co-founder and CEO of Glasgow-based Boston Networks, was instrumental in selecting and bringing together the five businesses that form North. Here, he discusses the rationale behind the merger, the wider context and long-term objectives...
When was the plan first hatched?
North has been on the Aliter Capital investment journey since January 2018 and we planned acquisitions and mergers for quite a while. Once the five complementary businesses came together – Boston Networks, PEL Services, 2020 Vision Systems, Pinacl Solutions and Pinacl Global Delivery Alliance – it felt like the right time to create our new brand. We had reached operational readiness, had expanded geographically and held expertise across complementary technology areas.
What are your initial objectives?
Financially, we are currently sitting at a turnover upwards of £50 million and plans are in place to exceed £100 million in the not too distant future. Ultimately, we would also be looking to increase our market penetration within specific sectors such as defence and with infrastructure and utilities, concentrating on organic and inorganic growth across each. We have more acquisitions planned in addition to striving to engage with other UK enterprise and public sector organisations, and we aim to expand our IoT footprint UK-wide.
How successful was your Covid-19 lockdown strategy?
With a clear plan in place, maintaining strong operations across the business and managing cashflow well throughout lockdown, we utilised that time to focus on winning transformative deals. Looking back, it was tough. It was of course the first time we had to contend with such a challenge, but we looked after our staff's wellbeing and won significant business in the process, providing critical services for the likes of Aberdeen City Council and Hammersmith & Fulham Council. When lockdown started to ease, we were able to deliver those key projects.
What is the nature of these project wins?
In recent months North has won a string of new business totalling over £30 million in a diverse range of industries across the UK. Project wins include a four year contract with Hammersmith & Fulham Council worth £4 million, to relocate the Council's safety and security command and control facility, while future proofing its CCTV and infrastructure estate made up of over 1,900 cameras. Other Government and public sector projects total £18 million, which are confidential under NDAs. North is also running the £6 million IoT Scotland network, part funded by the Scottish Government, supporting businesses with innovative projects via hundreds of LPWAN (Low Power, Long Range) wireless gateways situated throughout the country.
Is North coming out of Covid-19 stronger?
Throughout the pandemic all of our constituent companies bucked the trend by securing major contract wins which have added to our growth trajectory. As we look ahead, 74 per cent of company directors say that home working is here to stay (according to a survey of 1,000 firms by the Institute of Directors), and we will continue to help businesses across the UK successfully transition. Throughout this period, North has strengthened its team with strategic appointments and we will be recruiting to increase our 250-strong headcount. We're keen to encourage young talent to come into the business through graduate and apprenticeship schemes, in addition to providing opportunities to our current staff members for development, management training and promotion.
Is the name 'North' indicative of a regional focus?
The name North isn't down to geography as our national organisation has five regional hubs scattered across the UK, from Glasgow to Northolt just outside London. North felt like the perfect fit as it defines all other directions. Our name represents our focus on taking organisations on their technology journey and using North to find their way, with our viewpoint being that no matter where you are in the world, you would use North to navigate while simultaneously providing a guide to what comes next.
How are you better able to serve the market as a unified group of companies?
Due to the strength that each of the businesses have brought in forming North there are very few companies in the sector with such a broad and complementary range of expertise. In addition, one of our strongest assets is the ability to provide regional support but with a national service function and offering. Through this approach we can provide opportunities for our clients to tap into more experts across the business and provide a well-rounded service offering.
What is your biggest opportunity?
The gap in the market for a company of our size combined with our agility and experience is our biggest opportunity. When reviewing competitor analysis, there's a definite gap between big industry players and regional providers. We're positioned as a national provider that targets mid-market blue chip companies. Not too big to maintain our service offering, with a backend success rate that enables continued growth.
Technology underpins every business and organisation, and now, more than ever, it's a board level discussion point. We are focused on informing the C level board decision makers, showcasing to them how technology can help to improve their workings, increase their efficiency and save them money. Gone are the days where technology was viewed as a luxury, now it is an essential part of every business – whether that is permitting employees to work remotely from home with ease, installing IoT networks and sensors to prepare companies locking their office down to hibernate for winter, or providing detailed insight and data to understand a business environment better.
What trends are you seeing that interest you most?
Covid-19 has put network infrastructure and the safety and security of people, buildings and assets at the top of the agenda for private sector companies and the public sector. This has become particularly apparent during lockdowns and restrictions – and with the heightened terrorism risk video analytics and augmented intelligence are now at the forefront of conversations.
How do you think the role of resellers will evolve over time?
Customers are smarter than ever and we are starting to see organisations being more open to change. System integrators need to include a better use of technology with a managed service offering and get the mix of both just right to ensure that customers truly reap the benefits.
Where do you see North in three to five years time?
We're looking to grow significantly and be much more involved with a variety of global players. With 5G in the mix, our aim is to stay ahead of the curve on the technology journey and continue to grow, focusing on scaling up the business and finding the best talent. We always want to keep the entrepreneurial spirit and agility that founded North. We don't want to become big and cumbersome.