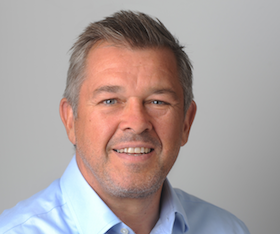 From the moment babble cloud CEO Matthew Parker gained greater control fast growth was bound to come, and it was an MBO one year ago that enabled him to slip the leash and pull the business together on an ambitious expansion strategy.
In November last year mid-market private equity firm LDC invested in London-based IP Solutions, which later rebranded as babble cloud, and like its name the business has since been utterly transformed by a propitious MBO. "I joined to lead a buy-and-build strategy but the legacy issues that occurred under our previous investor's stewardship were too significant to move forward," stated Parker. "Now the brakes are off. We are seeing double digit organic growth, we've made two acquisitions – DRP and Arden Group, the whole company is motivated and we are experiencing a forward momentum that was impossible before." 
Following the MBO, and with the obligation to drive growth passed to Parker, his focus on pushing the business forward has become more intense and urgent. "The MBO fired the starting gun on babble and 12 months on we haven't looked back," he said. "Speed of execution is now our top priority. It's every organisation's biggest challenge. I've seen too many opportunities missed through intertia or lengthy decision making processes. Whether that's driving the acquisition pipeline, changing name or closing a deal. I've never been more motivated to move fast. It's no coincidence that post MBO we saw our biggest ever sales month, record breaking revenue and the emergence of a successful, motivated sales team. The uncertainty has gone, and we can just get things done now. I can see an obvious path to £50 million revenue and we are on our way."
Speed of execution is our top priority. I've never been more motivated to move fast
babble employs 75 people and currently generates £20 million revenue with £3 million-plus EBITDA. Bookings growth is double digit and the business has over 1,000 customers on its books. "We focus on industries and markets where we see disruption or transformation," stated Parker. "It means that from the outset the conversation is about value not price. That's why our strapline is 'Some see tools. We see possibilities'. We believe we are already the most successful reseller of CCaaS solutions in the UK and we are investing heavily in this market with some fantastic recent wins. We are also starting to verticalise our products and improve the way we package them to appeal to those focus markets.
"In each major product category our goal is to offer choice, which is not always easy to do because it can be hard to generate economies of scale, but we think it opens us up to customers who may not otherwise choose a reseller so we have a significant roster of vendor partners with a heavy slant towards more cloud-native vendors."
According to Parker his £50 million revenue target is explicable only by future acquisitions, raw recurring revenues and personal ambition. Having already mobilised that expectation he's pinned his strategy on babble's pivotal move to become a subscription-based business long before the rest of the market, adhering to its decision to remain pure-cloud. "All of our customers are subscription-based," he explained. "Our non-recurring revenue is a tiny percentage of overall revenues and that makes life easier. It would have been easy for the founders to stick to on-premise in a difficult month but they never blinked."
babble cloud began its commercial life in 2001, founded by Keith Purves and Paul Richards. They teamed up with Andy Lindsell in 2006 and quickly realised the opportunity in becoming a cloud-focused reseller and transitioning towards a subscription-based business. At this turn in babble cloud's history only one thing mattered – the courage to be different. "Organisations that were looking to do something smart and transformative were attracted to us and many of them are still our customers now," stated Parker. "If it wasn't for the founders' conviction and willingness to take a risk babble wouldn't exist today." 
The change of identity from IP Solutions to babble cloud was driven by the need for instant recognition in its mid-market target customer segment, and, said Parker, 'Solutions' is an over used meaningless word that he was happy to lose. "We are in essence a conversation company, we help businesses have more effective, more productive, more frequent conversations with their customers," he explained. "It's not babbling, but the point is clear, the name resonates and is memorable. We have a pipeline of potential acquisitions and as the business grows we want to build the brand.
I can see an obvious path to £50 million revenue and we are on our way
"Being part of the LDC portfolio means funding is a non-issue. It has backed us to execute a buy-and-build strategy and if we keep doing what we're doing and find the right targets we see no reason why we won't achieve our goals. In three years time our revenues will be £50 million and we'll still be seeing market leading growth and profitability."
In addition to acquisitions Parker aims to grow fixed monthly recurring revenues by one per cent every month. He illustrates clearly that babble requires a recurring revenue model to flow continuously, and in this new phase of growth, as in his career to date, he sees himself not as an entrepreneur which you'd expect. "My 'thing' is growing businesses," he added. "My skill is in getting involved with established organisations and making them more successful. My biggest success was in driving Lumesse from a business that was virtually bankrupt to a 500 million euro valuation. In the process I got to do things I'd never dreamed possible – I travelled the world, made long-lasting friendships and enjoyed every minute of the experience."
Nor is he a technologist. "I'm more into commercial trends and obsessed with building high quality recurring, contracted subscription revenue for cloud-based services – that's what enthrals me," commented Parker. "It's depressing how many organisations say their revenues are recurring when they're nothing of the sort; and the challenges of driving organic new logo growth combined with a legacy of poor quality non-recurring revenue leave many organisations behind, creating a two-tier sector. It's not even an acquisition opportunity because even at a low multiple these tier two organisations are hard to justify."
Parker's first impression of the communications sector was not too dissimilar to his assessment of the tier twos he describes above. He was introduced to the industry by an executive search consultant, who was also a friend, with an opportunity to join a mobile phone dealer. "Having spent a good portion of my career running software businesses and sitting on the vendor side of the fence the idea of working for a reseller didn't appeal – with no product to build, thousands of one-man band competitors and an industry characterised by old school tin shifting sales execs," stated Parker. 
"Then I realised the issues that were putting me off were in fact the opportunity. It played to my skills in building sales-driven subscription businesses. It's an industry that's going through transformational changes that will leave many companies struggling for growth and looking to exit. Plus, I don't have the stress of building product any more. It's a win-win! The more time I've spent in the industry the more I enjoy it. There's a lot of smart people building solid businesses and everyone has a different story to tell. It's the most interesting sector I have worked in."
Just a minute with Matthew Parker 
Role model
I worked for a fantastic CEO called Colin Tenwick. He let me build a business within a business and backed me all the way. When I stepped out of line he made sure I knew it and he never expected anything less than the highest standards. I still sometimes ask myself 'What would Colin do?'
What talent do you wish you had?
To sing in a way that people want to hear
What do you fear the most?
Boredom
Tell us something about yourself we don't know
I met the Queen and both of us were wearing a skirt
Name three ideal dinner guests
Alex Ferguson, Jim Telfer and Colin Montgomerie
What are your strengths and what could you work on?
I tell myself I only need to be right 51 per cent of the time, so far that's worked but it can make me a bull in a china shop. I sometimes miss hearing the nuances that come with quiet reflection and listening
How would you like to be remembered?
As a nice guy
Name one thing you couldn't do without in your job
My assistant Robyn. She is the beating heart of our organisation
Best piece of advice you have received?
Never forget the 'lifesaver' when riding your motorbike 
What possession could you not live without?
My watch. It was a 30th birthday present from my wife
Give one example of something you've overcome
The voice in my head when I was young that said 'you'll never get a high paid job in sales' 
If you weren't in ICT what would you be doing?
Selling something to someone somewhere 
What's the biggest risk you have taken and why?
Doing an MBO at Lumesse: The consequences of it going wrong would have been catastrophic from a family, financial and career perspective
How do you relax when not working?
For the past five years I have cycled from Land's End to John O'Groats and I realised this year that it's the point in the year when I'm most relaxed. It's my annual thinking time
Top tip for resellers
As a reseller it's tempting to do and offer everything. Keep it simple and do less. Focus on fewer things and do them better than the competition. Then start with what the customer needs and work backwards from that. Even if the customer doesn't yet know they need it 
In hindsight: 
I'd do almost everything differently
Industry bugbear
Ban the use of IT as a way of describing what industry we work in. Talk about business enablement or tools. No-one buys IT