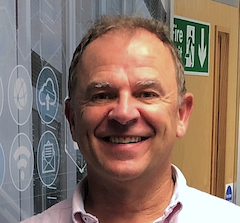 IntraLAN made its first CEO change for almost a quarter of a century in August, pulling in Andy Horn whose 2020 plan has only one purpose – to double the size of the business.
In the realm of business expansion, Horn's intention to double revenues next year shows great ambition, more so when you consider that acquisitions are not the main priority, at least for the time being. In a bold bid to get this done he says that target-driven leadership, the company pulling together and velocity will lead to a coming of age for IntraLAN. "I was brought on board to take the company to the next level of growth and revenue through defined leadership, communication and collaboration," he said.
"The immediate focus is on organic growth. I have set the objective to more than double the size of the business through 2020, and we need to make sure we have the momentum to make that happen. The business will scale at pace and the leadership team must ensure we do not lose the great culture and customer focus we have developed. Our strategy may eventually evolve to include inorganic growth as we go forward."
Extracting 100 per cent more revenue from the market in short time will be, predictably, a challenge for any plucky business with plenty of pep in its step. But Horn is reinforced in his view that IntraLAN's growth objectives are not only achievable, but beatable, based on his conviction that monetising new technologies, boosting the headcount and getting more hands on with staff will go a long way in underpinning his plan. "I'm working closely with the sales and alliances team to make this happen," he stated. "And we'll be bringing new and emerging services to market to help transform our customers' businesses. Early stage companies already approach us to be the driver behind their business transformation and innovation. Digital transformation continues to be a key concern for our customers and we're helping them to navigate the change in the most cost-effective and efficient way possible. Digital transformation isn't just about technology, it's about changing business models."
I have set the objective to more than double the size of the business through 2020, and we need to make sure we have the momentum to make that happen
One illustration of Horn's modus operandi is his intention to stay ahead of the times, which he hopes will inject the demand for innovation required of his action plan in SME territory. "This is difficult because not all new technologies are primed to succeed and many may compete with each other," he added. "As a VAR or systems integrator, it's important to align the commercial value of the tech with the business demands of customers. Typical systems integrators have been focused on the enterprise, the SME market has often been neglected. We are providing a suite of integrated services that truly support this market."
The Epsom-based Microsoft Gold Partner's market focus is primarily SMEs. It offers a broad spectrum of IT services including support, UC, business continuity, Internet, mobile and telephone services. As well as Microsoft, IntraLAN's technology partners include IBM, Cisco, BT, Splicecom, Vodafone, EE, O2, Datto and Colt. Horn noted that IntraLAN is in the process of adding new partners across its service offering including cyber security. He also said that the appointment of five new recruits last month to IntraLAN's business development team is a significant boost to its growth strategy. The new hires include Tony Fabrizio, Head of Channel Alliances and Strategic Partnerships, a move which is reflective of the advances made by IntraLAN's partner ecosystem.
Horn is aiming for IntraLAN to become the preferred supplier and innovator for the SME sector, but it's an ambition that, he says, is barely evident in the mid-market. "I'd like to see more focus and stronger support for new and emerging technology in the mid-market," commented Horn. "Stop talking about technology and start discussing business outputs. Real innovation requires us to stop doing some of the tasks we do today, to enable us to do them in a different way tomorrow. True innovation is about employee engagement and valuing all staff as being creative contributors to the success of a business."
IntraLAN began its commercial life in 1995, providing support for Novell and NT3.51 networks. The following year it committed to the Microsoft platform and in 1997 was appointed a Microsoft Partner, later upgraded to Gold Partner status in 2003. The telecoms division has been in operation for nearly a decade, as has IntraLAN's Canary Wharf data centre. The firm's merger with Transglobal Telecom in 2014 doubled its size and brought in additional telecoms expertise.
The company became part of the Eli Global group of independent entrepreneurial businesses in 2017 and Horn's appointment as CEO in August was hailed as another significant step forward. "I'm IntraLAN's first new CEO for 24 years and I'm taking the business into a new era of growth," stated Horn. "My strengths lie in strong sales leadership and the commercialisation of technology. Both of these are fundamental to supporting our customer sectors effectively."
Stop talking about technology and start discussing business outputs
Horn's leadership credentials have been spotlighted many times. Winning plaudits for growing outsourcing business Exodus from zero staff to exit with a $40 million run rate was an especially bright moment. Perhaps Horn's knack for charting stellar growth stems from his time as a navigation officer in the Navy. But as the number of ships diminished Horn's Navy career sunk. "I got off my backside and after a few sales jobs ended up in telecoms," he recalled. "Some of these roles were commission only, so I had to make things happen.
"I got into the telecoms sector when the BT monopoly started to break up. It led to disruptive selling which was great for customers and businesses of all sizes. I then moved to London and worked in IT outsourcing which was another disruptive technology. Again, the business model was changing and everything we delivered to the market was beneficial to our customers. The Navy taught me about leadership and teamwork. The following sales roles built on these learnings and introduced an element of essential fun. If what you do is fun the magic just seems to happen."
Just a minute with Andy Horn...
What talent do you wish you had?
The ability to read minds
Tell us something about yourself we don't know:
I was a fencing instructor, Judo coach and used to race motorbikes
Name three ideal dinner guests:
Winston Churchill for the tales he could tell about how to motivate a nation, and how to deal with huge positives and negative situations; my Grandfather Horn, I never met him but he was a great man; Billy Connolly for funny stories
Your main strength and what could you work on?
My strengths are leadership and an ability to bring people along on the journey; but I could work on how I tell it straight – some like it, some don't
Best advice you have been given:
To thine own self be true
One example of something you have overcome:
Juggling work as a single dad of two teenagers
If you weren't in ICT what would you be doing?
I nearly became a stuntman and was one TV commercial away from getting my Equity card
Biggest risk you have taken?
Moving from large corporates to start-ups and early stage companies. There's no place to hide and it's less secure, but hugely rewarding and loads of fun
How do you relax when not working?
Sailing, spending time with my two sons, paddle boarding, surfing and mountain biking
Top tip for resellers:
Communication, consistency and care