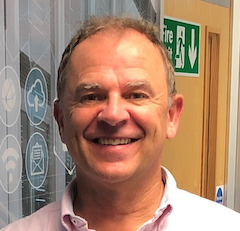 In a serendipitous turn of events Andy Horn left the navy and found himself working in the comms sector. Here, the CEO of IntraLAN reflects on the move that changed the course of his career.  
Horn displayed an aptitude for navigating unpredictable waters while in the navy, a skill that would later enable him to chart a clear and determined course through the waves of comms market disruption. The experience continues to resonate many years after he left the navy and first entered the comms sector in a sales capacity. "Some of the roles paid only on commission," commented Horn. "That really helped to teach me that if you want it done, you have to make it happen yourself. At the time, the initial BT monopoly was being broken up and there was a host of challenging, disruptive and emerging technology that made the comms space intriguing, which is how I got into IT outsourcing when I moved to London."
 
IntraLAN was established in 1995 and initially focused on support for Novell and NT3.51 networks before working with Microsoft, becoming a Microsoft Gold partner in 2003. The telecoms division has been running for nearly a decade, as has IntraLAN's Canary Wharf data centre. The company's merger with Transglobal helped bolster its telecoms expertise. And in 2017 it became part of the Global Growth Group of independent entrepreneurial businesses. Horn's appointment as CEO in 2019 was another significant step forward for the company.
"Outside of my appointment as CEO we have completely shifted both our sales and marketing leadership in recent years," he commented. "We have moved our focus more on IT services and less on mobile and telephony. Our strength lies in being large enough to excel but small enough to care and we pride ourselves on offering tailored IT solutions and becoming an IT partner that businesses can trust."
IntraLAN covers a broad spectrum of IT services including fully managed IT, cloud services, Unified Communications, security and compliance, network and infrastructure. It has strong partnerships with Microsoft, IBM, Cisco, BT, Zero Networks, Darktrace and Xarios, among others. "IntraLAN's key focus is making sure we are on the front foot when it comes to new and emerging tech and applying it to suit customer needs," added Horn. "We want to improve the depth of our relationships with clients and partners."
Blipping large on Horn's tech radar screen are edge computing, IoT, and many other technologies that can't be brought to market due to a lack of reliable connectivity. Agricultural technology, GPU at the edge, and a new generation of gaming will all be enabled by these advancements, he believes. "Years ago, tech was seen as a cost to businesses, then as an enabler and now a blocker – a situation that was exacerbated by Covid-19," he stated. "Keeping an eye on the next stage of emerging technologies is key."
Hybrid working due to lockdowns has fast tracked the digital transformation of business practices and put a spotlight on agility. "It's all about flexibility, and because of that a company's IT needs to be both flexible and secure," said Horn. "Managed services make it easy to adapt to every workplace model and will be a major factor in IT as a service for IntraLAN going forward. The challenge for scaling up is the harsh market state we're currently in. Resources are a challenge for everybody at the moment."
Nonetheless, Horn expects IntraLAN to become a bigger national player, with expansion driven by organic and inorganic growth. "The pandemic has forced the acceleration of digital transformation for businesses, which means a lot more companies require us to serve as the driver behind their transformation," he explained. "The last year has been a busy one for us helping companies move to remote and hybrid working set ups. We launched WorkIN, an IT and connectivity service to enable employees to work safely and securely from home. We continue to work with SMEs of all sizes and are working more with enterprises to adapt to this relatively new IT environment, moving away from a single, centralised IT set up.
"We have also been focusing on our cybersecurity offering. The move to remote working has made businesses think about their network security and this has become a significant part of our offering, to help businesses secure their assets and data. It's an ever changing market. You can never rest on your laurels, and when dealing with such a vast range of IT services I have no shortage of new innovations I must adapt to regularly. It's an extremely rewarding market if you can navigate it and handle the pace."