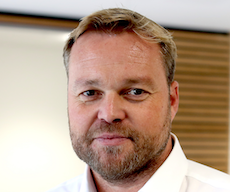 For Radius Connect Group MD Ray Ferris, who is backed by a £2.5 billion parent company, no holds barred strategic vision and ambition make the prospect of marching into an adjacent market and becoming top dog within five years wholly possible.
Ferris is credited with setting up the Corporate Indirect channel for EE and delivering year-on-year double digit growth for four years on the trot. To say that this is a career highlight is an understatement, and he hopes to repeat his trick with Radius Connect, the fast growing comms arm of £2.5 billion revenue business Radius Payment Solutions. "The plan is to be in the UK Premier League of resellers with a global footprint that follows our fuel and telematics business," he said. "Increasing the penetration of telecoms products into our group base presents us with a phenomenal opportunity over the coming years."
 
Radius Payment Solutions began life in 1990 when owner Bill Holmes set up the firm as a fuel card company. It now provides fleet management solutions including telematics, telecoms and insurance to over 300,000 customers; and was recognised as one of the UK's largest private companies and ranked 19th in the 2019 Sunday Times HSBC Top Track 100 list.
In December last year Radius acquired Reliance Networks, its seventh deal in seven weeks, three of which were in telecoms – Adam Phones, Pure Telecom and Trinity Maxwell. "Radius Connect was launched from the framework of these four telco acquisitions," added Ferris. "We are driven to grow the business significantly over the next three to five years, so you will continue to see us acquire and invest."
We are driven to grow the business over the next three to five years, so you will continue to see us acquire and invest
Radius Connect's technology parters include 8x8, Avaya, Gamma, Cisco, IBM, Node4, O2, EE, Vodafone, BT, Mcafee and Microsoft. "In the small business arena we focus on a mobile, connectivity and voice play," said Ferris. "The medium sized marketplace is more complex and solutions-based, with conversations moving to reliance, security, scalability and continuity. Advice, project management, installation services and ongoing in-life management are critical needs here. For corporates we have expertise in key verticals such as finance where we are expert in areas such as contract reviews, tariff analysis and bespoke proposal creation. We have big ambitions in all of our markets, but need to ride the coronavirus storm over the spring and summer.
"Like everyone in the UK we are watching the coronavirus situation unravel. We are in the grips of a global pandemic and my focus is on helping customers use technology to keep functioning. We have made short-term hire facilities available at heavily discounted rates for homeworking, and short-term extensions to expired contracts that give clients peace of mind. We hope that by working closely with our customers in this difficult time we can forge even stronger relationships for the future. We have moved to remote working where possible ourselves."
Big investments in people and infrastructure to support customers has proved to be key in Radius' successful response to the coronavirus. "We've been lucky through our acquisitions to appraise and adopt best practice as we've gone along," added Ferris, who has been equally instrumental in the company's adoption of winning growth strategies, based on his impressive career experience. He joined Orange in 2003 after a period in the software market, never with any great expectation to stay in comms, but he found the constantly changing technology and marketplace fascinating.
We are in the grips of a global pandemic and my focus is on helping customers
"I worked with Orange through to EE and finally BT, and saw the company grow and go through acquisition, and I was involved in large change programmes," he explained. "We brought indirect sales in the corporate market to life for EE and that journey was particularly satisfying and enabled the switch to my role at Radius Connect."
During this career period the development of VoIP services matured, and with new pricing models available Ferris is poised to do 'something disruptive' over the next few months. "The need for specialist advice and guidance in the SME marketplace for UCaaS implementations, in particular MS Teams, also forms a large part of our thinking," he added.
"Amazon Connect is another interesting proposition for our customers. Our role is to help them work out how to benefit from services such as this, which will only continue to proliferate, as part of a blended telecoms strategy. Customers value our help in navigating this complex world, providing them with free independent advice and supporting this with our teams.
 
"Resellers are also being pushed to sell network billed solutions, so they need to adapt to that market to achieve the best scale they can. SIs can provide the expertise around more complex IT projects and cloud deployments, and I see more consolidation in both markets this year."
Just a minute with Ray Ferris...
Role model:
Our CEO Bill Holmes. The most driven inspirational person I know
What talent do you wish you had?
To multitask
Tell us something about yourself we don't know:
I used to be a flair cocktail barman in New Zealand
One example of something you've overcome:
The 16 stone barrier
Your greatest strength, and what could you work on?
I enjoy people and understanding what motivates them, but I could work on my presentation skills. I despise PowerPoint
Best piece of advice you have been given:
Nothing is ever as good or as bad as it seems
The biggest risk you have taken?
Taking my role at Radius. I had a good job at BT but this was a risk worth taking
Who do you admire most in the channel?
Any business leader who runs a small or medium firm. I know how hard it is
Name three ideal dinner guests:
Ian Botham, Bobby Robson and Margot Robbie
In hindsight:
I would have invented the iPhone! And maybe been riskier with a view to starting my own telco earlier in my career
Industry bugbear?
Customer service at the network level is too poor in the main
How would you like to be remembered:
As someone who always saw the funny side in difficult times
If you weren't in comms what would you be doing?
I'd be involved in cricket administration