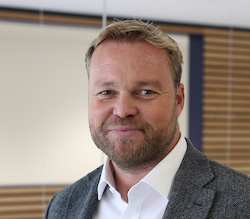 Knowing where to start when it comes to planning future growth can be difficult. But Ray Ferris, Group Managing Director for Telecoms at Radius Payment Solutions, is entering phase two of a five year expansion plan.
For Ferris, creating a dynamic business environment means prioritising organic growth in the existing customer base, new product and service development, increased operations in international markets, potential M&A, unlocking opportunities in adjacent markets and focusing on people development and the broader purpose. All of these elements (and more) reside at the heart of a five year plan that includes operating more effectively with partners. Quite a lot to pull together into a single shared organisational vision.
"My leadership priority is to ensure we have clear direction for the next year and beyond for my teams," stated Ferris. "Clear strategic direction and an understanding of peoples' role within that direction may sound simple but is often clouded by pressure or changing demands. Sometimes a sales target or a particular project can overwhelm, so it's important to reset, take a break and come back with new focus and energy."
Having diligently assessed and paved his pathway to future growth Ferris puts forward a solid business case including cross-selling potential and a smarter operating model that enables the comms division's product proposition to be leveraged by other arms of the wider business. "Radius is evolving its partner offering across divisions by adding the telco portfolio to our fuel and telematics resellers, giving them the ability to layer products and services for their own customer base," explained Ferris.
Our biggest asset is our people so the impact we can make as leaders and coaching professionals is the most important contributor
He is also likely to introduce more cloud-based and security products as part of the second phase of Radius Connect's longer-term plan. "Increasingly, our customers are looking for trusted partners to help with not just their mobility needs – fuel, telematics, insurance and vehicles for example – but to connect and then secure their business," said Ferris. "The take up of security as a service and IT managed services out-of-the-box for the SME market is of real interest. We are also looking to add more IT services for SME businesses in Northern Ireland and then Great Britain. And we are watching the market around the adoption of products like Teams with voice and how that plays out versus traditional hosted cloud providers – this will influence our approach."
The biggest opportunity for Radius Connect is to leverage the global scale and customer portfolio the group maintains. "We have around half a million customers around the world and the opportunity to cross-sell products from our mobility and connectivity divisions is immense," stated Ferris. "Our plan cements the telecoms offering across a number of key territories including the UK, Ireland, Belgium, Germany and Italy. This will see us deliver a multi-product offering in those territories."
Ferris' long-term ambition is to overachieve against the five year plan and provide a third of group profits in that period. He noted that the foundations to realise his objectives are in place, clearly reinforced by the company's performance. "Last year we grew by circa 20 per cent CAGR and expect the same this year – more so in some product areas," he added. "The growth will be organic from the existing Radius customer base and also through new group activity driven by digital marketing. We plan to increase headcount by 15 per cent year-on-year in line with our five year plan. This includes not just the UK, but also our Irish and German telecoms businesses."
Careful planning and a focus on specific plays last year continued to pay dividends, noted Ferris. "2022 was a big year for organic growth, which, for the first time in the last four years didn't see us do any major mergers and acquisitions," he said. "We decided to double down on investment in sales teams and refine our product roadmap to allow fast growth in our key category areas of mobile, cloud telephony and connectivity. For the most part we have exceeded the goals we set but still have areas for improvement around multi-product learning and development, and continually improving the customer experience."
Sometimes a sales target or a particular project can overwhelm, so it's important to reset, take a break and come back with new focus and energy
Ferris also sees his role as making sure the training and cultural ecosystem is in place to underpin the business's growth prospects and opportunities. "Investment decisions on learning and development and product are the primary areas of focus for me at the moment as we look to build the product portfolio and train our teams to become experts in their field," he added. "Our biggest asset is our people so the impact we can all make as leaders and coaching professionals is the single most important contributor."
It's also crucial that every aspect of the business is geared to deliver sustainable value through a wider purpose as well as culture and strategic planning – and Ferris is seeing this imperative play out in a number of areas. "Diversity and inclusion will continue to be a focus for Radius to provide an inclusive, exciting and vibrant place to work for new labour market entrants," he commented. "And in the last 12 months Radius has invested heavily in ESG, driving initiatives ranging from staff wellbeing and diversity celebrations to carbon reduction programmes. The sustainable future of the business and its workforce is key to its prosperity and the local communities it serves."
In terms of people, we have seen that Ferris is active in several areas, but challenges are evident as competition for talent is unlikely to ease any time soon. "Recruiting the best talent is always the main short-term focus in the current marketplace," he added. "We have plans involving apprenticeships and graduate recruitment, through to sales academies and investing heavily in management to on-the-job skills training. I see this being a challenge for the next few years."
While Radius has grasped the requirement to lead and invest in a future-focused strategy many organisations are yet to double down on charting a pathway to long-term growth. "Business leaders know they need to reinvent their organisations but there is a way to go in terms of knowing what that reinvention means," stated Ferris.
"To move away from traditionally profitable methods of interacting to pure digital is hard for many. Some segments of the market are slower to react to change and they risk losing out on profits by moving too fast. That's why an omni-channel approach fits best. The opportunity for VARs is to understand customer and partner roadmaps and drive value in areas the end customer can't deliver."