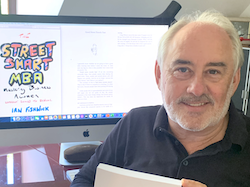 Sometime in the future if a young relative of Ian Fishwick asks him what he did in the 2020 Covid-19 lockdown he'll simply say, 'I finished writing a book to inspire people like you'.
That's not to say the former Adept PLC CEO has written a child's book. Far from it. His self-published thought leadership tome entitled 'The Street-Smart MBA' is aimed at anyone starting an enterprise right up to business leaders who need to hone up on their day-to-day business skills. The subheading on the cover, 'Mastering Business Acumen without going to school', neatly summarises the contents within. Basically, it's a manual for business management with 107 concise stories, each deftly illustrated by Fishwick's 'doodles' which cover almost every issue a leader will face during the life of their business, from cash flow forecasting to managing people and dealing with banks. During the course of each chapter, the author shares stories and anecdotes about what he has learned from being a managing director and CEO for almost three decades.
Fishwick published the book on Amazon and the reviews it has received have all been five star which says something for its appeal. Here are couple: 'This is a fantastic tool for anyone who wants to remind themselves of the bleeding obvious. Well written and in nice bite size chunks without a load of industry jargon'. And, 'This book is written in a way to help everyone understand what makes a business tick. Whether you are running a business or working in one, the book will give you a general understanding of the trials and tribulations involved. This is a great reference to keep on the desk, not the shelf'.
Each chapter is tail pieced with a simple message based on the experience Fishwick has gained over many years at the top. One, chosen at random, is particularly valuable to any junior executives struggling to make their voice heard: 'Be brief and get straight to the point. Once you have learned that skill don't lose it. The best leaders are the ones who can speak in simple English. And never try to make someone look foolish because they do not understand the latest buzzwords or management speak. This is especially true if you work in IT or technology companies'.
 
Another covers the performance of people on a daily basis: 'If we are honest with ourselves, we all have good days and bad days. We perform at our best when we are interested and motivated. A group or team is simply a collection of individuals, so, do not be surprised when this happens with them as well. The same people can be good, bad and average and if you are the boss then you are possibly the reason why they are what they are at present'.
So, what inspired the three times winner of the UK CEO of the Year Award (and others) to share such pearls of wisdom with the world? "I think people remember stories better than instructions, so I have told business-related stories all through my 29 year career as an MD or CEO. It dawned on me that I had over 100 stories, so I thought I would write them down before I forget them. Technology changes, but many aspects of business do not. After being the boss for so long I hoped that I had something to share with the next generation of business leaders."
Although Fishwick readily admits he won't be troubling J.K. Rowling on volume sales yet, he is 'humbled' by the feedback he has received from the public and ICT industry leaders. "To date all the reviews have been five-star and that has included a wide range of people," he added. "At one end there are students reviewing it and, at the other extreme, some of the most successful people in our industry like Matt Riley (Daisy), Christian Nelleman (XLN) and Ralph Gilbert (Focus) have recommended it."
Fishwick stepped down as Adept CEO at the end of 2018, becoming what he describes as a 'two day a week Chairman' which gave him more time to concentrate on planning the book and the Covid-19 lockdown presented the perfect opportunity to finish it, with the help of long term mentors and a group of business colleagues at Adept. "I gave the draught initially to my long-term mentor Roger Wilson and Alex Birchall, a serially successful entrepreneur," he explained. "Starting with some very experienced business people was both daunting and ultimately very encouraging. To get a wider range of views from people of all ages and experience I asked if any of our 300-plus employees would like to help. Over 40 people agreed to join my project and they jokingly became referred to as the Street-Smart MBA proof-readers club.
"I'm not a fan of business textbooks and I didn't want to write a biography. By making each anecdote just one key point I could keep them very short. I hoped that way people might remember them better. It also helps if you can pick the book up, put it down again and then pick it up again later. In a way I found the whole process quite cathartic. I feel like I have tried to pass on some of my knowledge to the next generation of leaders and that feels quite nice."
Whether this will herald the start of a new lucrative career for Fishwick as an author remains to be seen, but he does admit to being bitten by the writing bug. "I have enjoyed writing, but I cannot decide whether to write another business book or change to a novel, or even children's stories," he said. "I used to make up stories when my kids were young called 'Graham the Duck'. I just need to remember them!"    
The Street-Smart MBA is available on Amazon (paperback £12.99) and Amazon Kindle (£9.99).