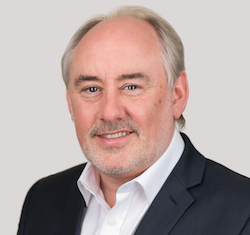 Ian Fishwick set up Adept Technology Group in a spare bedroom 20 years ago following the ups and downs of a prior career in TMT. In April this year he sold to Wavenet in a £100 million deal.
To provide inspiration to the next generation of entrepreneurs, Fishwick recalls, in his own words, a career story characterised by 'sheer bloody-mindedness, resilience, and an absolute refusal to give in'...
I'm an accountant by profession, although I haven't worked in finance since 1990. I was the youngest Finance Director in Marconi at 27 and became the youngest MD at 30. We had a team of cryptographers providing secret and top secret comms equipment to the UK Government and military, long before anyone else had heard of the word 'crypto'.
In the mid-90s cable was the most exciting technology. Britain was the first country to deregulate and allow one company to provide Internet access, telecoms and TV. I now refer to this as the first fibre roll out. The primary difference between then and now was that it was FTTC rather than FTTP. It was incredibly exciting and I joined Telewest as MD of its North West division. During this time I learned a huge lesson by breaking what the boss of Telewest Consumer, Roger Wilson (a good friend and mentor) called the 'unholy triangle'.
The first point of the triangle was growth. Many companies cannot seem to grow yet Telewest North West was named the fastest growing cable company in the UK. The second point of the triangle is service. Many fast growing companies leave a trail of wreckage as service teams cannot cope with the volume of new customers. Yet we won the national Customer Service Award.
After being made redundant twice in 18 months I got depressed, drank too much, and became very difficult to live with
The third point of the triangle is finance. Many past winners of customer service awards had done so by hiring loads of people so they can answer the phones rapidly. But the cost of this army of people meant that the company finances were hugely loss making. We were the lowest cost operator in the industry.
At the end of the fifth year we decided to move to a single national organisation and I was in a two horse race for the UK Consumer business top job. I was the bright young thing at 40 and the other guy was in his late 50s. They went for the grey hair and for the first time I was made redundant. I was stunned. It taught me that the higher you are the more likely you are to be affected by company reorganisations. And that life isn't a straight line with an upward trajectory, it has ups and downs that you often cannot predict.
Turnaround
This was around 2000, the era of the infamous dot.com bubble. Some Americans rang me and asked if I wanted to run the seven UK businesses they had just bought. The combined turnover was £250 million. On the first day I asked how much money we were losing and how much cash we had to finance it. The boss said, 'we lost £20 million last year and you owe BT £19 million. Can you stop the losses as fast as possible?'. That was one of many, rather interesting, first days.
I spent months on my own in a spare bedroom trying to create a business plan and raise money
In an incredible 16 months and we turned a £20 million annual loss into a £1.4 million profit. Then out of the blue I received a call from the Head Office in Atlanta. The caller said, 'we have filed for Chapter 11 bankruptcy'. Stunned, I replied, 'we've stopped the losses but not repaid the £19 million debt to BT I inherited from you'. The response, 'we understand that – you are going bankrupt with us'. To say that I was furious would be an understatement. We were all made redundant.
Being made redundant does not mean you are a bad person. It usually means that you were in the wrong place at the wrong time. In addition, if you run a subsidiary of a group, then the financial success of the group will decide your future, even if your subsidiary is doing well.
Having being made redundant twice in 18 months I got depressed, drank too much and became very difficult to live with. I'm astonished that my beautiful wife is still with me after all these years. The dot.com bubble had burst and the banks had closed most of the new competitors to BT. It took me several months to realise that I would have to create my own job by setting up my own company. I was 42. Next lesson: You can start a business at any age.
I spent months on my own in a spare bedroom trying to create a business plan and raise money. I then re-met Roger Wilson, my old boss, who said two sentences that changed my life. 'I believe in you. I'll put some of my own money in'. Two people compared to one isn't twice as good – it is a whole new world. Suddenly I could talk over problems with someone. We now had two contact books and rapidly raised just over £3 million from about a dozen people.
We started Adept by buying Eurobell's residential customer base from Telewest. They could see we had the money but couldn't initially accept that we could turn an empty building with no staff into a fully functioning telco in six weeks. But we did it. Everyone had told us that you could not make money from small business customers as the support costs were too high. But by starting with a blank piece of paper we had created systems that needed roughly one third of the staff of any of our competitors and we rapidly hit a sector leading 18 per cent EBITDA margin.
Growing opportunity
The original idea was to buy companies for three years and then sell. However, those of us closest to the business could see that the opportunity was far bigger than we had envisaged. There is nothing worse than being a minority shareholder in a private business that does not pay dividends and you have no say in when it is sold. How do you ever get your money out? We floated Adept on the London Stock Exchange in 2006 because we had accidentally trapped our friends, and this was a way of allowing them to sell their shares whenever they wanted.
Adept went on to complete 28 acquisitions. I have now done 42 mergers and acquisitions and one sale. At the start I set out a simple mission statement – one day, we will be widely acknowledged as the most professional managed service provider in the UK. For the last two years running our peers named Adept as UK Managed Service Provider of the Year. We did it. Thank you to everyone – staff, supplier partners, banks, investors and most of all customers who helped get us there.
Along that incredible journey I had the honour of being named UK CEO of the Year three times, and I wrote the lessons I had learned in a book called The Street-Smart MBA – Mastering Business Acumen Without Going To School. It's on Amazon. For the last seven years I have been a member of the Cabinet Office SME Panel and currently Chair the Industry Working Group looking at how to get the Central Government supply chain down to carbon net zero.
When I announced the sale of Adept I was immediately asked to become Chairman of Airband, one of the UK's leading providers of fibre to rural areas. A positive aspect of the pandemic was that it triggered a shift in society's attitude to remote working. For decades we have seen young families leave villages to seek employment in towns and cities. We have a once in a generation opportunity to reverse this trend and the provision of gigabit fibre to rural areas is the great enabler.
In some ways it feels like I have gone full circle and am back in the middle of another enormous fibre roll out programme. A new chapter begins.