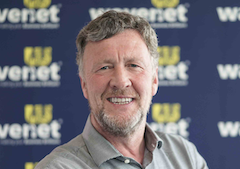 AdEPT Technology Group has agreed to join Wavenet for a £50.3m cash offer, citing that the weak macroeconomic outlook in the UK threatens its short term growth opportunities as a standalone entity.
"We acknowledge the additional commercial benefits which could be obtained as part of a larger, well-funded group, and believe the combination of AdEPT with Wavenet will enable the next phase of AdEPT's growth to be strongly supported," said Ian Fishwick, Chairman of AdEPT.
"Whilst we believe that the AdEPT platform can deliver long-term growth and profitability, we also recognise that uncertainties and risks exist in the short to medium term."
The deal represents the fifth acquisition made in less than two years since Macquarie's initial investment into Wavenet.
On completion the enlarged Wavenet Group will have pro forma annual revenues of over £200m, triple the level at the time of initial investment.
Wavenet CEO Bill Dawson (pictured) states that there will be an opportunity to take best practice from both groups across all operational functions to enhance the way services are delivered to an expanded client base.
"We look forward to working with the AdEPT team as part of the Wavenet Group and driving growth by focusing on the best of both Wavenet and AdEPT's skills and services," he said.