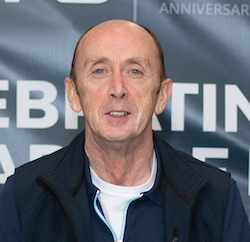 With demand for refurbished networking equipment hotting up like never before Dumfriesshire-based ETB Technologies has directed creative energy into streamlining and doubling its networking refurbishment capabilities.
And as the company enters its third decade Managing Director Nick Stapleton plans to scale up 100 per cent within five years.
Stapleton left school when he was 16 and joined the Army (Royal Corp of Signals) as a Communications Engineer where he trained on analogue pre-computer equipment. After a ten year stint he left the Army, just as the switch to digital and dial up modems was gathering pace. "In 1993 I took my first job in the tech industry, with R. Frazier – one of the early pioneers of the IT circular economy in the UK," he recalled. "I first provided tech support to the sales staff who were selling used IBM and Cisco equipment, then moved into sales and eventually sales management. I left in 2001 to start ETB Technologies."
Stapleton started ETB Technologies with his brother-in-law Russ Tandy. "Like many people who start a business, I wanted to be my own boss rather than work for someone else," said Stapleton. "Thanks to my time at R. Frazier I had the technical skills and market knowledge to do so. We started off buying equipment from my own contacts and selling them on eBay and our own small website.
"The company grew slowly and organically until 2014 when I bought out my business partner and we began to expand. Since then we've increased sales from £3.5 million to £15 million and grown staff numbers from 14 to over 60."
The company supplies refurbished enterprise-level IT equipment that is configured to order. This includes anything from servers to storage arrays and networking equipment. "We sell directly from our own stock with a next-day delivery service which saves money and reduces' wait time for equipment – something that is particularly important given the current supply chain challenges," added Stapleton.
"Currently, we are focused on the Dell infrastructure range but we're in the process of expanding our range with Cisco and Juniper products."
Stapleton is confident that within the next three to five years the company will have doubled in size. "Over the past five years sales, profit and staff numbers have trebled," he added. "This wouldn't have been possible without focusing on our staff. They are key to everything. We concentrated our recruitment on more experienced staff to help meet our expansion plans, and it's so far worked well. We also expanded our product range by including more manufacturers in the mix to ensure we can better meet the needs of a wider variety of organisations."
ETB Technologies' customers are spread across all sectors and range from SMEs to global corporations – about 55 per cent of its business is domestic. "Our customers are all busy and don't want to be spending their limited time on sourcing hardware, so we want to make it easy for them," said Stapleton. "We do this by having a wide range of products and a multi-channel approach so they can buy from us in the way that best suits their needs. Cloud computing and home working are other, more obvious factors that continue to drive demand for our networking and security products."
According to Stapleton, the refurbished market has been around much longer than a lot of people realise. "Since establishing the company 20 years ago I've seen the market mature tremendously in terms of product quality and levels of service," he explained. "It was driven by customer demand, but service was also one of my founding principles for the company. Now, the market is as competitive as I've seen it and suppliers need to be constantly reviewing their differentiators and how they set themselves apart from the competition. Whether this is through how they engage with their customers, how easy they make it for their customers to purchase, or the range of products and services they offer – it's great news for the customer."
A major turning point for ETB Technologies occurred in 2014 when it changed from an organic growth strategy to a more deliberate one, led by Stapleton's purchase of his business partner's shares. Around the same time the company also invested in enterprise level resource planning and focused on growing its website. "Our priorities include optimising the entire buying experience, from pre-sales advice through to speed of delivery and warranty support," said Stapleton. "This is heavily reliant on our staff. As we increased employee numbers we really had to maintain a focus on this to ensure all new staff members work towards that same aim. As a result, we've improved our internal training systems, which overall leads back to a better customer experience."
Another priority, noted Stapleton, is protecting core principles by ensuring good stock availability and providing a quality product and service to customers and vendors. "Our market is fast paced so we must be reactive, which can make it difficult to maintain our core principles when going through periods of significant growth or looking at product diversification and new markets," added Stapleton.
He observed that the refurbished market has grown each year, and recent supply chain issues and low product availability mean businesses are now more willing to consider refurbished equipment. "As a result, more and more companies are seeing that the quality of refurbished can almost match new equipment and be backed by the same service levels," he stated.
"Hopefully this will lend itself to the market continuing to grow, even as supply chain issues subside. We will continue to focus on showing people that there are no downsides to refurbished equipment. The price and availability can, in many cases, be far better than buying new."