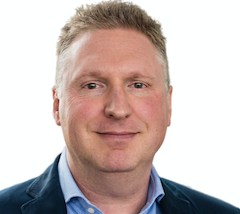 Tech Data has launched a business resource group (BRG) focused on diversity, equity and inclusion (DEI) and dedicated to ensuring that people of all races, religions and cultures feel welcome and comfortable, and represented within the company.
Called Embrace, the launch comes on the United Nations' International Day for the Elimination of Racial Discrimination, which aims to foster a global culture of tolerance, equality and anti-discrimination and calls on everyone to stand up against racial prejudice and intolerant attitudes. 
 
David Watts (pictured), MD UK and Ireland, Tech Data, said: "We are looking forward to getting Embrace underway and seeing how it can make a positive difference, not only for those employees who belong to racial, cultural, or religious minorities, but also for everyone in the UK and Ireland organisation."
 
Jay Panesar, Chair of the Embrace BRG and Business Development Manager for IoT at Tech Data, added: "Embrace is about making sure that everyone has the same opportunities, and no-one experiences discrimination due to their background, colour, ethnicity, or beliefs. 
"It is about understanding, respecting and celebrating the differences between people, and educating everyone to be more aware of DEI. 
"We want to open peoples' eyes and give them the opportunity and courage to talk openly about inequality and bias and to stand up to and speak out against prejudice."
 
Embrace is the third Tech Data BRG to go live in the UK and Ireland. It follows the establishment of Elevate, which is dedicated to the empowerment of women, and SPECTRUM, which was launched in summer 2021 to provide support for LGBTQ+ co-workers.