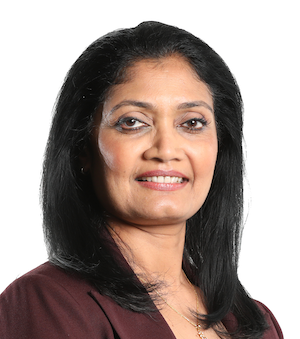 With just three per cent of CTO positions currently held by women we are privileged to introduce Prasanna Gopalakrishnan, Group Chief Technology Officer at Sky.
What was your route into the comms sector?
I have over 25 years of experience in technology, information systems and digital transformation but spent most of my career in the banking sector before joining Sky in Sept 2021. Prior to Sky, I was CIO at Bank of America where I helped to drive digital strategy and implementation for 70 million customers and over 100,000 employees worldwide. I also served as Executive VP and Chief Digital and Information Officer at Boston Private and on the advisory boards of a number of Blockchain and cybersecurity start-ups.
What is your current remit?
My responsibilities now include leading the Technology Executive board at Sky, and my team oversees all the technology systems underpinning Sky's broadband, mobile, customer, digital and enterprise management platforms as well as workplace technology, data centres and cyber security.
How do you advocate for a stronger female presence in boardrooms?
As a woman of colour in such a role, one of my focuses has been to create a culture where people from every background feel that they can bring their whole selves to work at all levels. This means ensuring everyone feels empowered and has their voice heard. This is so important to me because my own different life experiences have allowed me to bring new perspectives and viewpoints in the boardroom, and it's only by encouraging everyone around you to do the same that we can create truly representative leaders. However, we have some way to go. Only three per cent of CTO positions are currently held by women.
What have been your career experiences in terms of being female? And have they helped shaped who you are today?
Alongside my roles in tech, I've had a number of roles within financial services which can often be a predominantly male industry. I had my fair share of challenges during this time and for a while I struggled to find my voice. However, I've had incredible leaders who put their trust and enabled me to grow and reach new heights. Now, this is who I want to be as a leader and I see my role here at Sky to be more than just enabling people to do their best work day-to-day. I want people to feel supported and able to progress in their careers and do so in a style that stays true to who they are.  
What more needs to be done to increase the female talent pool?
There is a serious conversation to be had regarding women in STEM. According to Tech Nation just 19 per cent of the UK tech workforce is made up of women. There are many reasons behind this with inequality of pay, lack of career mobility, the need for flexibility and a lack of role models being key ones. But my advice to women who desire to develop a career in tech is to stay authentic to yourself and don't try to emulate the behaviour of others. It's never too late to start a role in technology.
What initiatives and developments do you participate in to help increase the presence of women on boards in the wider industry?
I'm committed to help women start and develop their career in tech, whether that's up-skilling, re-skilling or forming industry collaborations to enable them to succeed. We've also created the Get into Tech initiative, a free 15 week programme designed to help women get into tech by developing their skills in software development. Since the programme launched in 2017 we've brought representation in the division up from 17 per cent to 26 per cent. We also have a programme called 'LIFT as we CLIMB' in collaboration with Vodafone and IBM. This programme is to support women in tech to pull through and move into senior leadership roles.
Externally, I'm part of a global non-profit group called T200 which is made up women CXOs in tech across the globe. We have a program called T200-LIFT and T200-LIFT Plus which helps women help into CXO roles by educating, nurturing and supporting women who aspire to get into Chief Information Officer, Chief Technology or Chief Digital Officer roles. We also give them access to CXO searches and coach them during their candidacy stages. We also help women CXO get into board roles.
 Our ultimate objective is to bring more women into STEM careers. I believe at my core that a more inclusive tech industry is fundamental to a thriving UK tech sector. There simply cannot be innovation if we can't include every part of society within the process.
What more action needs to be taken to boost the number of women on boards?
Historically, the telecoms sector has always been male dominated, especially in more senior positions. However, I have definitely been seeing a shift in this. We've seen Ofcom partner with the biggest UK telecoms firms, including Sky, to launch a new pledge committing to help get more women build technology careers across the industry. It is a first step, but it also means that having a talented and more diverse workforce is recognised across the telecoms sector as a priority and crucial for the success of the industry.
The European Union's adoption of the 'Women on Boards Directive' mandating 40 per cent representation of women is targeted to achieve gender equality in boards. In 2023, The proportion of women in board roles in Britain's biggest listed companies has risen above 40 per cent for the first time. There is still more work to be done. We need more CEOs and board Chairs to seek diversity within the board room and make it a commitment. We also need organisations to coach, encourage and train more women to be board-ready. Women bring completely new perspectives and a new way of thinking to the board and add tremendous value.