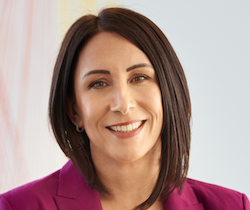 Despite working in a male dominated industry M247 CEO Jenny Davies skyrocketed to the top fuelled by a special blend of personal attributes  – and how she got there is inspirational.
The mother of two is a true 'scouser' with the accent to match. Born and raised in inner city Merseyside, she is the daughter of a welder who worked in the gas industry and a stay-at-home mum, and her roots are very much working class. "I was academically quite bright, but I was really streetwise too, which I guess I got from my dad," she said. "I always made my own decisions and although my primary school headmaster said I should go to a top secondary school for girls, I opted instead for the comprehensive around the corner. I wanted to be with my friends, because long-term relationships have always been important to me. It could have been regarded as a short-sighted decision, but my experiences at that school made me the strong, resilient individual I am today.
"There was always something in me that has made me an achiever – to push and push and not accept no for an answer. Just because you come from inner city Liverpool does not mean you should be written off. I once had a senior director say to me as a graduate trainee, you won't get to director level with an accent like that, which I find quite amusing now."
Davies joined United Utilities on its graduate scheme after completing a languages degree at the University of Liverpool. "My first leadership role was extremely glamorous, running a sewer network in the north west," she stated. "And I loved that job!"
Some may have seen this as a baptism of fire as Davies had to manage a team of 30, all male engineers, but she relished the challenge. "Those engineers were tough," she added. "I couldn't try and be something I wasn't with those guys, they would see right through it, so I had to learn very quickly how to work with them and how to get the best out of them. It's not rocket science, but I just took the time to understand their roles, what they were most proud of in their job and what they were frustrated about.
There was always something in me that has made me an achiever – to push and push and not accept no for an answer
"I was by no means a wallflower in managing them. They were clear on my role and what I was there to do, but importantly they knew that I respected them and wasn't frightened to admit when I didn't know something. This is the blueprint that I apply in every people leadership role that I have been in since. As a leader, and a human being, you cannot possibly know everything there is to know about everything, but it is amazing how few leaders are comfortable in saying that they don't know the answer to something."
A move to Openreach gave Davies a solid grounding in the world of IT, telecommunications and the Internet, but joining fast growing M247 as Operations Director in 2017 was the seminal move of her career. She was rapidly promoted to MD and within 18 months was promoted to CEO. She is now responsible for over 300 people spread across operations in Manchester, London, Bucharest, Malaga and New York. When the Covid-19 pandemic struck Davies immediately transitioned 90 per cent of her global workforce to remote working, over a week before formal lockdowns, which was a priority for her given her commitment to her people and their safety.
"Being an experienced operational leader means that I am comfortable making decisions quickly, and although I have never experienced a pandemic, I have managed large incidents and I immediately went into 'incident mode' when I saw what was happening," explained Davies. "It was a no-brainer that we would move to remote working well before the Government guidelines came out. I wanted to ensure that my team and customers were as well protected from this as possible, and I knew by moving to remote working quickly and getting the global M247 team up and running we would have the best chance of keeping our people safe, and we would be set up ready to deal with whatever our customers and partners needed help with.
"My philosophy is that as employees we all want to feel valued and want to believe that our leaders care for us and we do this through creating a safe environment for them. When you work at M247, you have access to a broad range of employee resources including support for mental wellbeing. We have also trained some of our colleagues to be mental health first aiders and we are proud to support Young Minds as our UK charity of choice this year, which was the overwhelming option for our colleagues. The average age in M247 is 34, so this charity is hugely relatable."
I once had a senior director say to me as a graduate trainee, you won't get to director level with an accent like that, which I find quite amusing now
Creating and maintaining a professional but family feel environment at M247 has been paramount for Davies and although Covid-19 has put the brakes on communal working for now, having empathy or 'emotional intelligence' remains at the vanguard of her management style. "I have a good friendship group and I still spend a lot of time back in Liverpool with my family," she added. "For me, it is all about surrounding yourself with positive relationships and role models. You spend a lot of your life in work so the same should apply there. I have worked in places where leadership behaviours have been dreadful and led to pretty toxic relationships for some employees, and it made me both angry and determined that I would create an organisational culture that people would be proud and excited to work in. I am all about creating an environment that makes people want to knock it out of the park for customers every single day."
Davies inherited a less than happy workforce at M247 two years ago which was borne out by a Net Promoter-type employee engagement survey. "There was a killer question in there," she commented. "It was: Would you recommend M247 as a good place to work? The score was minus 40, which was mostly down to leadership changes, acquisitions and the like. It meant 40 per cent of our employees would have answered no to that question then. "Now, having done the survey again pre-lockdown, it was plus 32. So, in two years, we swung that back 70 per cent."
Davies also believes engagement is enhanced through fashioning a diverse environment in which people want to work. Fifty per cent of her direct team are women and throughout M247 there is a blend of original home grown talent, original founders and outsiders who have become part of the 'family'. "Our company performs better because of its diversity and I love the fact that everyone in our organisation has their individual career story," she added. "Our people are what makes M247 the company it is today. It's simple – keep your employees engaged and this engagement will shine through to your customers and channel partners."
Whatever the future may bring Davies is determined to stay grounded and have complete faith in her employees. "I'm not a human rights lawyer," she commented. "I'm not a brain surgeon. I'm not changing somebody's life. I'm just very proud to run this company and I am lucky to have such amazing people around me. I would say to anyone… get the right team around you, invest in the team and you'll create a culture of real loyalty. I know my people have got my back, and they know I've got theirs. For me, that's the game changer."