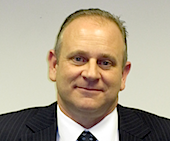 For MF Communications, it's time to move forward and exploit a different strategy for growth - acquisitions - a new approach that has been catalysed by the introduction of a successful network services operation, according to Director and Operations Manager James Donovan.
Donovan's reaction to the success of the network services arm was as decisive as the roll out itself. "The biggest turning point for us has been introducing the network services side of business three years ago," he stated. "Since then we have built our reputation, particularly in the local market, for telecoms services based on customer service, competitive pricing and excellent suppliers. While telephone hardware is a huge business area for us, we intend to grow and further compete in the UK network services arena and are looking for a telecoms company, or comms part of a business, to purchase. We are self-funded for this acquisition and positioned to move quickly."
While the introduction of network services has sown the seeds of a great harvest, to favour one group of technologies is not to exclude another, even if it falls into the category of 'legacy' systems. According to Donovan, traditional products are often overlooked despite being in strong demand. "We have stuck to our roots of selling telephone systems and last year reached the milestone of exporting hardware to more than 100 countries with record sales," he stated. "One of the main challenges we face is the sourcing of telecoms equipment that meets our high standards. Although we remanufacture and refurbish products at our facility in Tunbridge Wells, the base level of quality still needs to be there."
The company was established in 2000 by Fraser Young and Matt Emmins who saw an opportunity to use their knowledge of the telecoms industry to buy and sell telephone hardware to businesses and trade companies. "With huge advertising campaigns at the time promoting new technologies it was initially thought that the business had a finite life span," added Donovan. "However, time and hard work has shown that there is, and will continue to be, a market for new and second user telephone hardware."
The company has a headcount of 20, annual turnover of circa £2.5 million, and serves international businesses and telecoms trade companies as a full service telecoms business providing telephone systems, accessories, parts and replacement phones, all service requirements, maintenance and support.
"We have increased the range of telephone manufacturers we supply and support, expanded our maintenance services with new engineers and secured better deals for our customers on network services," said Donovan. "We have the foundations of a strong business and are working on increasing our profile and reputation within the industry and among our potential customers."
In other developments, MF Communications launched Office Phone Shop, an online portal for UK businesses to purchase telephone hardware and accessories, a move that displays the company's agility as a fast responder to industry requirements. "Like many markets, telecoms is fluid, so we have to be too," stated Donovan. "Furthermore, the market is moving towards being software licensing based, so resellers will need to be manufacturer approved. This means they will either have to align themselves to specific manufacturers or be more consultative in looking for customer solutions."
As for MF Communications, key considerations right now include Brexit and keeping a keen eye on how this affects the free market throughout Europe and opens up opportunities in emerging markets. "The pound rate is also important to us, as is new telecoms technology, acquisitions within the industry, discontinuation of phone models by manufacturers and new market players," noted Donovan.
He knows that all of these areas, and more, require his full attention, and will draw on his skill sets and experiences. "After 15 years of working in business information, followed by two years of sales and marketing training and strategy, I turned to the telecommunications industry," he explained. "While it seems like a big change to move into telecoms, my strengths lie in business strategy and planning as well as sales and marketing, so I did my research before jumping in. My background is helping MF Communications to continue to grow at excellent rates."•