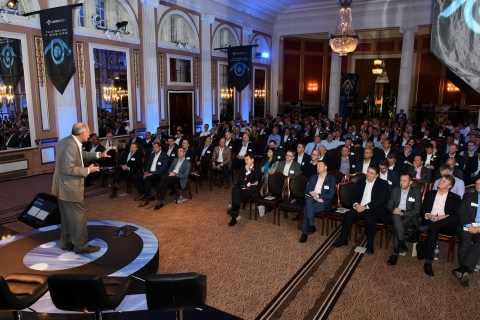 Comms Dealer has announced a high calibre line up of keynoters and industry thought leaders for this year's Comms Vision Convention (7-9th November, Gleneagles Hotel), which will reflect one of the biggest triggers of change ever seen in the comms and IT sector following the Government's Future Telecoms Infrastructure Review (FTIR) published in July which set out a national long-term digital strategy for the UK.
As the concept of Digital Britain emerges into market reality former President of Virgin Galactic and Richard Branson's 'right-hand man' Will Whitehorn will inspire Comms Vision delegates to reach for the stars on the road to an all-IP world; while an illuminating session from legendary Athletics coach Frank Dick OBE will aim to put Comms Vision delegates on track to win the race to Digital Britain.
The comms channel faces an important question as we seek to uncover the full implications of digitalisation: What's next? As momentum builds around Digital Britain what will the technology ecosystem look like and how will partner/customer relationships be held together? From which technology areas will business growth be generated and how will our day-to-day working relationship with technology evolve?
These are some of the questions Tom Cheesewright, Applied Futurist and founder of Book of the Future, will answer as he applies true foresight to unravelling these challenging future problems and building strategies for sustainable success.
Economist, Harvard lecturer, politician and broadcaster Ed Balls has been confirmed as after dinner speaker at the Comms Vision gala evening on November 8th.
In their exclusive on-stage interviews leading lights from Platinum sponsors 9 Group, BT Wholesale, CityFibre-Entanet, Gamma and TalkTalk Business will offer high level insights as we seek to answer today's big industry questions.
"The dominant challenge and opportunity today is the transition from legacy networks and traditional comms technologies as the UK drives towards a full fibre and 5G future," said Comms Vision Content Lead Stuart Gilroy.
"In embracing the Government's FTIR and drive for Digital Britain new ways to innovate and adapt will be required across all comms sector categories. For IT and comms service providers a full understanding of the imperatives, challenges and opportunities they face is vital to stay ahead."
Comms Vision 2018 will explore the new realities of Digital Britain, their potential impact on the channel and how to take the lead as the migration to full fibre and all-IP continues to disrupt traditional models.
"We will consider why channel players need a digital strategy and discuss the core strategic components and elements that will have the most positive impact on capturing value and future business success," added Gilroy.
"This year's Comms Vision Convention will provide CEOs and MDs at the helm of ICT reseller businesses, MSPs, SIs and VARs with an understanding of the developing infrastructure, voice and data ecosystem, and enable them to take the strategic action required to prepare their organisations to thrive on the pathway to Digital Britain. Now is the time for business leaders in the channel to make their mark."
It takes Vision to be a leader:
Comms Vision is the leading annual leadership forum for CEO, MD and CTO delegates making up the major league of the UK reseller community. Places are limited and by invitation: If you would like to join us this year, please register your interest to attend at www.commsvision.com