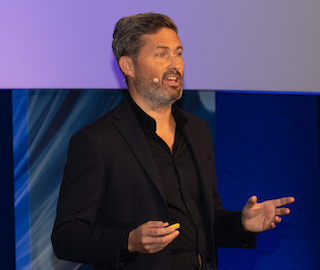 The economic outlook should be front of mind for resellers and the shape of a possible recession fully understood, believes Daryl Pile, Managing Director for Channel at Gamma.
In his Comms Vision (2-4 November, Gleneagles) keynote Pile imparted analysis of the UK economy and how the turbulence could impact resellers, as well as offering strategic recommendations to promote remedial preparation and growth.
While the growth outlook for the UK has deteriorated Pile believes that for the short-term at least most channel businesses will be in fine fettle to weather the storm. 
"In the next 12 to 18 months most of us will be OK as we are in good financial health relative to some big corporations, but much past two or three years it gets exciting," he said.
"Inflation is historically high so supply costs are going up. Interest rates are three per cent which means debt costs more and facilities for debt will become less available."
As market headwinds pick up investment into private industry will lessen, but the tap won't be turned off, believes Pile.
"We're coming out of a purple patch where valuations have been high and money's been coming in, but it can't continue at that rate," he said. "Valuations have dropped – that said it's not a bad time to sell.
"If you are going to exit, time your run well. Do not put up the for sale sign and fail to get it away. Just like the property market, if a house comes back on the market questions are raised."
The outlook for larger businesses is also less clear as valuations have plummeted, with Gamma being a case in point. Pile cited that Gamma was previously at 20 x EBITDA and has reported strong results, yet the business now sits at 11 x EBITDA. 
The channel could have to ride the waves of a turbulent sea for some time, as Pile believes that the looming downturn could possibly be worse than Covid and likely to go on for longer. "There will be more casualties and we need to watch some of our suppliers," he stated. 
"It will become an issue in the supply chain, not during the next six to 12 months, but there are some big numbers out there that need to be refinanced, and you're talking about a tripling or quadrupling of interest rates." 
With pressure building it is a good time for business owners to look closely at their strategy and reassess their approach, addressing the big question - where will future growth come from?
Among the hot spots Pile cited the UCaaS market which has 'massive' room to grow with eight million UCaaS seats taken in the UK, and Cavell forecasts a rise to 14 million. 
"Our market is like no other in Europe because it belongs to the channel," stated Pile. "Despite caution there will be opportunities and you need to strike."
Successful growth could also be underpinned by a strategic reset around value creation, noted Pile. 
"Understanding where you add value is super important," he said. "Generally we do this by solving complexity across all products and disciplines. But you could also expand the portfolio, go deeper into particular product areas and become a master or sell to bigger customers."
Microsoft's growing market presence also represents an opportunity, noted Pile, who pointed out that resellers can monetise Microsoft by leaning into voice enablement, call recording and the associated support. "If you're not doing it now, dip your toe in the water with SIP trunking," advised Pile.
On establishing recession-proofing strategies, Pile added: "We have the ability to put rates up, with varying degrees of capacity to do this. Make sure you have the levers to pull if needed, and that you load the dice and stack Ts & Cs in your favour. Know what's going to happen and be ready to act.
"The ship hasn't sailed into the distance, but it's getting ready to leave."