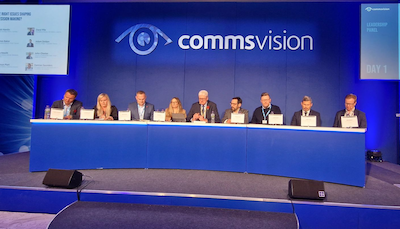 To help chart a strategic course forward, Comms Vision 2023's opening insight session delved into the many business dynamics impacting leaders in the ICT sector today, and why striking the right balance between these priorities and gaining a competitive advantage is key.
But the research identified strategic mismatches that bring into focus whether the right issues are shaping decision making, raising the question of how leadership strategies may need to evolve with a particular focus on ESG and D&I.
"Management styles need to change," stated Kathryn Platt, Head of Indirect, Vodafone Business. "I'm on the Vodafone ELT team but it took me ten years to get there. That was less about Vodafone as a business and more about how I evolved my own career. I reached out to mentors. The problem is a lack of confidence among females about taking on those bigger roles. It's up to us as a community to inspire and make sure companies are embracing their talent and capability. From a D&I perspective, constant conversation is the best way to make it happen. It's easy to lose trust if you're not having the right conversations."
Rob Hamlin, Chief Strategy Officer, CityFibre, also believes that it's time to resolutely double down on today's leadership priorities. "Another reason for change is that people within organisations and customers are changing generationally in terms of their make up," he stated. "By 2030, 70 per cent of the workforce will be millennial or Gen Z, and for them diversity, purpose and environment are front of mind. This is an opportunity to take businesses to the next stage, make better decisions, present our organisations in a different way and make our employees and customers feel part of that journey."
The panel discussion also put a spotlight on the key interventions that leaders can make to put their organisation on a stronger footing. "There is absolutely more that we need to do," noted John Chester, Director of Wholesale, Fixed, Virgin Media O2 Business. "Around 50 per cent of our executive team is female and they are role models for the wider business, encouraging the next generation of leaders. We also have communities of support across many areas, five pillars that people can plug into. This creates a supportive environment in the workplace and gives people additional points of reference beyond traditional line management."
According to Lisa Hewitt, People Director, TalkTalk Wholesale Services, the starting point is to engage all stakeholders - colleagues, customers and investors – and to understand what matters most to them. "Then you can build and embed initiates into strategy," she stated. "It's also key to invest in data that demonstrates how you're performing against KPIs and shows RoI. Organisations perhaps need to be better at implementing initiatives such as these. It's all about agility, and where you can capitalise on that is by empowering middle management. These people are leading the day-to-day operations while talking to suppliers and customers. Having them as your biggest champions is the best way to get things done. We tackle that through regular communication."
The imperative to change is unquestionable, but the practicalities are not easy, observed Daryl Pile, MD UK Indirect, Gamma. "Business leaders set the culture, they set everything," he said. "But that becomes a challenge when you get to three degrees of separation. A company with 30 to 40 people will live and breathe the culture and the values you set. You employ people personally and mould them. For bigger businesses, that becomes a problem. Then you need a totem that tells everybody how they are expected to behave and execute strategy. Having a positive ESG policy helps in the execution."
Damian Saunders, Managing Director of Mid-Market, Wholesale and TV Hospitality Divisions, Sky Business, shared insights into how Sky went about its own leadership transformation. "In the UK, Sky has 38,000 people and we've been through an evolution," he commented. "Now, everyone can articulate why ESG and D&I is important and how it links to business performance. From the CEO to the front line we are measured in two ways: What are we doing? And how do we do it? The 'how' is about values, how we expect people to operate. Unless you can demonstrate the values and deliver the 'what' you're never going to be successful at Sky. We've gone through that shift."
From a D&I perspective, constant conversation is the best way to make it happen. It's easy to lose trust if you're not having the right conversations
Prioritising talent acquisition is also key and interconnected with a number of other important leadership challenges, observed James Baker, Managing Director, Cloud, Giacom. "Talent and growth are intertwined - and you need to ask how ESG, D&I and accountability are going to address the goals that you set out as an organisation, and the challenges," he stated. "ESG and D&I won't fix all of these challenges but if you bring the right people in the customers' issues, challenges and concerns can be addressed. Having a more diverse workforce gives us the necessary talent to address those challenges.
"ESG and D&I are big scary topics to consume, and perhaps some of the sentiment in the channel is that they have businesses to run, revenue to generate, and shareholders. That's where shining a light on the challenges and opportunities, and providing information on the successes of organisations that have seen improvements through ESG and D&I, helps to show how it fits into strategy."
Platt added: "We as networks and vendors have a responsibility to help the channel community. One of the things I will take away from this session is sharing what we do from an ESG perspective with partners to help them make a difference when talking to customers. We see ESG frequently in tenders and need to arm partners with the information they need to respond effectively."
Given the importance of the major leadership transformations at hand, Adam Zoldan, Director, Knight Corporate Finance, placed the conversation in the context of shareholder value. "To date we haven't been able to raise the value of a business through ESG or D&I," he said. "It is on the agenda, and I've seen in due diligence questions where a minimum level is required. This is still on the compliance rather than the value side. But we can take from this discussion that these factors are moving up the agenda and I expect to see more of this impacting deals moving forward."