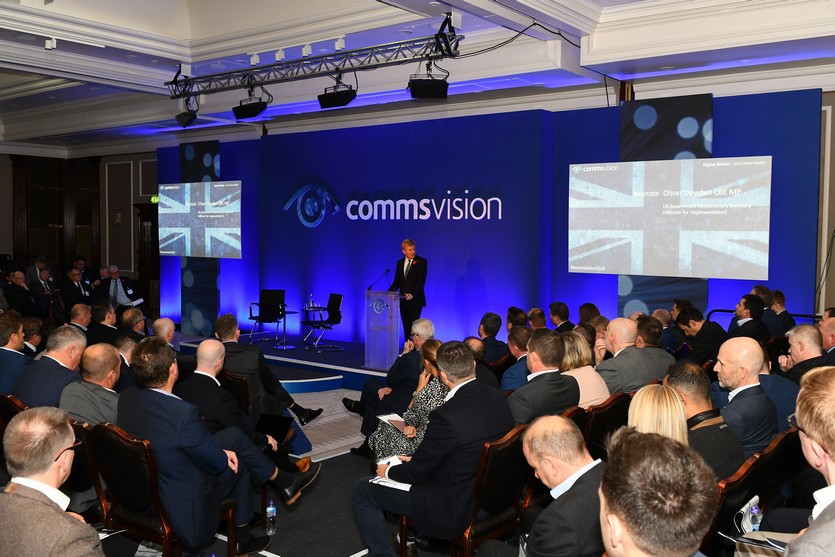 2023-2025: Working together to power the uptick: This year's gold standard Comms Vision Convention (Gleneagles Hotel, 2nd-4th November) will explore how the industry's Big Reset in late 2025 represents more than the PSTN switch off.
It's about securing a resilient future amid an accelerating pace of change – and there is no turning back. So now it's time to accelerate momentum, take collective action, shape the channel's destiny and embrace a golden opportunity to drive unprecedented digital transformation as the UK nears the three-year countdown to all-IP.
The Golden Triennium (2023-2025) is a defining period for the comms channel and business development. This once-in-a-generation period will see opportunities intensify, new possibilities ignited and challenges brought into sharper focus. Therefore a key purpose of this year's Comms Vision Convention will be to explore how the channel can work together more closely to remove roadblocks and maximise growth potential. The conference will also unravel 'connected catalysts' reshaping the comms industry during the Golden Triennium and beyond; and bring into context non-financial drivers such as cultural innovation, leadership approaches and important sustainability considerations.
Understanding the key connected catalysts reshaping the communications sector will help us to identity the rise of 'connectedness' within the market's dynamics, which could also be reflected in an emerging trend for channel organisations to become more connected and work more closely together. Because, in many cases, no single company can 'do it all' in times of transformation.
Working together and building value through trust: Channel organisations face many challenges and opportunities and may find solutions in unexpected places – like partnerships with rivals. Therefore Comms Vision 2022 will put a spotlight on the key challenges for supply chains, and the potential role of industry collaboration in securing success during the Golden Triennium and beyond. We will question whether the channel really can work together through a framework of collective responsibility in certain areas, and face challenges and opportunities from a more holistic angle to make something greater.
Balancing complexity and simplification
Working together to create a less complex channel: As we enter the Golden Triennium, more than ever, a reseller's primary role is to remove complexity from the ICT requirements of end users, particularly the mid-market and beyond, at a time when comms and IT is becoming ever more complex. Is the channel supply chain geared up to effectively deliver the levels of simplification demanded by end users, and required by resellers at the coal face?
Strategic leadership priorities in focus
Now is the time for change-makers to rethink strategy, and a key question for business leaders is – are you fully prepared to succeed in the Golden Triennium and beyond? Crucial to success is securing sources of competitive advantage, people empowerment and how to push your team to the next level. Another top leadership priority is finding the best path to Net Zero, bringing greener partnerships into focus and exploring the broader role of business in solving some of society's biggest issues.
Industry trends: Bright outlook despite uncertain times
Comms Vision will include a strategic review of the communications sector megatrends supercharging the Golden Triennium, and focus on how to create the right blueprint for success. We will also look at current barriers to growth and how to identify and overcome tomorrow's challenges. This all reflects a vibrant sector facing a series of changes, not least the transition to all-IP and a shift to the next level of new products and services that change the dynamics of our fast moving industry.
Harnessing innovation led customer experiences
Key actions around harnessing innovation include connecting with 5G opportunities during the Golden Triennium. But how far will 5G be a sector game changer and create new value? And what next for solution innovation and quantum networks? How will intelligence and data help partners change the workplace and solution landscape? And how will CCaaS, UCaaS and AI keep pace with customer expectations? All of these key questions will be brought forward in the context of new consumer realities and connecting innovation with the customer experience.
Seizing golden opportunities in the full fibre future
Accelerating and leveraging full fibre deployments in the Golden Triennium and beyond brings a unique opportunity to enable the digital future. But full fibre providers are tasked with striking a balance between their relative immaturity and driving growth. Despite the UK's future dependency on full fibre we find ourselves at the early stages of the revolution, and fibre providers are facing pressing challenges as well as opportunities.
Therefore Comms Vision will help to shape an understanding of how and why the full fibre ecosystem is developing, and how its continuing maturation could catalyse roll outs across the nation. We'll also ask if the sector is moving fast enough in the run up to 2025. And as it adjusts to meet market demands, to what extent will the impacts of its growing maturity reboot full fibre opportunities for channel partners, foster innovation and hypergrowth?
 
Unleashing the power of cultural innovation
Companies are increasingly adopting breakthrough developments in their business models to tackle perhaps the biggest challenge facing ICT businesses – human resources. Furthermore, changing perspectives on the traditional working week along with the rise of employee owned organisations, for example, speak of a sector undergoing change. Such developments underscore the importance of cultural and strategic innovation, as cultural and workplace remodelling becomes an accepted route to future success. Therefore Comms Vision will explore the ingredients of innovation empowered leadership and culture as key to shaping strategies that attract and retain talent – and why this is a priority.
Industry 5.0 meets CX
The rise of Industry 5.0, the new industrial revolution that is driving a more balanced relationship between technology and people, has brought a new perspective to contact centre solutions with automation and AI at their core. With AI entrenched as the next wave of the industrial revolution, to what extent will Industry 5.0 considerations shape the future of customer engagement, and strike a balance between automation, the human experience, staff wellbeing and a greater corporate purpose?
It takes Vision to be a leader
Comms Vision (2nd-4th November 2022, Gleneagles Hotel) is the leading annual leadership forum for CEO, MD and CTO delegates making up the major league of the UK reseller community. Places are limited and by invitation: If you would like to join us this year, please register your interest to attend at www.commsvision.com