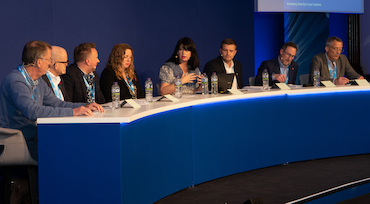 Diversity and inclusion targets and progress made against them are beginning to drive workforce transformation in key channel organisations.
We all know that businesses which succeed in becoming more diverse and inclusive tend to be a magnet for top talent, are more likely to be innovative and among many other upsides have an improved bottom line. That's not news.
However, worthy of a headline or two is the progress made in multiplying the numbers of female talent in the comms sector in addition to broader advancements around diversity and inclusion in all its forms. 
But what does delivering a D&I strategy involve, and what's being done to move the dial? This big question was unravelled by executive level panelists during an on-stage discussion at Comms Vision (2-4 November, Gleneagles Hotel) in which Zen CEO Paul Stobart shared insights into how the business is achieving incremental D&I gains, primarily as a result of forcing the issue.
"We've been proactive and gone into local sixth form colleges and other forms of education to work with teams and explain that tech actually isn't frightening, it's not the domain of males and that women can add tremendous value," he said. 
"We also have a programme whereby only women are to be engaged and recruited into the business. We had to try all kinds of different ways to crack this one - it's not easy.
"We are 30 per cent female in the business and it's ridiculous not to have a more balanced environment. That's the fact of this industry. But we are starting to get an increase in women coming into technical parts of the company, rather than back office and HR which are more familiar environments for women.
"Now, everyone is realising that women are adding incredible value and bringing a totally different dynamic to the way teams operate. The flood gates are open but we had to force it by being proactive."
TalkTalk is also investing in different stages of the local education chain in an effort to create a more diverse hiring pool. 
"We can have all the goals in the world but if the people are not out there to hire you have a limiting problem - we've got to change that," added Neil Wilson, Product Strategy Director, TalkTalk Wholesale Services.
BT has witnessed significant movements in implementing a range of policies and initiatives to address challenges around bias, which is a barrier to D&I. 
"We undertake training and test for unconscious bias, which is not necessarily comfortable," said Gavin Jones, Head of Channel, BT Wholesale.
"There are a number of other facets to creating the workforce of the future. For example, BT's senior leadership team have a reverse mentor. I was mentored by someone from a diverse group.
"We also have a number of programmes for progression through the business specifically for women and ethnic minorities - and 26 per cent of our senior leadership team are now women.
"That's not perfect but we are on the way. When interviewing for progressing in the business we recently introduced a mandatory diversity number, so 40 per cent of candidates have to come from a diverse background."
Andrew Wilson, Sales Director, Wholesale Channel, CityFibre, noted that all colleagues have mandatory training on unconscious bias, what it stands for and the impact on the business. "We have D&I forums and channels and are active in LGBT2 communities," he said. "We make sure we have awareness around supporting people. And our recruitment policies are multi-diverse in terms of panels, so we don't interview like-for-like."
Diversity and inclusion is far more than a board level issue because overcoming the challenges and meeting D&I targets depends (among other telling factors) on organisational culture as much as a high level inclusive leadership vision and established processes.
TalkTalk's Wilson stated: "A healthy culture becomes self-sustaining. It's not all about salary - people want to work somewhere they feel they belong, that shares their values. This is important to attracting and retaining the right people." 
Channel organisations are also taking strategic action to promote opportunities for women in tech, as well as other diverse groups, by boosting their representation through a revamp of traditional recruitment approaches.
"We're challenging our routes to market to attract people," said Helen Myers, Operations Director, Onecom Group. "This can involve social, apprenticeships and graduate programmes. 
"We are looking at the spectrum of how we can reach a wider talent pool in a variety of ways. We challenge how we can move forwards, making sure we're keeping ourselves honest when looking at how we recruit and the diversity of the talent pool. Then we track how we evolve in terms of metrics to make sure we're not missing anything."
All-inclusive recruitment activity should be underpinned by broader engagement with potential candidates, believes Jones. "It's about changing the way you do things," he explained. "One of the faults we all make is that we recruit on capability to do the job now, when we should be recruiting on whether candidates can grow into that capability. This approach will give us a far wider candidate pool.
"Furthermore, you don't need to go to the top five universities nor look for straight As. Instead, look at how to get a wider range of capable people and use different measures to test their potential over and above a one-time exam."
Supporting the spread of diversity and inclusion is also about correcting other limiting approaches to the recruitment market. "You've also got to look at job descriptions," added Jones. "We found that a lot of ours appealed to masculine type figures so we recoded them to attract a wider audience."
Having the right balance of skills is crucial for long-term success, but the pace of closing the skills gap remains slow. "We've had challenges in different areas of our business around the acquisition of people with developer and API skills, there is a real shortage," said Matthew Worboys, Business Development Director, Gamma. 
"But hybrid working means we are no longer constrained by geographic location. If you find someone with the required skill set virtual teams can be created to get the right outcome. And when you acquire talent it's important to nurture people and keep them engaged with the business."
On the talent gap, observed TalkTalk's Wilson, businesses can be guilty of thinking that innovation only comes from highly paid executives. "It comes from every level of the business if you are prepared and have the right culture to listen to ideas - that's critical," he added. "Most of our initiatives come from right across the organisation."
Creating a health promoting workplace is also key to attracting diverse talent, observed Myers. "We create an environment where people can be open and feel comfortable about talking when they are struggling," she added. "There is someone there to support them. 
"Everyone will struggle at times - we all have anxieties - and Covid gave us an appreciation of how the environment can get us down. So it's important to support people and the wider community. Most of this is about talking and having a route to take."
According to Dale Parkinson, Fixed Wholesale Sales Director, Virgin Media O2 Business, fostering a diverse and inclusive workforce that goes a long way to plugging the skill gap is important enough to be super proactive and take immediate action.
"Instead of bemoaning the skills shortage let's create new people with new skills," he stated. "We all agree that the war for talent is alive and well and compounded by not just a technical skill gap but also a broader skills shortage.
"We have around 17,000 employees in the UK and our focus is on two key areas. Firstly, skills - rather than upping salaries we have created an early careers programme with a commitment to hire over 1,000 apprentices. 
"And the expectations people have of their employers post-pandemic is high, so we revisited our employee policies and introduced an all embracing leave package, while offering cost of living support to employees earning less that £35k a year."
As we have seen in this Comms Vision discussion, diversity and inclusion is now far more than an industry talking point – goals have been set, actions taken, and successes are in the bag. "We all have aspirations of where to get to, that means changing the way you look at things," stated Jones. 
And the proof of the pudding is in the eating... 41 per cent of BT's graduate intake last year came from diverse backgrounds.