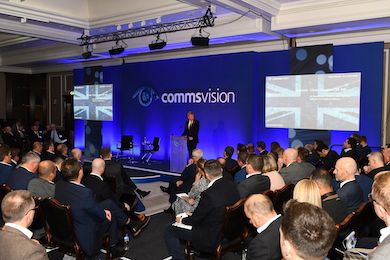 Having a differentiated competitive advantage is essential for business success, especially in a challenging economy. But do you truly understand your competitive qualities and how to balance out the drive for growth with differentiation-led objectives and strategies? To bring greater clarity, Comms Vision 2023 (8th-10th November, Gleneagles Hotel) will take a multi-faceted research-led approach to exploring why many organisations may only be scratching the surface of their competitive potential, and share insights into what is required to forge a long-term edge over competitors.
Striking the right balance between leadership priorities and gaining a competitive advantage is key, and Comms Vision 2023 will make a deep dive into how strategic action on key leadership priorities could combine to form a matrix for competitive development and lasting success. Comms Vision research will provide unique insights into the current thinking of high level channel execs and the issues at the forefront of their minds. The research will also identify leadership challenges with a big emphasis on responsibilities linked to culture, sustainability, talent retention, inclusion priorities and decision making, all of which contribute towards building a super competitive boardroom as well as a force for good. Does your leadership and competitive strategy stack up in times of profound change?
Balancing business growth objectives with sustainability priorities, D&I agendas and customer-led strategies to revolutionise organisational culture and differentiation is an absolute priority. But to secure a competitive advantage we must ask what leadership, people and organisational capabilities are required? Therefore Comms Vision 2023 will put a spotlight on how to fire up cultural enablers for an advantage. Again, based on the findings of unique Comms Vision research the conference will provide insights into the cultural enablers underpinning competitive advantage and the extent to which business leaders need to amplify them.
It is within the channel's grasp to collaborate to innovate, create more value and deliver an improved performance that elevates our underappreciated sector head and shoulders above other industries
We will also identify leadership attitudes and approaches towards culture and whether the most important cultural enablers that strengthen and differentiate an organisation, and its people, are being leveraged – also highlighting how and why culture can weaken businesses when not prioritised.
Accelerating growth
Seizing technology disruption as a strategic driver of growth will be another major consideration area at this year's conference, because finding the middle ground between accelerating growth while harnessing emerging technology disruption means managing new risks and challenges as well as opportunities. Is your business fully prepared to leverage fast-emerging and disruptive technologies? To help chart a course forward Comms Vision will aim to map the landscape of innovation and disruption and whether business leaders in the comms space need to consider accelerating out of their comfort zones.
Comms Vision research will also form the basis of a delve into the technology factors that will deliver a competitive advantage across today's and tomorrow's ICT channel marketplace. The conference will explore the channel's go-to-market strengths and weaknesses, ask whether we are getting the most from today's technology solutions, whether more value add should underpin partnerships, identify untapped and underserved opportunities and unearth where we need to pay closer attention if we are to maximise and accelerate growth across a range of existing technologies and markets.
Comms Vision will also aim to provide an understanding of new and emerging markets requiring our attention, the challenges and opportunities they will present, while exploring channel readiness and looking closely at  the levers of competitive advantage and whether reseller/MSP awareness and preparedness is aligned with vendor developments and roadmaps. We'll assess the possible impact of new and disruptive market players – and how culture and leadership could be key to adaptability and success as part of a systematic approach to harnessing emerging opportunities as they arise.
Securing an advantage through partnerships and industry collaboration is also high on the conference agenda. Strategic business needs and pressing societal imperatives can only be met through industry collaborations and partnerships that accelerate change, bring more agility to the supply chain and respond to opportunities quicker. Whether pooling resources to work together on software development, combining with strategically aligned resellers with differing skill sets, meeting net zero commitments or addressing societal challenges around 360 degree digital inclusion, it is within the channel's grasp to collaborate to innovate, create more value, empower Digital Britain and deliver an improved performance that raises the bar and elevates our underappreciated sector head and shoulders above other industries.
Collaboration matters
Based on unique Comms Vision research the conference will explore the most important challenges and opportunities that can be solved through game changing collaborations within the channel, how combining ingenuity and strategic intent can be achieved and supported in practice – and how best to drive the collaboration agenda for a competitive advantage.
Against the backdrop of this year's Comms Vision conference themes and insights it is clear that the matrix of leadership and competitive success must evolve to remain relevant and create a long-term competitive advantage. But what leadership qualities will play a pivotal role in making a real difference to the success of your business in these transformational times? Comms Vision will explore the various dynamics today's leaders face, assess how to create competitive momentum in the boardroom and help you ensure you're never on the outside looking in.   
It takes Vision to be a leader
Comms Vision (8th-10th November 2023, Gleneagles Hotel) is the leading annual leadership forum for CEO, MD and CTO delegates making up the major league of the UK reseller community. Places are limited and by invitation: If you would like to join us this year, please register your interest to attend at www.commsvision.com
Pictured above: The then Minister for Implementation Oliver Dowden CBE opening 2018's Comms Vision Convention