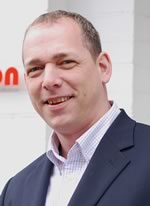 On-site mobility solutions are great tools for leveraging existing business relationships, but wireless solutions are not quoted as often as they should be, according to Mark Shane, Sales Director at distributor ICON.
Upselling, developing new clients and expanding into new fields are just a few of the opportunities resellers can miss out on because they are not aware of the opportunity, or the wireless solution they support lacks the required functionality. "Some resellers sell and support wireless solutions where the handsets are designed and built only for use in office or carpeted areas," said Shane. "This narrow focus means that the opportunity to place solutions in areas of the organisation such as production, service delivery and dispatch is frequently overlooked."
There is a perception among some resellers that wireless handsets are no more than a mobile alternative for a desk phone. But with enterprise quality wireless solutions the handset is frequently used as a component of a business or process solution. And in some cases, such as the Spectralink BYOD type handset PIVOT, its role as an endpoint for a PBX is secondary to its use as a device for running business apps or reporting the real-time status of an organisation's control, process or monitoring systems. "This extended capability opens up opportunities for the reseller to quote a wireless on-site mobility solution as part of a total business solution," added Shane.
He cited one particular case where a reseller proposed to install a DECT solution in a hotel. After a call to ICON, the reseller was able to expand the proposal to include the management of the hotel's fire control system using Spectralink mobility solutions. "It is this ability to see and understand the bigger picture that is key to ensuring that opportunities are not missed," said Shane. "Adding a wireless handsets to the proposal as part of a business solution will differentiate resellers from the competition, deliver greater value to the customer, and produce better margin."
Demand is strong across all traditional verticals, noted Shane. However, there is particular strong growth in on-site voice mobility solutions for real-time messaging. "This is not to be confused with the handset-to-handset text messaging solutions available on many wireless solutions," he explained. "Real-time messaging is the integration of a business' process and monitoring solutions with the corporate telephone network, making it possible for staff to be automatically informed of critical events. These internal M2M type deployments can trigger alerts to Spectralink Wi-Fi or DECT handsets whenever a state of a machine, control system or other monitored system changes."
Demand for this type of service comes not only from the hospitality vertical where these solutions are important for guest safety and service but also from retail and manufacturing sectors. The smartphone trend has also spurred growth in demand for the enterprise wireless solutions. As more and more companies look to use intelligent endpoints as part of their business process it is becoming evident that the smartphone device has some significant drawbacks. "Companies are turning to dedicated enterprise wireless solutions from Spectralink such as the smartphone like PIVOT handset," added Shane. "PIVOT runs android applications like a smartphone but also delivers quality QOS, trouble free roaming and wire line like voice quality."
Wi-Fi and DECT are no longer competitive technologies, believes Shane. However, in those cases where simple voice mobility is required the technology attributes do play a significant part in the decision about which solution to select. In these cases, issues of cost prevail and considerations usually focus on the quality of the wireless infrastructure and whether or not it will support a Wi-Fi solution.
However, when the on-site mobility solution is deployed as part of a business solution then each technology is developing its own unique strengths and attributes. "Voice over Wi-Fi is best suited to data intensive applications where voice is not the primary requirement," commented Shane. "DECT on the other hand is the better option for low data intensive messaging apps and were voice quality and extreme handset robustness is required. Only in scenarios where DECT and Wi-Fi could deliver equally does it come down to issues of deployment such as legacy infrastructure and choice of handset."
In the medium-term telecoms and IT resellers will need to offer some form of voice mobility solution that will support a range of business applications. There is a fundamental restructuring taking place in the market where voice and solution mobility is key. "Enterprise quality wireless solutions are no longer being used as mere mobile desk phone replacements," added Shane.
"They are being integrated with real-time messaging solutions to deliver critical management and control information to staff, or in the case of the PIVOT smartphone solution being used to provide an android platform on which to run business applications. The opportunity for the reseller is to exploit these new applications by selling a business solution rather than an on-site mobile handset."•