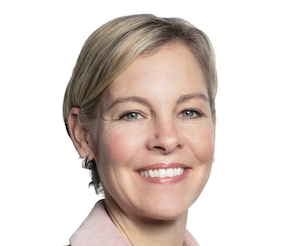 That 'energy' features prominently in Keri Gilder's modus operandi is not only evident in her approach to learning, leadership, diversity and advancing growth strategies, but also in her music collection where Metallica reigns. Here's how she plans to rock as Colt Technology Services' new CEO...
Gilder joined Colt as Chief Commercial Officer in November 2018 and became CEO last month following the departure of former Chief Executive Carl Grivner. Not for nothing has Gilder developed a reputation for her leadership skills and bringing energy to all aspects of her career, as she explains…
What got you onto the career path in ICT?
I started my career with a degree in management information systems and worked as a network architect before I moved into sales with Ciena. Coming into sales with a technical background gave me the confidence to speak about a range of challenges a customer may be experiencing. I have a strong desire to keep learning, and as technology moves fast it is also critical to have an open mind about what the future might bring in order to enable a truly connected world. Although it is labelled as a 'soft skill', I believe that it was one of the critical criteria in my CEO selection.
Why did you take the role of CEO and what was your first task?
Becoming a CEO has been a long time career aspiration, and the fact that it has happened in a sector I have worked in for more than 20 years is exciting. In terms of my first task – I will be doing a significant amount of listening and learning to help make the critical decisions.
What are your current priorities?
When you become a CEO the first thing you have to think about is your employees because they are the heart and soul of the business. I will be looking into how I can help them develop and move obstacles. This will enable us to incubate the best ideas and ways of working. We have a solid base, we have a great strategy and foundation to build upon, so what I'm really looking to do is augment a few areas of the business and elements of the strategy to truly take us into the future.
Where is growth coming from?
The next phase of growth for Colt will be in next-wave technologies and also expanding on our role within the wider technological ecosystem. The technologies that are going to transform our industry, such as Blockchain, Edge and AI, all need a dense, agile, high bandwidth network to power them and this next decade will change the face of our industry in more ways than one.
Which new technology areas are on your radar screen?
If I look at the trends in the industry right now, one of the major ones is around automation and creating capabilities that enable a reliable, secure, and a fast service for our customers, and services that are fully transparent in regards to the way they operate. Automation will be a big focus for us moving forward, because we know automation has the power to improve the customer experience and security.
What will be the main strands of your partner growth strategy?
It's critical that we are part of a wider technological ecosystem so that our customers can work with one connectivity provider that can connect them to the data centre, the cloud, the edge and all the other touchpoints they require. We have been ensuring we can do this for some time by expanding our relationships with the key Cloud Service Providers and System Integrators so that however and wherever our customers want to connect, we can facilitate that. In terms of an evolution of this, we are now working with our partners to develop joint go-to-market strategies so we can work more collaboratively to make enterprise connectivity as seamless and effortless as possible.
Where do you see Colt in three to five years time?
We implemented technologies such as SD WAN and on-demand networking before there was even a solid business case for them. For me, I see Colt having the same innovation at its core moving forward. To get there, we need to remain nimble, customer focused and also ready for the constantly changing nature of our industry. We are planning for and creating solutions to problems that don't exist yet. Our network and organisation is built to change, and my job as a leader is to enable our people to look into the future and plan for it today.
Looking back across your career, what is your biggest achievement?
Seeing how people in my past teams have progressed their careers, how they have embraced learning and moved into new areas of the industry or even into adjacent industries. I place a high value on personal development as a manager and it puts a smile on my face when I am able to see those that I have worked with in the past shine bright.
As a successful woman in ICT, did you meet any challenges based on gender?
My experiences as a woman in telecommunications have been mostly positive. However, there were times when I was the only woman in the room or the only female network architect. That can be intimidating. It did at times feel like I had to continue to prove why I was capable in order to be considered to lead the project, the team or the region. This has made me want to ensure that all women feel accepted and valued in the sector. This lead me to start Women@Ciena – Ciena's global internal diversity initiative, which strives to encourage diversity through motivating and inspiring women at all levels. Now I am involved in Network25 which champions women at Colt as well as wider Inclusion and Diversity initiatives within the business, because for me, it's essential that everyone can bring their authentic selves to work – regardless of their gender, age, race or sexual orientation. I am also on the executive diversity team for the TM Forum.
How should the ICT sector address the diversity issue?
A big factor for increasing greater diversity in ICT is starting the conversation early. I am a strong believer in getting girls and people from more diverse backgrounds into STEAM subjects. They not only give you the technology and science fundamentals, they also set you up to seek knowledge and to be constantly learning, which is critical for succeeding in this sector. I also think flexibility will be a key factor for increasing diversity going forward and we are already looking to adjust our ways of working to help facilitate this.
Historically, certain people might not have been able to succeed in a typical corporate environment. But in this era of flexibility we might get people into our business who previously felt they could not work in a typical 9-5 job. They could be people who have taken career breaks, people who have to care for others in their lives or possibly people who can't commute or work in a typical office environment. So, I believe as the workplace changes, this could be the perfect opportunity to open up our sector to a wider population because we all benefit when there are more voices in the room.
Just a minute with Keri Gilder...
Role model:
Marie Curie, a pioneer in technology and science before it was really possible (and cool) for women to be seen as leaders in the sector.
Your main strength and what could you work on?
I have a lot of energy and truly value diversity, but I could work on learning quicker as the world is moving so fast.
Best piece of advice you have been given?
Prioritise your time. This means blocking time in my calendar and making time for the things that matter most.
If you weren't in communications what would you be doing?
A sports coach or a travel photographer – two of my passions.
Name three ideal dinner guests:
Peyton Manning, an incredible athlete and he's also hilarious; Bill Gates, not only is he wicked smart, he is also an amazing humanitarian; and a seven-year-old kid, it would be interesting to get perspectives from the generation to come, and I would love to see how Peyton and Bill would interact with them.
What's the biggest risk you have taken?
Moving outside of the United States. It didn't just affect me, it affected my entire family.
Tell us something about yourself we don't know:
I love music, particularly heavy metal and vinyl. Metallica is by far my favourite band. I have seen them five times in concert.
What talent do you wish you had?
To read very fast. There are so many books that I would like to read.
How do you relax when not working?
My kids say I don't know how to relax, but I find taking very long walks and working on tangible projects with an immediate result relaxing and rejuvenating.