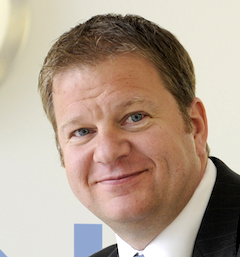 NEC's heritage and standing in the comms sector makes it something of an industry hero, and its big ambitions in the global cloud market are just as notable, according to Sales Director Andrew Cooper.
Cooper started his comms career in the mobile industry, working with fitted 'In Car' telephony, long before the days of the mobile. NEC's origins reach back even further to 1899 when it was formed as a partnership with Kunihiko Iwadare and Thomas Edison. Not surprisingly NEC's UK involvement goes back beyond most of today's current suppliers. One of the first key systems sold by British Telecom was made by Nitsuko, a part of NEC. With such a rich pedigree, it should come as no surprise that NEC is aiming to take the global top spot across all aspects of communications. And according to Cooper, the vendor's timely entry into the cloud market will write the next chapter or two in the history book of NEC.
In April NEC linked up with Intermedia, enabling it to ramp up its global cloud comms and collaboration services strategy with the launch of UNIVERGE BLUE Connect UCaaS solutions and the UNIVERGE BLUE Engage CCaaS offering. The move comes as NEC builds on its prowess in the global premise market, with the UK in the ascendancy. "With Intermedia joint venture our strategy to offer choice and our ambition to lead in both premise and cloud is stronger than ever," said Cooper. "This, combined with our 100 per cent channel focus and financial stability, is at the core of our channel offering."
UNIVERGE BLUE will be sold primarily under private label through a network of reseller partners and IT distributors; and the follow-on expanded offering will integrate with NEC premise-based systems. The partnership was hailed as significant in the industry by sector analysts, among them Elka Popova, Vice President, Information and Communications Technologies at Frost & Sullivan, who rated the deal as a big move for both NEC and Intermedia. "When you combine NEC's reach and relationship with its channel and Intermedia's UCaaS and CCaaS offerings, you have to take notice," she said. "Now, more than ever, this gives NEC a clear path to help its customers with their cloud migration."
It must not be forgotten that NEC offers choice with premise, hybrid and cloud solutions. Cooper added: "The decision is not one being forced upon partners or users of our technologies – that is for each of them to decide what is best for their particular circumstance. I'm old enough to remember visiting Woolworths on a Saturday morning, when faced with a single tube of sweets or tucking into pick and mix, I knew where my decision lay."
Many resellers have a fear of just becoming an agent, especially with cloud solutions. It's important that they continue to own their customers
Cooper is pursuing a dual strategy and his priorities are founded on the principle of customer choice. "We are focusing resources on enhancing our premise portfolio alongside building a strategy to enter the world of 'all things as a service' with our UNIVERGE BLUE platform," he said. "We will all see and experience a change in the market as we move through, and hopefully soon, past the current Covid-19 crisis. At the end of 2019 the installed base of on-premises solutions still represented 75 per cent of the total UK installed base, but the transition to cloud solutions has continued to accelerate with growth of over 15 per cent. Whatever happens next, choice will be the key."
Also of great significance is the future place of resellers and Cooper has strong views on their role as essential pillars in the ICT ecosystem, and the cruciality of their capacity to evolve with the times and ride the wave of industry changes will be key. "Many resellers have a fear of just becoming an agent, especially with cloud solutions," he commented. "It's important that they continue to own their customers.
In our current climate it's all about survival of the adaptable
"Resellers must continue to evolve and consolidation will also continue at pace and undoubtedly create new challenges. The larger a business becomes the base principles may be the same but the implementation becomes more challenging. Some will thrive and some will fail. The key will be the choices they make in vendor relationships, recruitment of good staff, creating the right strategies and the right environments for success."
As with all business strategies they must be put to the test, sooner rather than later, believes Cooper. "The market is transforming fast," he stated. "The effects of coronavirus and the lockdown will be with us for some time. UK business, and the UK channel will never be the same again. According to the ONS, almost 49 per cent of adults in employment were working from home as a result of the social distancing measures. In our current climate it's all about survival of the adaptable."
Just a minute with Andrew Cooper...
Role model:
Too many to name. I've been lucky enough to learn from some great mentors over my career and have tried to adopt, adapt and then enact the things I have learned.
What talent do you wish you had?
The foresight to pick six numbers on the very week the lottery was at its highest prize value.
Best piece of advice you have been given?
Look after your customers and your pay cheques look after themselves.
If you weren't in comms what would you be doing?
Something outdoors. I'd far rather be working outside than in an office environment.
How would you like to be remembered?
As someone who cared and strived to do things the right way
Give one example of something you've overcome:
Answering these questions.
Name three ideal dinner guests:
The three main leaders of the modern world. Over a beer I'd like to ask them if they'd each consider leaving a better legacy. Just imagine how different life could be for all.
Your biggest career achievement:
Being part of peoples' development; and the longevity of NEC's team, resellers and end users as well as the healthy uptake of new ones over the years.
What do you fear most?
Leeds United being robbed of their place in the Premier League.
Who do you admire most in the channel?
I learnt the most from Rocom's founder Bob Old.
How do you relax when not working?
With two sporty teenage children downtime is in short supply.
Top tip for resellers?
Choose your supply partners very carefully.