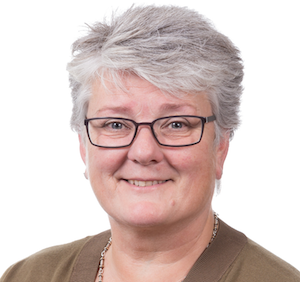 If ever there was a time in our industry to listen to the voice of experience, it's now: Enter Enda Kenneally, VP Sales & Business Development, West Unified Communications Services.
Not taking 'no' for an answer was Kenneally's route into the telecoms market, and her intransigence in the face of male domination was an early sign of the ambitious determination that has become her trademark. "I first applied for a sales rep role at a large well-known paint manufacturing company I was working for," she explained. "But I was told they don't give sales jobs to women! So I applied for every sales position listed in our local paper and found a job with a company that sold new word processing telex machines. The rest is history!"
That was three decades ago. Kenneally went on to become one of the most influential comms industry figures with leading roles at SDX Business Systems, Avaya and Mitel. "I've worked in many roles, for many different types of organisation," she recalled. "From driving huge growth to transforming a small independent into a large corporate, each has taught me valuable lessons. But what hooks it all together is taking advantage of a moment in time where the market needs something different and real, and delivering on that to achieve disruptive change and exponential growth."
Kenneally joined West Unified Communications Services in July last year. The company was formerly known as Magnetic North (a provider of cloud-based customer contact centre and UC solutions), but was acquired by West Corporation in November 2015. Kenneally was attracted by the opportunity to use her experience to deliver West's transformational growth strategy following the acquisition - and her appointment was a clear sign of intent. "My immediate priorities were to work on sales and channel strategy, as well integrate our infrastructure with West so that we can build a top team able to deliver on growth expectations," she commented. "We already have blue chip partners at West with key vendors but our contact centre platform is developed in-house, which opens up avenues for West to develop partnerships with contact centre focused channels as well as channels looking at the more holistic customer journey from a cloud perspective."
Kenneally's current priority is to bring on board new channel partners who share West's vision within the contact centre and customer experience space. "One of the main challenges we've faced in the past is that West Corporation is not well known in the UK market, but we have enlisted industry heavyweight Steve Day to head up our channel push," she commented. "It's an exciting time for us. Our strategy is to leverage the capabilities of West on an international basis while we drive our local growth through existing and new partnerships. We will get there by doing good business with channel partners, having integrity and not by forcing them to pay handsomely for the privilege of helping us sell and deliver our solutions to the market."
West Corporation was founded in 1986 in Omaha, Nebraska, by Gary and Mary West as West Telemarketing, an inbound contact centre dedicated to combining technology with client service. The company went public in 1996 and was renamed to West Corporation in 2000. Now it's a global provider of communication and network infrastructure services, and West UC is the cloud contact centre of excellence for West globally. "Around 80 per cent of our 70-strong team is working in development or support for the engineering operation," said Kenneally. "We will achieve double digit growth year-on-year in 2017, and will be aiming to exceed those results next year when we expand in markets abroad."
As Magnetic North, the company's typical customer was circa 30 agents, but since its acquisition by West the agent numbers have grown five-fold. "Our largest customer currently in deployment is an 800 agent contact centre with 1,500 back office users on Skype for Business," explained Kenneally. "The beauty of our cloud model is that we can provide an option for every size of contact centre, however large or small."
She noted that contact centres face a number of challenges. These include an inability to respond to customers' demand for seamless communications across multiple channels, a lack of systems flexibility, financial and resourcing constraints, keeping up with the pace of regulatory requirements, and growing concerns about cloud resilience and security. Kenneally says West Unified Communications Services's portfolio addresses these issues and gives operational control to contact centre managers, enabling them to design and deliver seamless customer experiences, without needing to involve the IT department.
"Many organisations are struggling with outdated, proprietary, legacy systems that were not built for today's multi-channel world," she said. "Our market opportunity spans small, medium and enterprise sectors where there is a need for straightforward ways to create seamless customer experiences across multiple channels. We'll be working closely with our partners to bring these strengths to our customers."
Kenneally also noted a strengthening market for Skype for Business as part of the UC story. "Now organisations want to extend that into the contact centre," she stated. "Over half of our pipeline for contact centres is using Skype for Business. We're also noticing an increase in the use of the term 'customer experience'. It's no longer just used in the contact centre environment and is becoming more mainstream for all businesses."
The company's own research, State of Customer Experience 2017, reveals that digital is expected to overtake voice by 2020. "In order to be ready, businesses need to start leveraging the full digital experience by implementing solutions like CC Pro that cater for a multi-channel future," added Kenneally. "But many resellers and System Integrators have defaulted to bring one single, dominant vendor-specific proposition to customers rather than offering a best-of-breed multi-vendor solution approach.
"The problem is that for customers that have invested in an on-premise solution, it is difficult to see how one single solution is going to help them respond to changing customer behaviours and the explosion in the use of digital channels. The shift to cloud-based solutions will deliver collaborative improvements to the customer experience by offering more choice in how customers communicate with the business."
The scale of the opportunity is reflected in West's growth from a small independent business to a large global player. And resellers would be doing themselves a big favour by listening to Kenneally's voice of experience. "Resellers need to explore their options and work with flexible vendors that can offer a clear roadmap for the cloud-based future, while also being able to sit within multiple vendor solutions if that is in the customers' best interests," she said. "I'd advise resellers to focus on the need for the customer journey to be improved. A better customer experience enables companies to be more competitive, which leads to growth."•