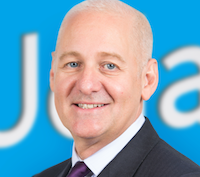 Resellers are under pressure to master the new comms landscape as disruptive technologies like next generation mobile connectivity emerge into market reality, observes Jola's Managing Director Andrew Dickinson whose mission has always been to put partners on the right course and ease their journey into such high growth markets.
Dickinson has built a reputation for summoning partners to the banner of modern communications, firstly at Griffin and now Jola where he reconvened the erstwhile Griffin dream team - from management through to sales and operations - in a bid to replicate and build on the former ISP's proven growth formula. Griffin was ultimately sold in August 2012 with revenues of circa £24 million and EBITDA approaching £3 million. "One of the biggest challenges in a fast growth business is making sure the systems and establishment can keep up," said Dickinson.
"At Griffin we automated wherever possible and developed a company-wide recruitment process with the objective to hire the top five per cent of performers in their field. They are not always available when you have a position open, so we constantly recruited in expansion areas like sales. Once on board, weekly training and development kept staff growing, learning and always challenged."
Dickinson attributes, in part, Griffin's success to experience he gained prior to joining the company when he worked in early stage investment and management after leaving Mercury Communications in 1996. By the time he joined Griffin in 2004 he had a good idea of the dos and don'ts in running a business and a clear vision for easing the strategic path ahead for partners. "The strategy in most of my projects has been rapid growth based on great technology - and with less than £1 million in channel revenues Griffin was ideally placed for growth," said Dickinson.
Not one to sit on his hands, Dickinson regrouped the former Griffin management team in 2014 and established Jola. From a standing start and in its second full trading year the company grew organically from circa £300k in annual revenues to over £2.4 million. "Within five years we will be ten times this size," stated Dickinson. "Our ethos is the same as Griffin, based on what we believe to be the best products, best price, great customer service and being easy to do business with."
Jola's product strategy from the outset was focused on Ethernet connectivity. And with new technologies rapidly reducing the cost of leased lines, Dickinson felt he could help partners connect their customers cheaply and reliably, following up with a range of cloud products. "But fibre broadband turned out to be far more reliable than anyone expected," he added. "For most SMEs, two lines - one for voice and one for data - is a better solution than Ethernet. In our first year of trading the star performer was our BroadSoft platform, and while JolaPhone continues to do well it has been overtaken this year by JolaMobile. Mobile broadband leads the way due to a number of innovative new products we have developed."
According to Dickinson, JolaMobile appeals to resellers who bundle airtime and handsets or sell data-only solutions. "We offer multiple networks to provide a range of services including multi-network, roaming SIMs and fixed-IP mobile data SIMs," he explained. "Our SIMs are cost-effective and available with unlimited calls and texts plus 500MB to 200GB data packages on 30-day rolling contracts. JolaPhone and JolaNet appeal to partners wanting to bundle feature-rich BroadSoft licences with pre-configured handsets over a reliable Internet connection. JolaBilling and JolaSupport attract partners who want to transition from a dealer model to a reseller arrangement."
Dickinson was quick to spot the mobile data opportunity and you don't need to be Einstein to see how the numbers add up. "Almost 200,000 businesses can't get 2Mb/s broadband and over two million have no access to 10Mb/s," he commented. "Perhaps the greatest opportunity for Jola and our partners is mobile broadband. The cost of mobile data has come down more than 60 per cent in the last two years, and with growing confidence in the speed and stability of 4G this now accounts for around 50 per cent of our business.
"The Government wants to accelerate the roll-out of 5G and this could have a dramatic effect on the connectivity landscape. In laboratory conditions the next generation of mobile broadband runs at 30 times faster than 4G. BT Openreach may be the Achilles heel for network operators today but hopefully they will soon be able to deliver high speed connectivity without the need for a physical local-loop.
"Jola is ready for this disruptive acceleration in mobile data adoption. We have completely automated the ordering, control and management of 4G as we did for broadband with Griffin. Our systems manage and control unlimited estates of data SIMs. We have also developed fixed IP SIMs and ways of measuring usage that eliminates unwanted overages and the problems caused by network delayed data. Mobile Manager is an ever-popular portal and continues to be developed and enhanced with new features, particularly around the management of data and prevention of bill-shock."
Mobile data could become a focal point on the voice and data reseller battleground, as companies supplying desktop, server and LAN support to SMEs have started selling connectivity, hosted telephony and even mobile. "They have made significant progress," Dickinson observed. "Their customers always consult them before buying products that need to run over the LAN, so hosted voice and connectivity have become easy additions to their portfolio. Traditional voice resellers are having to re-think how they acquire new customers as their PBX, calls and lines bases come under attack from emerging channels and cheaper alternatives."
The 250,000 SMEs between 10 and 250 employees is where the independent channel primarily operates, and buying behaviour in this sector is also evolving. "When making decisions about communications purchases the MD is usually involved in the process," added Dickinson. "In the main they won't have a dedicated internal IT resource, so many will turn to the third party that manages their LAN for advice. IT VARs seem to have an edge with cloud products that run over LANs, but voice resellers appear to be more commercially aware with stronger sales teams.
"In the battle between the voice and data channels for mindshare of the SME market it will be interesting to see which of these channels prevails. Ultimately, the voice and data channels have already consolidated at the top level and this activity will cascade until voice resellers and IT companies are indistinguishable from each other. Few of the 8,000-plus IT support companies in the UK have a RID code, but this is changing."
Nothing stands still in comms, and the shifting sands have a created a landscape that stimulates perpetual opportunity. "The voice and data channel in the UK is a wonderful, fragmented organism full of enterprise, innovation and opportunity," said Dickinson. "I doubt there are many industries that contain so many entrepreneurs. My only regret is that I didn't become one sooner. With low barriers to entry and constantly evolving technology, hundreds of new companies enter the channel every year. The most successful have a distinct culture and develop software to vertically integrate with suppliers and customers. Consequently, their initial choices of networks, platforms, billing systems and support are vital and mistakes can be expensive."•