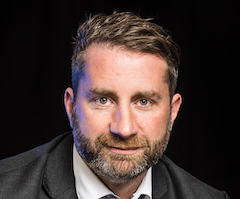 Too many enterprises are in the grip of an ICT service famine, claims CloudCoCo Managing Director Mark Halpin who aims to catalyse a power shift towards more responsive MSPs.
Managed service provider Adept4's acquisition of fellow IT services business CloudCoCo – in a £7.2 million deal sealed early last October – strengthened the hand of both parties. But only now is the true nature of the opportunity revealed as its newly installed leaders gather ever more cards to their pack. The transaction saw CloudCoCo Chairman Andy Mills join the board as CEO, and Mark Halpin, the founder and CEO of CloudCoCo, stepped in as Managing Director of the enlarged rebranded entity.
CloudCoCo, which now has offices in Warrington and Leeds, was established in September 2017 by the aforementioned former Sales Directors of Redcentric. The acquisition followed a mixed year for Adept4, with H1 (to 31st March 2019) revenues down from £5.4 million to £4.2 million. Furthermore, for the year ended 30th September 2019, the legacy Adept4 business reported a decline in revenue from £10.2 million in the previous year to £7.3 million. The acquisition of CloudCoCo took place in October 2019 and has resulted in an enlarged rebranded organisation. Now, with a period of strategic course correction complete, Halpin has set fresh targets.
He is not short of objectives nor ideas, which include a boost to sales and cash generation, reducing churn and costs, and a sharper focus on customer satisfaction – all of which are core to CloudCoCo's culture, its influence now being felt strongly throughout the merged and restructured operations. "I simplified the corporate business plan to build a model of Attract, Connect, Engage & Delight for customer acquisition, retention and development," he added. "I've always been creative and many of those ideas were monetised in prior roles heading up 'everything new business' since 2008.
"In this, customers are the fundamental influence on our approach: What are their problems? How do we solve them? Where is their business going? How can we get them there? We've now created an enlarged organisation, with 500 customers who are starting to see the CloudCoCo value. But the widened base of key accounts achieved by Christmas meant that time had to be spent on the retention and development of existing clients within our H1."
What we are actually offering is responsive, knowledgeable human beings who want to walk through walls for customers
Not seeking to get too far too fast also enabled strategic foresight to be fully engaged as Halpin pressed ahead with other immediate priorities such as a full organisational re-brand, integration and the re-setting of a company that had suffered from its previous and public issues. "The next positive change will be the rapid acquisition of new customers, and going up a weight division in H2 to address the needs of the unattended mid-to-large enterprise segment, suffering from inflexible, unresponsive and high cost incumbents," he stated.
The message advanced by Halpin is that giving 'neglected' enterprise clients a get-out-of-jail card would not only liberate them from a lethargic incumbent but also free up their entire business operations to work more cost-effectively and efficiently based on the right technology fit. "We see all things Microsoft Teams, and its adoption as an enterprise communication and collaboration hub will accelerate, integrating with legacy PBXs and omnichannel contact centre, with mid-to-large enterprises moving away from a blend of landlines, mobiles and conferencing to integrated cloud/IP-based UC ahead of BT's analogue switch-off in 2025," added Halpin. "Our role is to support our customers' journey quickly, securely and efficiently."
CloudCoCo's strategic vendors are Microsoft and Fortinet. Other tech partners include Zen, Mitel, Anywhere365, Nyotron, Mimecast and Oracle Communications. The kit bag also includes mobile solutions. Halpin's managed support (ITaaS) proposition is marketed to SMEs across the north west, Yorkshire and Humber, while mid-to-large enterprises are engaged with specific propositions such as Microsoft-as-a-Service and a Business Security Fabric focused on integrated security for hybrid cloud infrastructure, apps, data, devices and users.
"This is all based on believing that larger IT providers haven't evolved for the new era," claimed Halpin. "We all recognise a world characterised by impatience and an on-demand culture – Uber, AirBnB, Just Eat, Netflix etc. This is largely not the experience enterprises get when procuring enterprise grade IT services."
Halpin could have been serving up a very different menu had he followed the family tradition of making cooked foods. But destiny was rewritten by deep grief following the early death of his father, aged 40 when Halpin was 21, which today still fuels his ongoing drive. "I didn't want to follow five generations of Halpin chefs," he said. "When my father died I decided to use that pain as petrol on my fire to improve myself, as life seemed very short.
"My father always said computers were the way to go, which led to an opportunity with InTechnology (now Redcentric). I listened, I learnt and never forgot the values I was taught by my parents, or the generosity of the people who gave time and care to develop someone who deserved a chance. Many of those people now work for CloudCoCo and remain close."
The catalyst for striking out with his own MSP business was a comment made during a board meeting, which branded the idea of treating employees, customers and partners with kindness, hyper-responsiveness, hard work and loyalty as 'Cloud Cuckoo Land'. "So, on April the 12th 2018, it was lift-off for CloudCoCo," stated Halpin. "From the outset, and drawing on 20 years of working within an MSP, we maintained our relationships and supplier contacts and chose to help early customers any way we could.
"By the summer last year we had 30 clients, a seven figure contract base and was profitable. Within two years we have grown from two to 60 staff with 500 accounts, and we are on the pathway towards £10 million revenue. Our customers span the UK and operate in multiple segments, ranging from five to 40,000 seats."
Halpin is clearly doing it right, and business rectitude – in how you engage with staff, partners and customers, and how you grow – is essentially a matter of people, he believes. "What we are actually offering is responsive, knowledgeable human beings who want to walk through walls for customers, and then achieve immediate business acceleration without total loss of control," Halpin explained.
"Giving a voice to employees is key. The answers and ideas sit with those that do the job. Companies should be more appreciative of those that work for them and create environments where people feel safe to speak their minds, and know that they will be helped if they feel vulnerable."
Whether it's listening to staff or fashioning a strategy, all of Halpin's policies show the strength of coalition leadership and reflect his aspirations for all involved. He added: "Building a company where employees know they are safe and cared for, having a base of loyal customers that trust us to help them, and being proud of how we make people feel emotionally about our engagement with them are all key factors in our ongoing development."
Just a minute with Mark Halpin...
Role model:
My dad. The hardest working man I know who fuelled my everything
 
What talent do you wish you had?
To play a musical instrument
One example of something you've overcome:
Having a massive nose
What do you fear most?
Dying too young now I have an amazing wife and family
In hindsight:
I'd have tempered my passion a little more when frustrated. Sometimes it's best to suck a lemon and let things you can't control ride themselves out
How would you like to be remembered?
As someone who tried to be kind and gave life a shot when other people said he couldn't
Biggest career achievements?
Getting a job in 2004 at InTechnology, when I couldn't even pick up the glass of water for shaking so much. More seriously, it's remembering those that supported me, and doing the same in return where possible
Best piece of advice you have taken?
'If you can't count it, you can't control it', Colin Elcock, 1999
The biggest risk you have faced?
Starting CloudCoCo. Whether it took off or not in 2018 I wanted my children to know that nothing is impossible if your heart's on fire and your mind is focused
Top tip:
Listen to your employees
How do you relax?
I've just turned 40, so time with my kids who call me 'elderly'