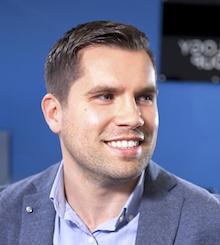 With one acquisition under its belt and a five year growth plan set in stone, The Technology Group has added a strong emphasis to its short and long-term ambitions, says MD Jonathan Marsden.
Far from being a victim of the overpowering cult of technology that consumes today's young teenagers, as a mere boy Marsden took tech-control and harnessed the web's potential for generating business. He established Jagged Media at the age of 17 after spending two years working on websites and graphic design in between school time. Three years later he sold the business to his father who persuaded Marsden to run the telecoms systems sales operation he had set up. Marsden then secured his first £100k-plus deal with the AA at 21 and went on to build and sell three businesses. 
His determination to win deals was evident from the outset. At 15 he built and sold a website to Persimmon Homes. Retaining youthful looks, at 19 Marsden pulled the proverbial wool over prospects' eyes by concealing his own with fake glasses that made him look 'older and geekier'. With equal boldness The Technology Group was founded in 2011 by Marsden, his brother Richard and father David. "We quickly won two key deals, one of them with an important NHS department," explained Marsden. "That was a great milestone."
Securing the PO for an internationally recognised large film production business based in London was another turning point, marking the company's first international deal. "Our technology is now in 18 countries," added Marsden. "Other step-changes include having more non-family board directors which introduced a high level of corporate professionalism and enabled us to acquire our first business in October 2017, Hertfordshire company Exchange Comms." 
To support this acquisition The Technology Group opened a local office in Welwyn Garden City, adding to existing bases in Leeds and central London. Seeking more expansion, Marsden expects to generate over £4 million revenues this year and is targeting £6 million in 2019 through organic growth and another acquisition that will help boost customer numbers to circa 1,000. The company currently has over 420 clients across four continents, and a staff headcount of 30 which will be increased to support growth. "Our priority is to identify potential acquisition targets and cross-sell to newly acquired clients," said Marsden. "But the challenge as you evolve rapidly is managing change, so we work with the management team to ensure that as we scale we've got the processes and foundations in place to grow at the right pace with a coherent strategy."
Staff numbers almost doubled in the past year as a middle management layer was introduced. "Everything must be professional," noted Marsden. "It took almost a year to put in place the HR aspects of the business, including employee handbooks and core value wheels. Now we're aiming at achieving Investors in People accreditation. 
"We've also planned out the next five years which gives us a clear view of our future direction. On our roadmap are exciting technologies that Google, Amazon and Microsoft are pioneering in voice assistance but for use within a telephone system environment."
The longer-term plan is to triple the size of the company and boost staff numbers to 60-plus as it approaches the £10 million revenue milestone. "I'm looking at how to embrace new technologies ahead of the curve," commented Marsden. "Over the next few months we have some exiting announcements to make. We're thinking big!
"UC has been the buzzword for a long time, but UC&C is where we want to be. In sectors like recruitment, education and professional services we advocate video conferencing, whiteboarding and desktop sharing capabilities. A key goal is bringing all this into one telephone system that competes with Skype for Business. Our relationships with Gamma and 3CX, among others, have served us well."
Three years ago The Technology Group created its own private hosted platform working closely with 3CX, enabling it to offer a fully managed service. "This took us over the 100-plus user market which requires a certain amount of technical capability in-house alongside significant investment," explained Marsden. "This fundamental change has been pivotal to growth. From a portfolio perspective we plan to establish our own development teams to create bespoke mid-to-enterprise sized solutions as we get more vertical. We will all need to customise products to prevent commoditisation in the marketplace and remain competitive."