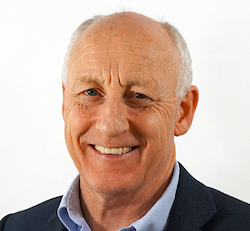 On Aidan Piper's career menu… food, wine and comms for afters: Here's how the Welcomm Communications Chief Executive kept the best course 'till last.
From catering on oil rigs to scoring the winning goal in a European cup final for the over 40s, the CEO of O2's two-time Direct Partner of the Year continues to play a blinder on the business growth playing field, which he ran onto straight from school when he kicked off a career in catering and trained as a chef. But following 10 years in hospitality and catering which included working in hotels, top restaurants and providing catering services on oil rigs, a change was clearly needed and he turned his interest in wine tasting and drinking into day to day work, joining Diageo, the largest drinks company in the world. "They trained me to sell, and with my catering background I focused on high end quality hotels and restaurants," said Piper.
Then the economic slump shifted the wine industry's plates, which was the prelude to Piper's entrance into the comms sector. The move proved a golden opportunity and gave him every incentive to succeed fuelled by ambition, using his sales prowess to force through the best chance of success. "After the wine business liquidated in the early nineties during the recession a friend introduced me to a comms company with exciting products and great people who were struggling to sell," said Piper. "I used my sales skills to develop a team and we grew a large business.
I had a target to take Welcomm past £10 million turnover. After joining as the Managing Director I knew we could do it
"I also partnered with Welcomm Communications, then a mobile specialist with skills we lacked in our comms business. By the late nineties I spent more time with Welcomm and joined the company, becoming Managing Director in 2009. From that moment Welcomm aimed to always be at the forefront of technology, and we still are as evidenced by our recent acquisition of Leversedge Telecom Services."
Fellow Leicestershire communications provider Leversedge's traditional business is in commercial two-way radios, fleet vehicle solutions, IoT and 'cash and valuables in transit' products and services. With the deal now sown up Piper plans to deliver push-to-talk over cellular, having already seen a number of applications where he'll be looking to install this technology over the next two months. "We see this as a massive growth area," commented Piper. "If you've got a critical need, push-to-talk is the only way. Critical voice will stay with radio. Push-to-talk over cellular technology currently works when it's run over 3G, but we look forward to the wider and significant roll out of 5G to deliver latency sub-500 milliseconds."
In retrospect, a turning point for Welcomm was the move from analogue to digital in mobile. "My skill sets were very much in data and PBX," added Piper. "Adding these services to Welcomm's portfolio in the early 2000s created much more customer loyalty as clients were able to receive a broader range of services from the same supplier. This makes it easier to identify and resolve technical issues. It was also around this time that we made a strategic decision to move from retail outlets to solely business to business.
"Milestones for Welcomm also came in the form of acquisitions we made with other O2 partners between 2009 and 2013. We grew through acquisitions and have 73 people working with us now. When I first joined Welcomm the turnover was just over £1 million."
Experience tells me that customers will embrace new technologies as long as they trust you
Every tactical consideration propelled Piper towards his aim to create a £10 million business and a springboard for more rapid growth, which he has achieved through the acquisition of Leversedge. Now Piper hopes to grow revenues by 20 per cent this year and increase EBITDA by 40 per cent, driven by the synergies between the two companies and additional sales. To that end, over the past two to three years Welcomm has introduced new products and services, and in particular developed its managed services offer to provide additional value to customers through proactive insights into their accounts. From an IT perspective Welcomm is working closely with a number of vendors around security.
"Our business continues to grow through acquisitions, but our strategy is now twofold: To sell more products into our existing 3,500-plus customer base, and through the development of Welcomm's sales academy," commented Piper. "We are also driving new business using traditional methods including door knocking, telesales, networking, a new website coming soon, marketing and social media."
Deploying a range of sales and marketing tactics to attract customers does not on its own deliver sales. The golden opportunity is to take command of a client's communications destiny and understand in detail the workings of their business through consultation. "I take each customer on a journey that sometimes they don't want to go on," commented Piper. "Change can be difficult for any business, but we have better comms and tech solutions to offer them.
"Experience tells me that customers will embrace new technologies as long as they trust you. We must first seek to understand, then take our customers on a journey of education about new solutions. We have always been influenced and driven by the demands of our customers. To this day, we remain customer focused, keeping them at the heart of everything we do."
Just a minute with Aidan Piper...
Name three ideal dinner guests:
Billy Conolly, he's highly intelligent and very funny; Muhammed Ali, an incredibly talented bloke and had a lot to say from himself – he also made me laugh; Serena Williams, she has revolutionised the relationship between sport and business, had a baby and came back to compete at the highest level
Best advice you have ever been given:
My father always told me that hard work never kills you, and you don't need as much sleep as you think
In hindsight:
I wouldn't have acquired shares in a wine wholesale company. While they had great products and I had a lot of fun, it was an expensive mistake
Name one example of something you've overcome:
Divorce
What's the greatest risk you have taken?
Moving from a safe large multinational company in wine to comms which I knew little about. I took the risk because I knew they had a good product, the market was changing and I knew I could sell
How do you relax when not working?
I enjoy walking and all sports, spending time with my partner and two boys
What possession could you not live without?
Wine
Biggest achievement?
I still can't believe how I  produced two amazingly good looking sons
Tell us something about yourself that we don't know:
I played for an over 40s football team and scored the winning goal in the European Cup final!