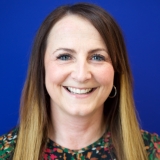 Welcomm Communications' Bake Off and auction event has raised £10k in support of Leicestershire-based LOROS Hospice which provides compassionate care and support to terminally ill adult patients, their families and carers.
The funds will help LOROS Hospice provide its usual service despite a drop in funding.
"The hospice has experienced a funding deficit of more than £2m as a result of the pandemic, so thank you to all of the participants, and those that watched the event and donated towards the fundraising total," said Bruce Smith, Partnership Development Co-Ordinator at LOROS Hospice.
The livestreamed event raised money through donations as eight local business leaders and ex-England Rugby player George Chuter tested their baking skills. Welcomm also ran a charity auction including an England Rugby shirt signed by 30 members of the squad, donated by O2.
Rachel Williamson, Operations Director at Welcomm, said: "We smashed our £10k fundraising target with the Bonkers Bake Off and this could rise to £12k once the final auction lot donations are in.
"Hopefully people will continue to donate to the amazing folk at LOROS."