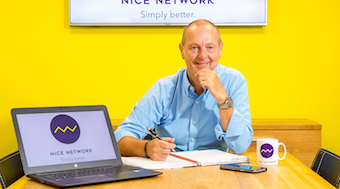 Sunderland-based Nice Network, which rebranded from CCS a little over a year ago, has reported a £1.2m revenue boost following a string of client wins.
The family run business was established in 1986 by MD Chris Lee who claims to have sold the first mobile phone in the north east.
Lee also scooped a Home Office award for his part in creating the specification for what is now known as Thatcham vehicle security systems.
Today, Nice Network manages telecoms and IT services for global blue chip organisations ranging from Nike to Husqvarna, Draeger, Puma and Russell Hobbs.
Technology partners include Vodafone, SOTI and Cisco. They underpin a range of new products and services delivered to market by Nice Network over the past 12 months, such as IoT and new cyber security solutions and IT services.
"Nice Network continued its growth last year, reporting record results and securing a number of new clients in the process," stated Lee. "To have achieved this in the year we underwent a complete brand overhaul is fantastic."
Nice Network's team of 24 share an average of 10.4 years per person working for the business. Lee credits the firm's high staff retention rate to a strong company culture that also feeds into an average client tenure of over 13 years.
"Over the next 12 months we'll continue to look out for new products and services that we can introduce into our offering and, as we continue to invest in increasing our headcount, we're confident that the new brand will gain greater strength."