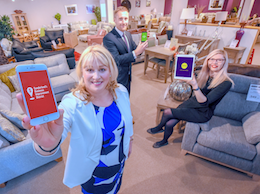 In a bid to boost the social media activities of city centre traders in Sunderland three organisations have united under the SR1 Connect brand to offer traders a free tablet or mobile phone for one year, a data package and access to a social media workshop.
The initiative, launched by Sunderland Business Improvement District (BID), Esh Group and Nice Network, offered 10 packages on a first come first served basis. 
Sharon Appleby, Head of Business Operations at Sunderland BID, said: "This is a great opportunity for city centre businesses to tap into free support and ensure they're benefiting from the opportunities presented by the worlds of social media and e-commerce."
Pictured (l-r): Sharon Appleby; Ross Markwell, BDM at Esh Construction; and Terri Hamilton, Sales Administration & Provisioning Coordinator at Nice Network.